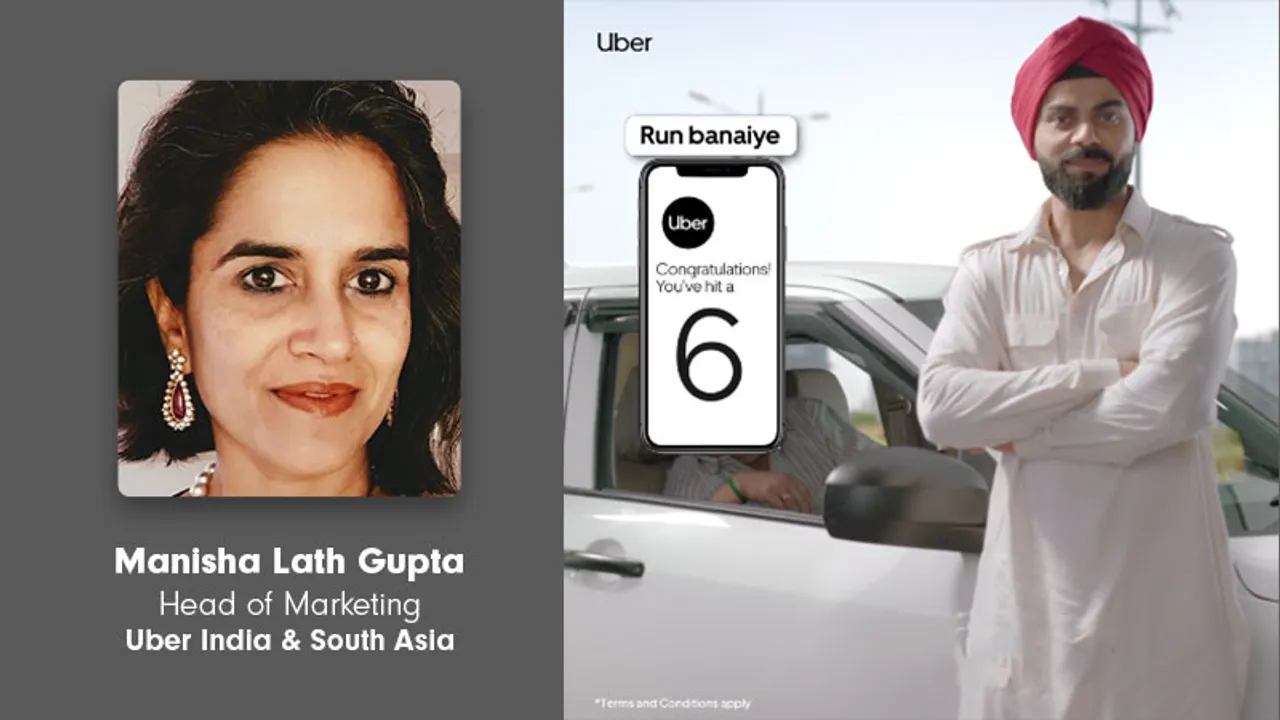 In a first, Uber came on board as Associate Sponsor
for ICC Cricket World Cup 2019. In line with the sponsorship, the brand rolled
out a multi-platform campaign, with the objective of humanizing the brand and
demand generation.
Manisha Lath Gupta, Head of Marketing, Uber India
and South Asia, in conversation with Social Samosa shares how, #RideToWorldCup
is Uber's first global campaign. Sharing the details of the campaign, Gupta
opines that sports makes for a nature brand fit for Uber and dishes insights that
led to the association.
Excerpts below.
This campaign
marks a major first for Uber. What does Uber being the Associate Sponsor for
ICC Cricket World Cup entail?
There are a number of firsts for Uber with this campaign. It's a multi-country campaign done across eight participation nations.
India is the lead country for the campaign, it basically means that we led the campaign for the entire globe, put together all the marketing elements and go-to-market plans.
Other countries have adopted and implemented the plan either in totality or in pieces. We have a unified demand generation campaign across Ride and Eats for the first time. There are a lot of brand values we're getting from this association.
As Uber, what is
your objective from this association?
From this association, we're trying to achieve two things. One, we're trying to humanize the brand and build more emotional and community values around it.
Second, the campaign should act as a demand generation campaign – which should get people to take more rides on Uber or order on UberEats.
We're happy with how our communication has shaped up because we believe that our campaign meets both of our objectives.
How will you
back this sponsorship with a marketing plan? Tell us about the key highlights
of the campaign. In how many phases will the campaign be executed?
We have an extensive multi-channel campaign. It has been developed by Ogilvy and went live on May 13. We have Virat who continues to be our ambassador, however, we have casted him very differently.
We had the insight that during World Cup, Virat would have a lot of exposure as the Captain and all the other brands he endorses also would be very active. So, we decided to take a fresher take and cast him as a driver in our communication.
We're covering all modes of transport that Uber offers – Intercity Car, Uber Auto, Uber Moto, a motorcycle taxi (in the communication in Bangladesh), and Uber Go in the campaign.  
Virat is portrayed as a very endearing driver, with the messaging showing a warm interaction between the rider and driver. The communication is directed by our in-house team and conveys that with every order and every ride you stand a chance to go to the World Cup.
Tell us more
about the demand generation aspect of the campaign
The demand generation campaign is a unified campaign
across Eats and Ride. For every trip you take or every place you order from on
Eats, you score runs which will keep totaling up. The total scores will
gradually make the consumer eligible to attend the World Cup. Consumers can
combine the points on Eats and Ride; they will keep receiving notifications
with every update. Uber Karo and World Cup Karo is the promise. It's a very
high-engagement game because it's been gamified within the app.
We're running the same game for our driver and courier partners as well. For every time they offer their service they receive runs and stand a chance to win passes to the World Cup. Being a marketplace we have to serve both the supply and the demand side and the campaign meets that need.
Social Media
plays an integral role in creating buzz & engagement for long-term
sponsorships. Where does social media stand in Uber's marketing plan?
There will be a lot of social media engagement that
I can't disclose right now. There is going to be a 3-minute World Cup anthem written
by Sonal Dabral from Ogilvy and composed by music composer, Mikey McCleary. It's
an English campaign made in the international spirit representing all the
participating countries. The video for the anthem is under production and it will
go Live a day or two before the World Cup inaugurates. The anthem will also be
played at the stadium.
What led to the
decision of associating with ICC Cricket World Cup? Please share the insights
and data points that went behind this.
Cricket and other sporting events are where people and communities come together. It moves people forward collectively and that's what Uber's brand philosophy is.
Sports is a very good brand fit for us.
How much have
you invested in this sponsorship?
Unfortunately, I can't disclose the numbers but this is the largest campaign we're going to be doing this year. This is a multi-media campaign across Hotstar, Star Sports, OOH, Print, Radio, Digital, Social, and even touch points like our Partner Seva Kendra. There will also be special screenings for our drivers in partnership with INOX.
Everywhere you see, you will see our campaign that should give you an indication of the scale of the campaign.
What does your
media mix look like? Will digital be receiving a major chunk of the total
budget?
Television and digital are going to be our two big spends – the viewership on both the mediums is right there. We will be using some of our other channels as reminder mediums; radio and social will also be used as engagement mediums.
The purpose of every channel will be different, but the bulk of the spends will be directed towards television and digital.
With the scale
of the campaign that you just described, how do you plan to recover the
investment? On what parameters will you calculate RoI?
We will be measuring RoI on a couple of things. One, we will see how our brand metrics move; we're looking at that very closely in terms of brand awareness, brand consideration, and brand footprint. Secondly, because it's a demand generation campaign so we'll be looking at an upside of trips and orders - this we can measure on a very micro basis and get a lot of insights from it.
Do you see Uber
dabbling in sports partnerships apart from Cricket in the future?
Never say never. Who is to know what will be
sponsoring in the future. But, a lot of these sponsorships in the future might
be international in nature rather than local. World Cup too is global and you
shall be seeing more of such partnerships.