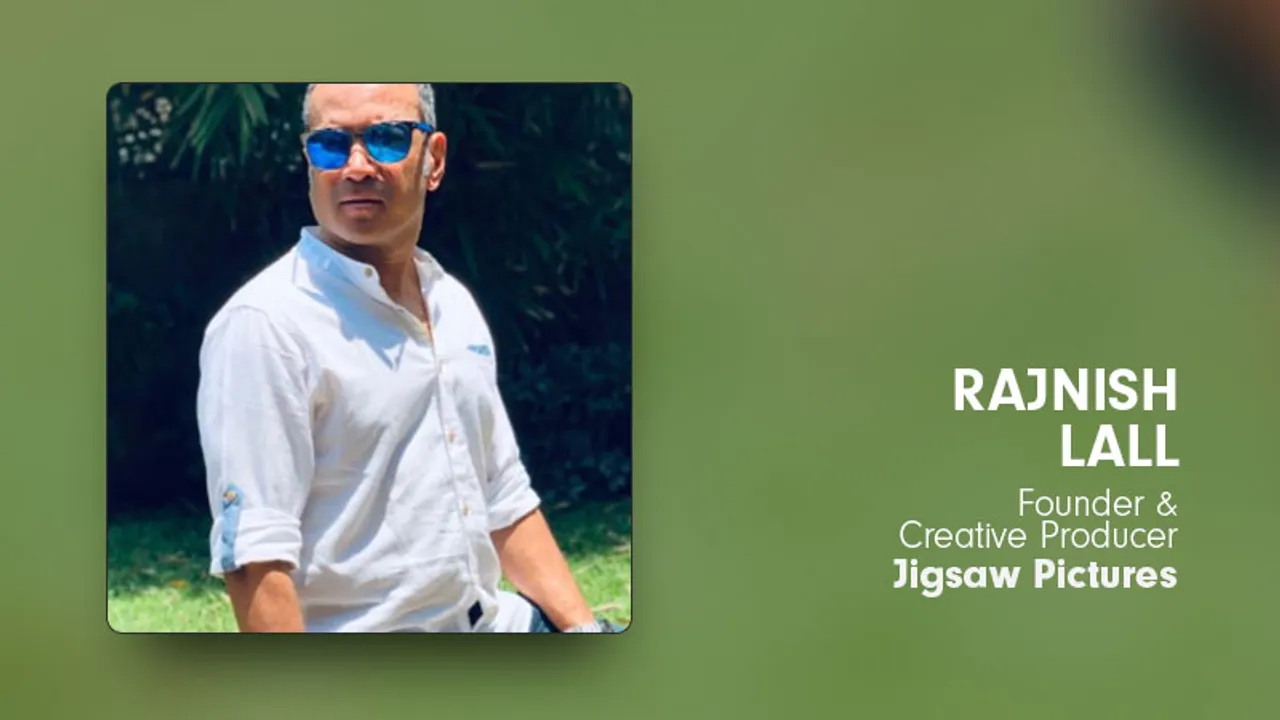 Ex advertising professional, Jigsaw Pictures' Rajnish Lall thinks that saturation of any genre of content & ordinary quality will not draw the audience after a while to the OTT space.
MX Players' latest offering 'Thinkistan- Idea Jiska, India Uska' takes us into the mad world of advertising. The story revolves around two upcoming copywriters - Hema & Amit. While Hema's strength is his smooth English, Amit is profound with his Shudh Hindi.
Set in the 1990's era, Season 1 of this corporate drama starts at the time when a major shift happened in Indian advertising, which brought Hindi copywriters to the prominence in a field ruled & dominated by the English writers.  The story of Thinkistan starts in 1996, around the time when the makers Rajnish Lall, Founder & Creative Producer of Jigsaw Pictures and Paddy aka N Padmakumar both were part of this than most creative, aspirational & glamorous profession called Advertising.
In conversation with Social Samosa, Rajnish Lall sheds light on the making of the 11 episodic series, in association with MX Player, the Indian OTT industry and much more.
Excerpts:
What led you
to come up with a web series like Thinkistan? What was the rationale behind
launching it? 
Thinkistan came to me through Paddy aka N Padmakumar and I had to say yes to it because it was a super-script about the World of Indian Advertising set in the mid-90s around the time when I was also in advertising. I could relate the idea, situations, setups & the characters completely. Paddy also was in advertising in that era so we could really connect, discuss, and ideate a lot till the script was finally locked.
How did the
association with N Padmakumar who helmed the project pan out?
He is an amazing writer plus a sensitive & technically a very sound Director, who can also shoot (he operated the 3rd camera throughout the shoot). His penchant for details & quality, clearly a hangover from his advertising days is lovely but can be a big challenge when one is producing the constrained budget. But I was also very clear that there only one way to shoot this series - the right way. To show the authenticity, smartness, scale, glamour & more importantly the creative discussions & presentations. It would have been woeful that between 2 ex-advertising professionals from that era our show looked anything but real & not riveting enough. After all, we have grown on telling compelling stories even in 60 seconds!
Insight
behind partnering with MX Player for the release of the series? How did the
association take place? 
When the idea of Thinkistan was shared with the Creative Team of MX Player way back in late 2017 (it was Ikigai then), they liked it immediately & asked Paddy to work on it. Around that time they were looking for Original content, Thinkistan wasn't just original but unique. They have been a guiding force both for me & Paddy as this is our first web series, with amazing patience & supported our creative requirements to make the show look as good & engaging as it does.
Please share
key highlights of the series that makes it different from similar other shows?
Thinkistan doesn't really conform to any specific classified genre ie Thriller, bold, action, saas-bahu, comedy, etc. It's a world created with realistic situations & setups in the glorious era of Indian Advertising which oozed with creativity, amazing character, style, glamour, strong friendships, fierce rivalry, freedom of expression, relaxed but serious approach towards work, love, infidelity, fun, darkness, etc. This era shows the emergence of heartland India making its presence felt in the world of Indian advertising... the profession which was dominated by English copywriters & then Hindi writers came & created a mark for themselves, which continues till today.
What is your
take on its comparison to the international series Mad Men which deals with a
similar plot line? 
There's no comparison in the plot line at all, other than the fact that they're set in the world of advertising. Sure there will be similarities because both show how a real advertising agency functions. Thinkistan is a show with 2 protagonists Amit & Hema, the English & Hindi young copywriters with an ensemble cast.
Now that the show is streaming, you may want to see Thinkistan & you'll know how different the 2 shows are as you may have already seen Mad Men.
Talking
about the on-demand entertainment in India, how would you compare the
'storytelling' of Indian OTTs Vis a Visit's foreign counterparts? What more
still needs to be done? 
It's
definitely getting better, but not fast enough if we compare to the voracious
demand with which content is being consumed. India is a very challenging market
to please the varied set on viewers by SECs, the psychographic & demographic
divide with many languages. But good content in whichever format if presented
well, resonates with a certain mass with 1.30 billion people. So good &
unique content along with its rightful presentation becomes the key.
The OTT platforms which are the backbone of this ecosystem need to encourage even more good, exciting, not-me-too & compelling content. And should support them with the right budget for the show to look good if not great. After all, we Indians also see the international shows & they become the quality benchmark for us... if we're going to spend our limited time & money to watch anything.
Also, do
you think India is ready for a subscription-based OTT entertainment? 
Free, is a magical word. It draws all. However, quality doesn't come cheap or free. So, I guess the discerning viewers will not mind paying for content of their choice if things are judiciously & practically priced in the OTT world.
In November
2018, Internet & Mobile Association of India (IAMAI) released its 'Code of
best practices for Online Curated Content Providers.' As a creator contributing
to the OTT community, do you think self-regulation and censorship on digital
are considerable?
Every business largely runs on demand & supply formula. So does the OTT community. However, the saturation of any genre of content & ordinary quality will not draw the audience after a while. So all creators along with OTT platforms need to come forth with & encourage fresher, newer & exciting ideas.
There are not too many bindings in the digital space but there's much more to view than just 'bold & racy' content. Here the stakeholders should balance out the content so that they meet the viewing needs of all kinds of audiences.
Lastly,
please share what is Jigsaw Pictures's roadmap ahead in 2019 and shows in
pipeline?
Jigsaw Pictures started as a TVC production production house & will keep that vertical alive. But the success of Thinkistan has given our confidence a tremendous boost. That we don't need to conform to any stereotypical given of conceptualising & executing a show. Keeping the same ethos in mind, we have over the last 8-10 months developed a couple of very exciting & unique concepts along with a feature film. We have just about started meeting our potential partners & they're showing immediate positive reactions but it'll be a while before we get into any alliances. And the success of Thinkistan gives the OTT platforms & the studios the confidence that Jigsaw Pictures can deliver.