With the launch of Pinterest Mobile Ad Tools, brands can now create campaigns on the go to simplify businesses on the platform.
Pinterest Mobile Ad Tools help create Pin Ad campaigns from Mobile devices. The consolidated targeting options help to drive awareness and performance for the marketers on the platform.
Pinterest team elucidates further that, "In the last year, we've added a suite of self-serve tools to make it easier for businesses of all sizes to reach Pinners and measure the effectiveness of their campaigns. Now, with the ease of Mobile Ad Tools, businesses get simplified ad creation with consolidated targeting options, taking the guesswork out of setting up Promoted Pins."
Earlier, campaigns on Pinterest happened only through Desktops. The variety of features added through the Mobile Ads tools enables small- large-sized marketers to easily collaborate on the platform. These features comprise multi-user access to ad accounts, custom reporting, and insights, organic performances and even duplication of campaigns for advertisers.
"Businesses start advertising on mobile by choosing a Pin from their business profile and then selecting from automated or custom targeting options. After choosing Pins and targeting options, they can pick the duration and daily budget of the campaign, complete billing information and then publish the ad - all from a mobile device", explained the Pinterest team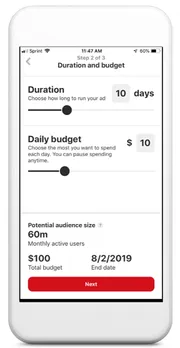 To ease the execution of campaigns and enhance businesses on the platform, the features also include simplified targeting and adjusting budgets, editing the URL destination and the campaign name and pausing the ads, as and when needed. Tools like advertising spend, remaining campaign duration and engagement metrics such as impressions, clicks, click-through rate and saves magnify the campaign controls and editing options for the advertisers.
Pinterest has a user- base close to 300 million customers. The new tool also becomes useful to advertisers who plan to increase their social media activity on the platform.