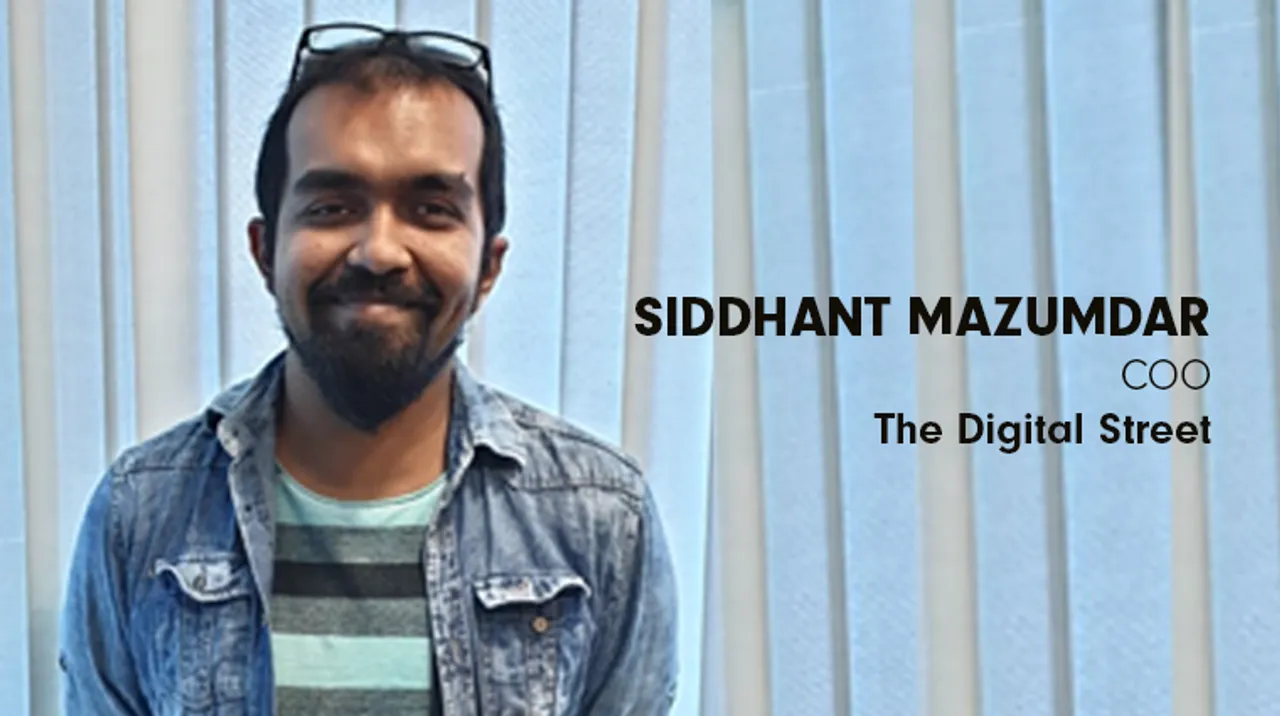 The Digital Street has appointed Siddhant Mazumdar as its new Chief Operating Officer. Siddhant will work closely with Shrikant Menon, CEO & Managing Partner, to accelerate and drive the agency's growth strategy and continued operational expansion plans.
In his new role, he will be charged with leading the strategy operations and will be instrumental in driving business development, creating new opportunities and experiences for the vertical as well The Digital Street's clients across the board.
Commenting on the new appointment, Shrikant says, "Sid brings with him a wealth of experience in the digital domain with both strategic thinking and operational excellence. Our shared belief in delivering platform-agnostic communication solutions is at the center of why The Digital Street exists as a partner to our clients. It is a sign of great intent and ambition for The Digital Street and I'm excited to have him on board."
Siddhant adds, "I'm excited to join The Digital Street as this is a remarkably forward-thinking agency that is built on a model worthy of the times we are in. Agencies can no longer afford to work in silos locked down by a single medium and in order to crack a winning campaign, we need to be able to produce for every touchpoint while keeping digital at the center. This is why I feel I couldn't have joined at a better time in the agency's history as today The Digital Street has the ability to go beyond just pure-play digital and also deliver everything from short/long format content to experiences, innovations to OOH - all under one roof!"
In a career spanning multiple departments at agencies and platforms, Siddhant has had the rare privilege of leading operations on both sides of the business - creative and revenue. After starting off in OgilvyOne in 2007 as a copywriter, Siddhant went on to serve as National Creative Director at Interactive Avenues, where he was responsible for shaping the creative product and run operations nationally. After spending more than a decade on the creative side, he then moved to the business side at Vice media as the Sales Director, overseeing all branded content and events sales for Vice in India.
The Digital Street LLP is a subsidiary of The Social Street and has offices in Mumbai, Hyderabad, and Bangalore. A full-service communications partner across video, voice, and text, The Digital Street's clients include ITC Foods, ITC Personal Care, Axis Mutual Fund, Dolby, Exide, British Council, MTR Foods, HDFC Bank, Emami and more.
The Social Street is an award-winning, full-service marketing and communications agency. A new-age digitally-driven organization, The Social Street's services are designed to offer an integrated yet seamless solution across the communications continuum including Retail, Shopper, Out of Home, Events, Promotions, Activations, Youth, Sports Marketing, Media, Digital, Content and Creative Consultancy.