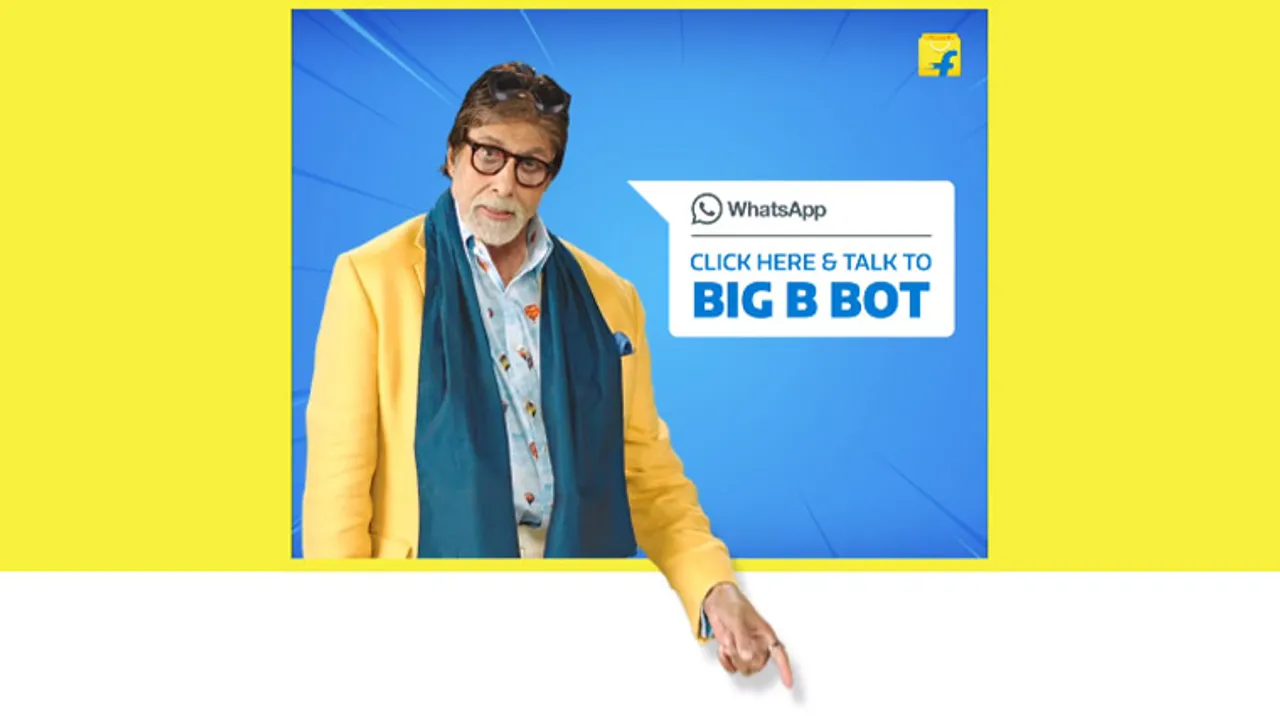 Flipkart presents the Big B Whatsapp Bot for its Big Billion Days' sale with remarkable offers, encapsulating a chatbot experience - Senior Bachchan style!
In a bid to outshine amidst the festive sales clutter, Flipkart decided to offer a combination of technology and Bollywood for their Big Billion Day sale. Meet, the Big B WhatsApp Bot. You can literally meet him (virtually of course) and be a part of the fun and engaging challenges, all leading to remarkable discounts and offers at Big Billion Day.
A WhatsApp innovation by the e-commerce brand, the Big B Bot or the Big Billion Bot banks on the popularity enjoyed by Sr. Bachchan. The bot is being actively promoted by the website across their social media channels and creates an engaging experience for the consumers.  Backed by trivia, offers via emojis, and other fun contests, Flipkart's WhatsApp bot is designed to make the consumer a part of the communication.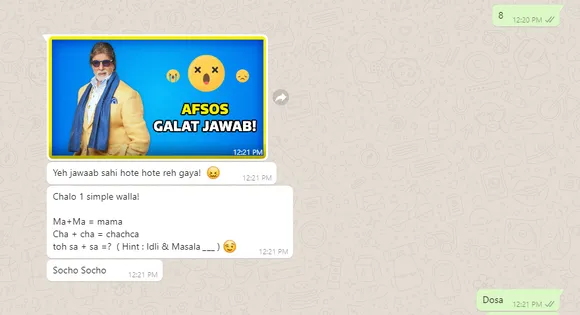 On clicking this link, users are directed to the BigB Bot on their WhatsApp; from the very first Hi, the conversation flows as Big B starts throwing questions that often have a layer of quirk and curiosity to it, making it difficult to stop chatting. Further, with all the creatives and the kind of language used, it comes across as Big B himself is a part of the conversation.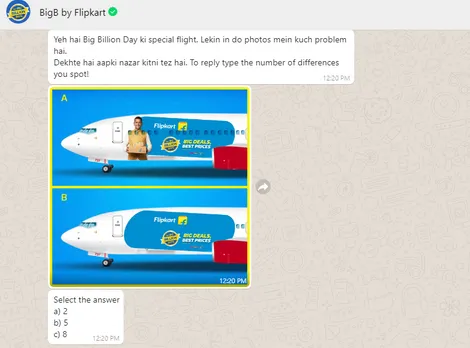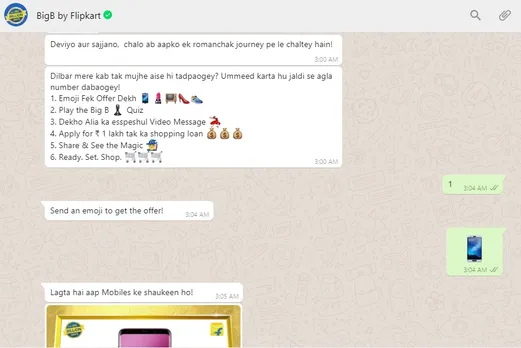 The bot's Screen Pe Emoji Offer came across as an immersive format, where the audience was given the option to access and avail Big Billion Day offers basis the emoji they shared with the bot. The idea of getting offers by merely sending an emoji, not only added a thrill factor but also managed to convey the ease of shopping that Flipkart stands for.
Making the initiative more inclusive, BigB Bot has options to communicate in both, Hindi and English. The WhatsApp bot has also been the talk of the social town as consumers share their experience.
Created in association with Facebook, Flipkart BigB Bot decodes the issue of reach, as WhatsApp is one of the most and consistently used platforms, across age groups. Use of typical Amitabh Bachchan language, games such as Spot the Difference, and Emoji contests keep the conversation casual, helping Flipkart rise above the qualms of typical e-commerce advertising.
Flipkart's
Big Billion Days went live on September 29 and concludes today. The sale boasts
of exclusive offers and massive variety – a USP that the BigB Bot manages to
communicate to consumers effectively.