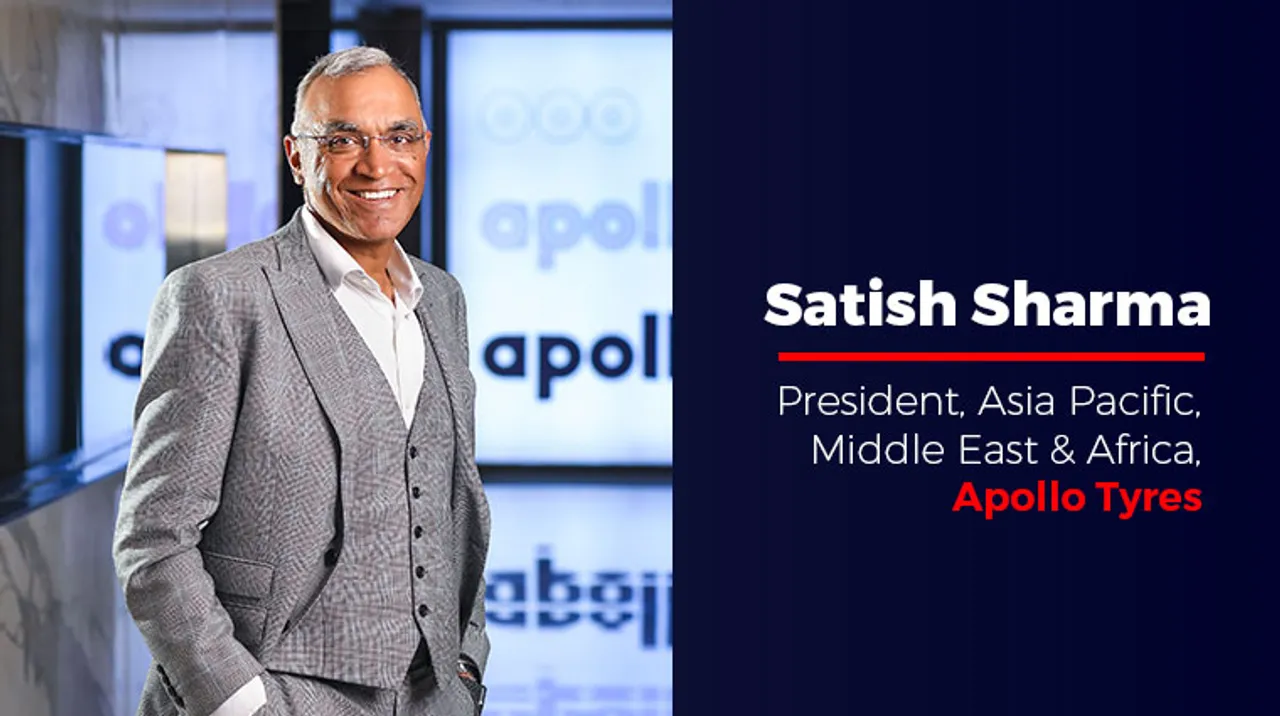 In conversation with Social Samosa Satish Sharma, President of Apollo Tyres shares about the brand's journey with ISL and its impact.  
The rise of non-cricket content, football, in particular, has been spectacular. One could attribute this success to the National Indian Football Team's performance coupled with the growing popularity of the home-grown, Indian Super League.
Social Samosa gets in conversation with Satish Sharma, President, Asia Pacific, Middle East & Africa, Apollo Tyres, to understand the brand's journey with ISL and its impact.  
Apollo Tyre's association with ISL and football has been an integral one. Sharma tells us that the brand has been committed to Football's roots. The association first began when the tyre brand wished to break the clutter of brands investing in cricket with an innovative strategy. There has been no turning back since.    
The brand is
connected with ISL team,
Chennaiyin FC
and an I – League football club, Minerva
Punjab FC. Sharma claims that the sponsorship has helped Apollo Tyres reached a
wide audience base pan India.
In a detailed interview, he sheds light on the growing
consumption of football content, the rise of Indian Super League, Apollo's ISL
association, and takeaways for brands.
Excerpts:
Football
has been evolving with over 500 Mn users watching the sport in India, what are
your thoughts on the rise of Football in India?
I firmly believe that the FIFA U-17 World Cup was a massive shot in the arm for Indian football across all levels. Hosting such a high-profile international tournament meant a lot of visibility, and consequently drew fantastic support from not only the corporate sector but the Government as well. Secondly, the existing infrastructure got a huge fillip with world-class football pitches, stadiums, and facilities. The progress of the ISL and I-League, with some of the big global names coming to play in the country, also indicates that things are looking up for Indian football.
With
Manchester City eyeing an investment in Indian Super League Clubs and global
talent taking interest in the league, what is the growth trajectory you would
predict for ISL in the coming years?
The success of the league also depends heavily on the success of the Indian National team; in the past year or so, we have seen the performance of the Indian national team improve significantly. This, and the increased attention from the corporate sector will make the league stronger and grow in popularity.
ISL
is venturing into the 6th year and the league has been attracting
Brand interests.  Please take us through
Apollo Tyre's Journey with ISL, Key milestones, and how the association has
matured over the years.
In Europe, Apollo Tyres has been associated with teams across the Premier League (Manchester United Football Club and Crystal Palace Football Club) and the Bundesliga (Borussia Monchengladbach). The association with European clubs clearly demonstrates Apollo's global ambitions for it's business and brand. Very few sports platforms deliver a global profile and awareness like football, and the impact of this relationship is significant in helping make Apollo an internationally recognisable brand.
As far as India is concerned, we wanted to stay away from
cricket, which is cluttered with too many brands putting in their money. We
have a different strategy. We chose football, which is less popular, but
growing as a sport in India and has young enthusiastic fans associated with it.
The two teams that we chose - being the title sponsor for I-league team,
Minerva Punjab FC and principal sponsor for ISL team Chennaiyin FC - helped us
cover the fan base across the country.
In the two-plus
years of our association with football in India, we now see a lot more
on-ground engagement and activation happening, and not only around the league but
all year round. In the upcoming season, we have plans in place to engage with
the local communities.
Though
ISL opens up avenues of Brand visibility and reach, the league's USP rides on
the optimism as a Brand Value. In your opinion, what are the other factors that
are attracting Brands towards ISL?
Football is one
of the most played sports across geographies, and this ensures access to
on-ground opportunities in markets that are key to us at Apollo Tyres. ISL has
taken organised football to tier 2 and 3 markets in India, and this is an
opportunity we would like to tap into.
Apollo Tyres has been associated with ISL for a while now. What was the rationale/objective behind associating with ISL (league/team) and parameters/insights that have kept you running for it?
The first and the foremost thing that we look while
associating with a league or a team is that the association should be a
suitable fit for our target audience and resonate with the values that Apollo
Tyres stands for. As a brand, Apollo Tyres enables individuals to achieve their
own potential, when it comes to driving, and in every area of life, as
reflected in the company's tagline, 'go the distance'. The association with a
team, or a league, should help increase the visibility of the brand and also
create a unique position in the minds of the consumers.
We firmly believe in the potential of Indian football and will remain committed to supporting the sport and enable it to grow in India. Accordingly, our association with Chennaiyin FC and Minerva Punjab FC was not for one season, but for a couple of years with each team.
Apollo
Tyres leveraged this association with ISL over the years? How would you define
the Brand's growth trajectory viz a viz ISL?
For our marketing initiatives around sports, we have chosen football as very few sports deliver a global profile and awareness like football. Our association with the sport has definitely helped the brand to be more visible among the young generation and differentiate ourselves from others. The company has developed commercials based on football, which aligns with the characteristics of Apollo's tyres, which are performance, control, and agility.
Having said
that, ISL is only one of the sports properties that Apollo Tyres uses; besides
this, we have partnered with Manchester United Football Club, Chennaiyin FC and
Minerva Punjab FC. We use all our assets in a layered approach, along with the
traditional marketing tools.
ISL offers an inclusive suite of through the line engagement
opportunities for Brands. In your opinion, how can Brands maximize the bang for
the buck from these opportunities?
Brands need to have a comprehensive approach across broadcast, digital and most importantly, on-ground, to maximise the opportunity with the ISL. More importantly, activities should not be restricted to a time only when the league is on, it should continue with the engagement with the target audiences throughout the year.
New year and new season come with add ons and innovations. With ISL 6, the association of brands is not just restricted to TV campaigns. There is a growing focus on creating non-live content around ISL as fans are immersed in facets beyond just the football match. Fan engagement activities like meet and greet, behind the scenes, contests et al are important for the pre and post-show involvement. What new dimension is this adding up in the marketer's landscape?
Fan engagement activities ensure that a brand should have a comprehensive 360 approach towards its association with the league/teams. For example, as 'Global Tyre Partners' of Manchester United Football Club, we couldn't be happier with their interest in India and its fans out there. In fact, when we inaugurated India's first 'Go The Distance' football pitch, which is created using recycled rubber in Mumbai, hugely popular Bryan Robson, the longest-serving former captain of Manchester United and Club Ambassador, came down to inaugurate the pitch.
How can Marketers leverage the
association with ISL differently over the previous season and gain maximum
value?
Every season gives us the opportunity to learn from our past and improve our engagement activities. This season, we would be looking at more on-ground and digital activities, and how these can be integrated with our overall marketing campaigns.
ISL is touted to possess extremely high stickiness amongst its
viewers enjoying a loyal viewer base. What are your thoughts on it becoming the
next big thing and going mass in the arena of sports in India which is still a
cricket dominated land?
One of the obvious challenges is the overwhelming support and fan following that cricket enjoys in India. And this is not a complain, but the fact of the matter is that football will always be in the shadows of cricket in India, at least for the foreseeable future, as far as sponsorships and visibility are concerned. However, it is indeed heartening to see that slowly football is also catching the attention of the audiences, especially the youth, due to which there is an increased interest from corporates as well.
In the digital day and age, what are
the perceived benefits of associating with ISL/Football?
Association with football/ ISL ensures access to wider geography in our key markets and gives us an opportunity to integrate an on-ground and digital strategy, to reach and engage with our consumers.