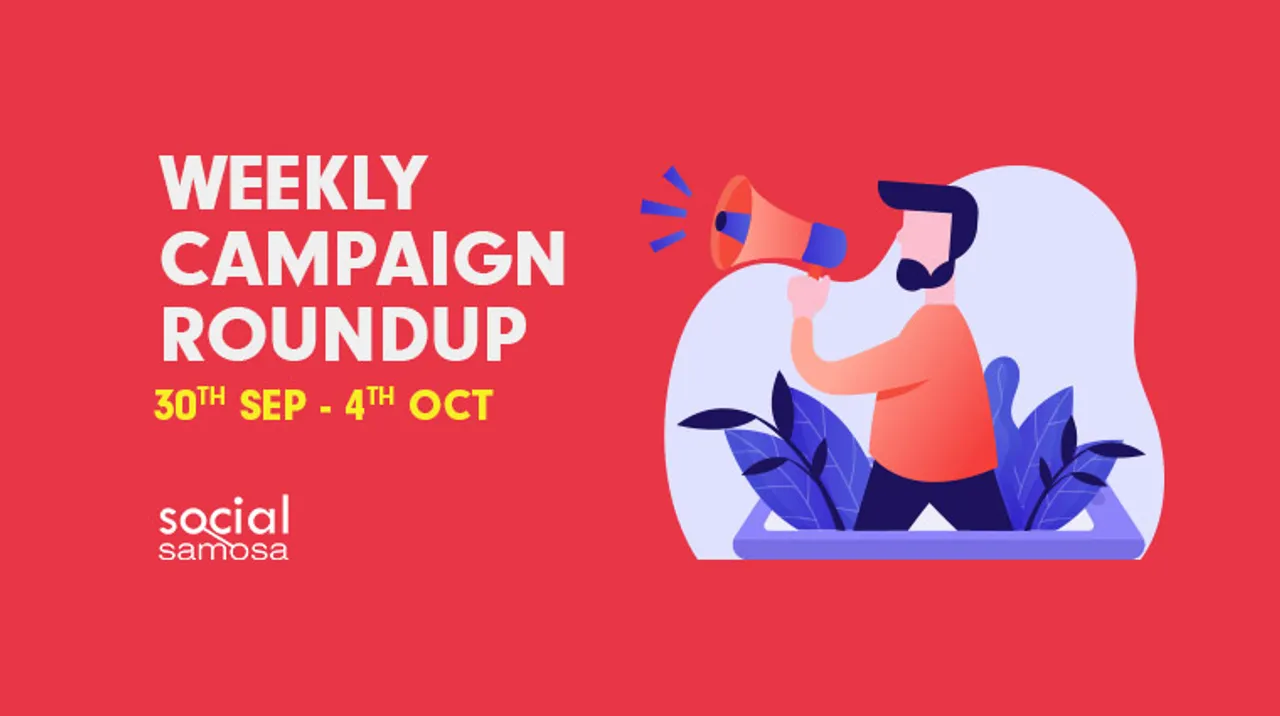 Here's to another week of some impressive work from brands and agencies all over the world. Check out some of the social media campaigns that were rolled out this week.
This has been a week of many trending formats and occasions, keeping brands and agencies on their toes. With the beginning of the festive season, Pujo campaigns have started to appear. CenturyPly Heroes captured the spirit of carpenters in sync with the Pujo spirits and HDFC took it upon themselves to spread the idea of #SpendItWell. Meanwhile, War released after weeks of movie marketing centred on #HrithikvsTiger. Here's more from the week that went by.
CenturyPly Heroes captures the unbeatable spirit of carpenters – true heroes of Pujo
With the confluence of the spirit of Pujo and the indomitable passion of the real heroes – the carpenters who glorify each festival, CenturyPly launches a new chapter of its series, Century Ply Heroes. Read more
How Flipkart created an innovative WhatsApp experience for The Big Billion Days
Flipkart created the Big B Whatsapp Bot for its Big Billion Days' sale with remarkable offers, encapsulating a chatbot experience – Senior Bachchan style. Read more
World Smile Day brand posts spread a sincere cheer
World Smile Day brand posts carve a curve in the marketing arena with smiley creatives and joyful posts. Read more
Brands amp up creativity this #WorldAnimalDay
This #WorldAnimalDay, brands took up the cause to celebrate the many-legged creatures in all their glory in social media creatives. Read more
How War movie marketing got people to pick sides in #HrithikvsTiger
Releasing this Gandhi Jayanti, War stars Hrithik Roshan and Tiger Shroff. War movie marketing strategy is centred on promoting them as opponents. Read more
National Boyfriend Day brand posts spread love in the socioverse
National Boyfriend Day brand posts are romanticizing companions today and promoting products with a touch of love. Read more
Via influencer marketing, HDFC nudges Millennials to #SpendItWell
This festive season, HDFC bank has come up with an influencer marketing campaign, #SpendItWell, to promote healthy spending habits among Millennials. Read more
Brands use symbolism to celebrate #GandhiAt150
As the nation takes stock of the years that have gone by, brands take to social media to be a part of the #GandhiAt150 conversations. Read more
TOI's Phirey Esho Kolkata calls daughters home this Durga Puja
Maa Aschen, Tumi Kothay, the extension of Phirey Esho Kolkata, is a new digital campaign for Times Of India's initiative and invites all the daughters of Bengal. Read more
Brands brew International Coffee Day posts
International Coffee Day brand posts have been brewing with roasted creative beans and are here to raise the energy in the social bistro. Read more
Diageo promotes road safety with #DriveResponsibly
Armed with a microsite and quirky creatives, #DriveResponsibly seems to be Diageo's attempt to save lives by educating citizens. Read more
Brand Vicky Kaushal keeps the josh high in the marketing universe
The 31-year-old actor is grabbing a big deal of brand endorsements from the past two years and thereby we take a walkthrough Vicky Kaushal brand campaigns to gauge his enviable brand ambassadorship. Read more
This World Heart Day ICICI Lombard urges us to stay fit through its new campaign
On the occasion of World Heart Day, ICICI Lombard launches a digital campaign to endorse healthy heart habits for a long and blissful life. Read more
Best Of Ranbir Kapoor Ads ft. Oreo, Pepsi, Asian Paints & more
Social Samosa presents the best of Ranbir Kapoor Ads, his notable endorsements, brand value, and iconic campaigns. Read more
#TopicalSpot: Spin around the Smart Chakra brand creatives
Smart Chakra brand creatives have unlocked the creativity within and present smart portrayal of sharp-witted promotions. Read more
Tripoto chronicles #SheherSheherKiBaat
Tripoto World Tourism Day campaign weaved #SheherSheherKiBaat celebrating the lively spirit of the cities of India. Read more
World Heart Day Campaigns pump life in the socioverse
World Heart Day Campaigns aim to hoist awareness and educate us to lead a healthy and hearty lifestyle. Read more
Without further ado, take a look at social media campaigns that dominated this week.