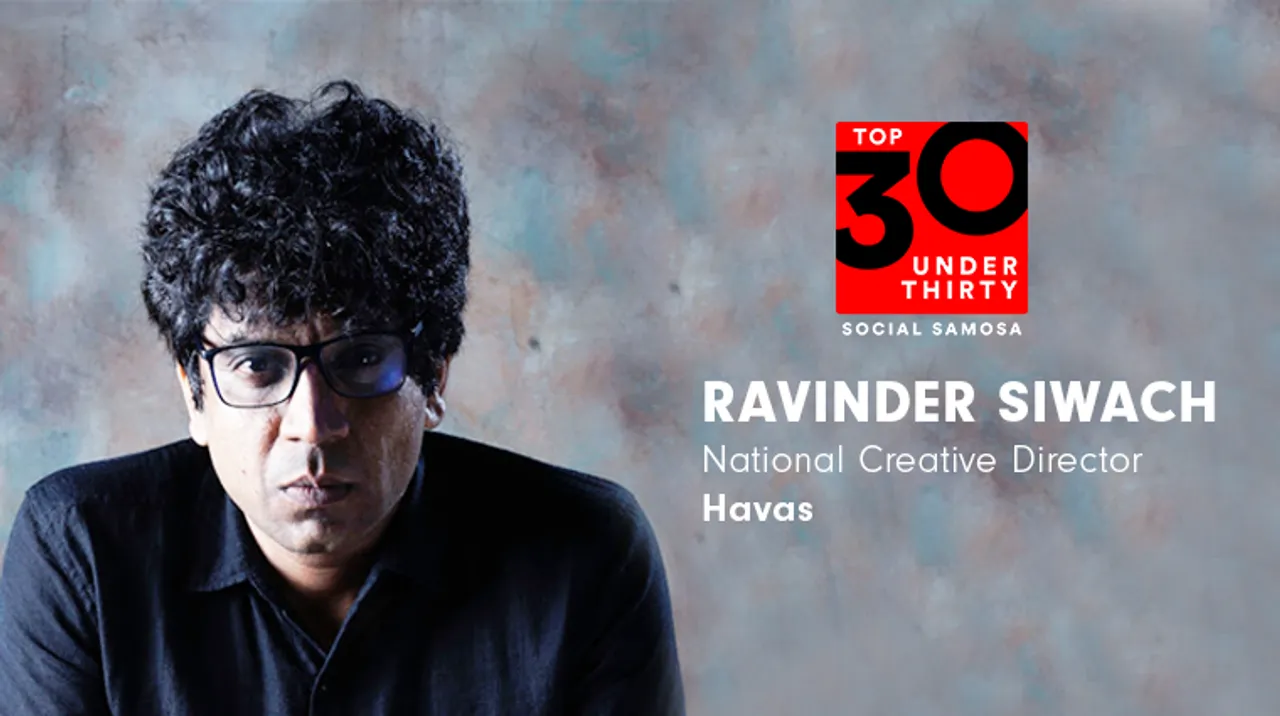 Ravinder Siwach, National Creative Director, Havas in conversation with Social Samosa, gives an insider view of how the Indian advertising industry has evolved from print ads to square creatives on Instagram.
A jury member of #SS30Under30, Ravinder Siwach, also shares industry insights and tips for success to folks looking at making it big in the Ad World.
With over 15 years of experience across some of the finest agencies of India, looking back, what made you join advertising in the first place?
I don't think anybody's parents ever said, "Listen son, when you grow up, join advertising. We will be really proud of you." Neither did mine.
I was in fact studying very hard through my graduation and post-graduation so one day I could be, hold your breath, a scientist. And I had even aced the exam you need to crack to get into IITs etc. for your Ph.D. The only problem was, the more I realised what research was about, the more I detested it. It was a lot of drudgery. And I had no idea whatsoever what I was going to do with myself when a senior from college suggested I could give advertising a shot since I used to write poetry in college. 18 years and am still as excited as my first day.
How do you think creativity quotient in Indian Advertising has changed from the time you first joined? 
We used to have great stuff happening in Print, TV, Radio and even Outdoor back then. The Indian advertising industry was coming to a certain creative maturity and we used to see a lot of great work every day. The focus was on entertaining the consumer back then.
But now these mainstream mediums have become more functional and informational and the focus has shifted or rather 'diffused' to being present in so many places and finding a purpose or meaning in your consumers' life.
So my sense is we are on the anvil of another creative maturity. This was probably the first time we saw Indian digital agencies win big at Cannes, the signs are there.
Industry has seen the rise of mix breed profiles like Creative Strategists, Creative Technologist and so on; what are your thoughts on this trend?
There will be more such! New challenges are emerging and so new specialists are needed. It's all good as long as you get to do something creative I guess because some of the designations are just made to sound fancier than they are.  
How has the role of Creative Director evolved with the Digital Age?
Attention spans have diminished, media costs have risen, budgets have been 'appropriated' and so today you have to be creative in so many different ways. 'The most creative brands' today are not about one great piece after another great piece but are about a great mix at all times.
Creativity today is about saying all you want to say about your brand/product/service in, 'ideally 1.7 seconds' in a small little square on Instagram.
In a nutshell, a creative person today has to be more creative than ever before to make a dent in the consumers mind. Exciting times indeed.
Did you see any global trends making its way to the Indian market this year?
Of course, things originate from the west. We are always going to be reshaping, re-contexting and adapting. But I won't call them trends. They are just emerging media landscapes of the new world. What I enjoy more is how we can still surprise the west with our ingenuity - with a 'Kankhajura Tation' and a Immunity Charm or a 'Blink to Speak'. While everyone is hailing a new brave world, none of these ideas really used any of that and are great pieces of work still! And that's something the west can learn from us.
Do you think Indian Advertising is at par with Global Counterparts?
Yes. In the same way as 'Chandryaan'. We are at par but they have just done it a lot more than us.
Do you think Traditional Advertising/Creative Agencies should be open to experimenting with the use of AI / Data for crafting better campaigns? 
Totally. Firstly because why not! Secondly and more importantly please understand you can't stop it. I would rather that we embrace it whole-heartedly. It is the future whether some of us like it or not.
What are the key elements for designing an effective festive campaign?
Just two words. 'Stand out'. Should be easy when everyone else is so uniformly uniform. Happy Diwali.
Where do you seek creative inspiration especially when you have to work on ample brands at the same time? 
Everything creative is inspiring. A great film. A great song.  And sometimes just the desire to do something great. Sometimes just people around you!
Any particular campaign that you worked on or currently working is close to your heart? And why so? 
Everything I do is close to my heart. That's the only way I can operate. Recently I called my Boss after a pitch presentation to say 'I thought we were a little short of being outstanding today' and we still won. Being obsessive and immaculate is what is close to my heart. Not this or that campaign.  
Your all-time favourite campaign...
Again it's not a campaign but a point of view. So the way David Droga thinks and the way he has built an agency on just is pretty amazing! Eric Vervroegen has again something about the way he looks at stuff.
Your advice for folks looking to make it Big in Advertising...
Let me say it since most people won't tell you the truth. Hard work. That's what all the rockstars you admire do but they won't tell you that because then you won't think they are rockstars.