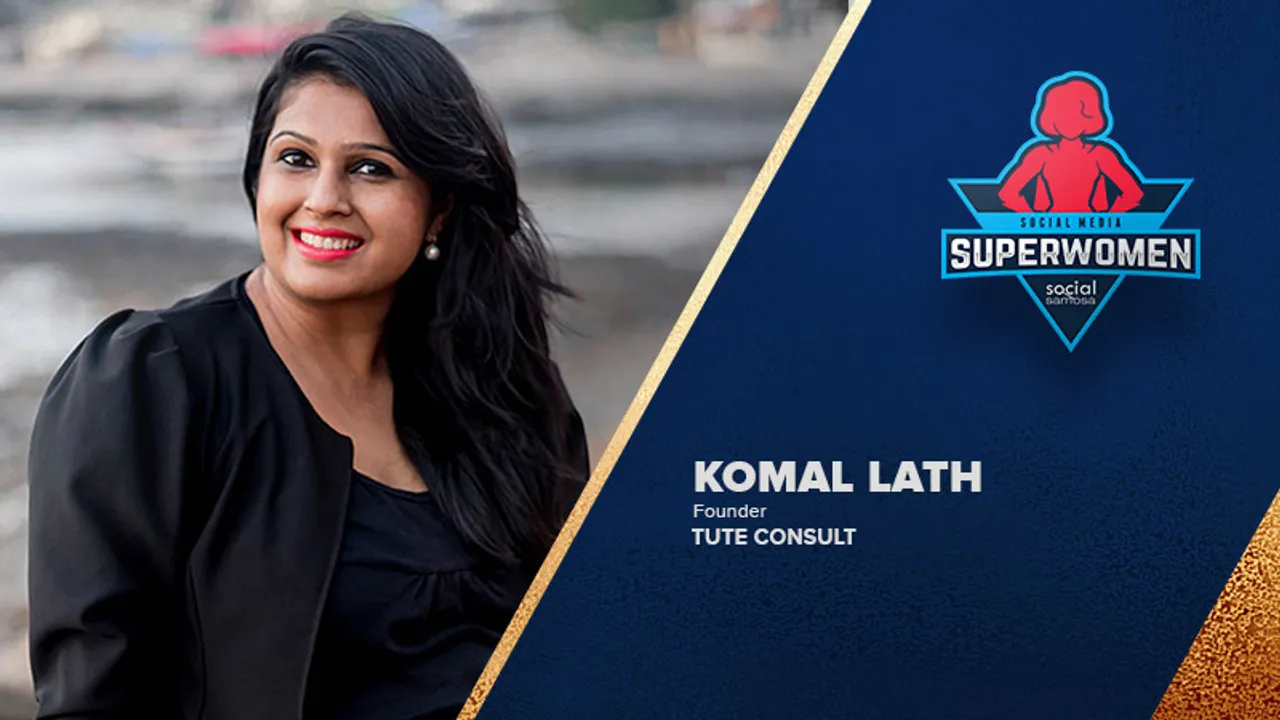 A communication professional for the last 14 years, Komal Lath from Tute Consult sheds light on the changing times in the industry.
"Once a woman sets her mind to something there is nothing that can stop her", says Komal Lath, Founder, Tute Consult.
As one of the winners of Superwomen 2019, she shares tips on gender-neutral environment highlighting that since men and women are part of the same species, the laws of nature are equally applied to both of them.
Lath takes us through her journey.
How would you define
a Superwoman in today's day and age? 
By definition, a superhuman is one who possesses exceptional abilities and powers. Each woman harnesses her prowess to better her own life and of those around her. She needs to be independent, level-headed, smart and most importantly, she needs to be determined.
One quality that you
think every superwoman has and that helped you win Social Samosa Superwomen
Determination and
conviction are the keys to a woman's success and being a superwoman, because as
everyone is well aware – once a woman sets her mind to something there is
nothing that can stop her. This applies to all women, through all walks of life.
How successful have
women been in shattering the glass ceiling in the Media & Advertising
field? Does the 'boardroom inequality' phrase still stand true?
The boardroom inequality phrase is a thing of yesteryear. There are equal and strong voices that have taken serious steps to minimize the gaps and hence inclusion and equal representation is what the future holds.
I think it's more a media headline than in practice. Its skill set based and not gender.
What are the key changes this industry needs in order to make workplaces gender-neutral, safe, and nurturing? 
I come from a place of thought, where I feel that we don't need to make workplaces gender-neutral, safe and nurturing. They already should be!
We don't need to earn our rights or be given liberties. As human beings, it should be our inherent right. Men and women belong to the same species, and the laws of nature apply to both. To make workplaces gender-neutral, the first step would be putting men and women upon the same pedestal, women need to stop being viewed as supporters, and instead be looked up to as leaders.
Being a woman subjects us to a lot of scrutinies, for example – if a woman got promoted today, the first thought that would cross one's mind "what did she do to get there?" and not "she must have worked hard as hell!"
A change in vocabulary
is all that is required, a simple thought replaced by another.
One Superpower you
wish you had?
Teleporting! Imagine the number of meetings I could attend in a day and dodge the manic traffic if this was my superpower.
The 'Superwomen' you
diligently follow and who inspired you?
Natasha Pal – she is my former boss and someone who continues to inspire me. Handling life, decisions and maintaining her calm while making the most touch decisions while weathering the storm after storm…she is someone I owe a large part of my career to.
One tip to women out
there attempting to scale heights
The sky is the limit,
and if you're determined enough even the sky should seem like just another rung
on the ladder to your goals. Grow and glow a little more each day, and always
remember that you are extraordinary!