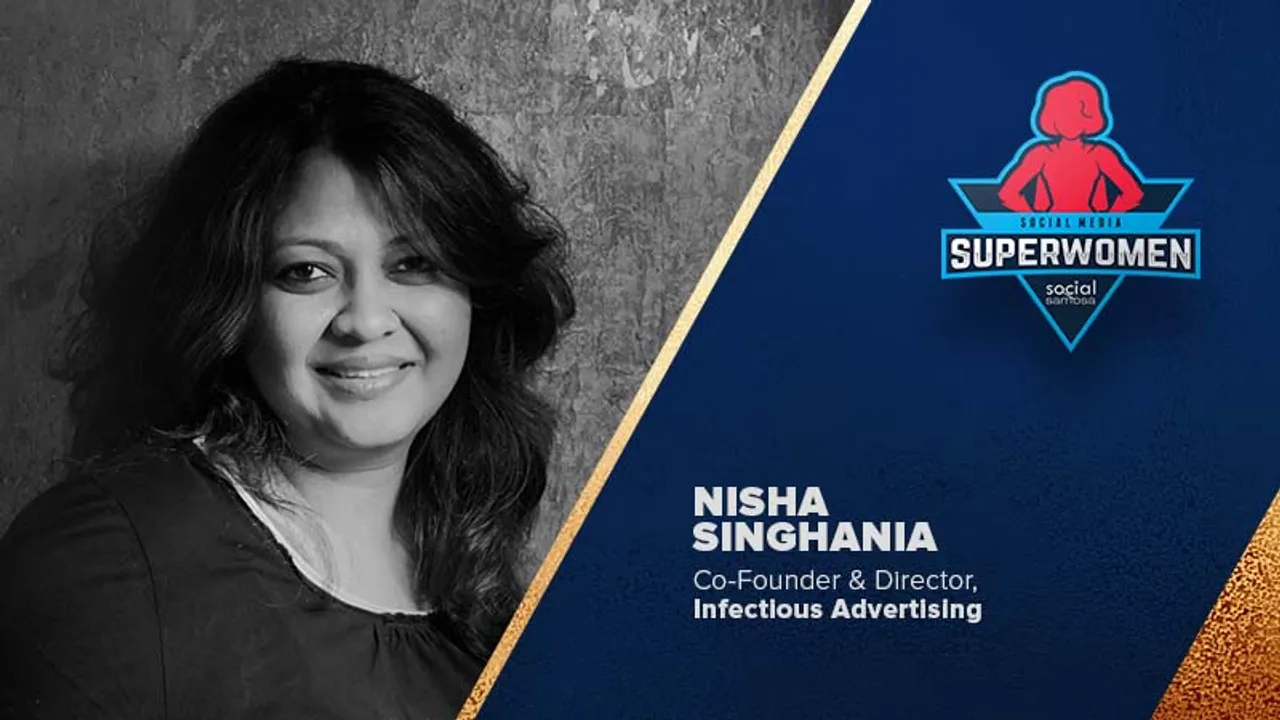 Prior to starting Infectious, Nisha Singhania was heading Saatchi & Saatchi and Rediffusion Y&R Mumbai operations.
Adept at both qualitative and quantitative research, Nisha Singhania, Co-founder of Infectious Advertising shares the secret to being a Superwoman.
One of the winners of #Superwomen 2019, Singhania sheds light on how to make the workplaces gender-neutral and more in an exclusive conversation with Social Samosa.
How would you define a
Superwoman in today's day and age? 
Anyone who is managing
to play multiple roles and be successful at them is a superwoman or man
One quality that you
think every superwoman has and that helped you win Social Samosa Superwomen...
Never give up attitude.
How successful have
women been in shattering the glass ceiling in the Media & Advertising
field? Does the 'boardroom inequality' phrase still stand true? 
Earlier because of the extremely demanding nature of the job, often women dropped out once they had kids. But today, increasingly one sees more women at senior positions in Media & Advertising.
We definitely have a long way to go when it comes to boardroom equality, but at least there is a representation by one or two women in boardrooms today.
What are the key changes this industry needs in order to make workplaces gender-neutral, safe, and nurturing?   
Gender balance
More women at senior positions (so that it is a safe environment)
Strong HR / anti-harassment policies
Quick action if they see anything done wrong so that it is nipped in the bud
One Superpower you
wish you had? 
Read other people's minds.
The 'Superwomen' you
diligently follow and who inspired you... 
There have been many
throughout my career. But no one more than my mom – she is a housewife who
efficiently runs all our lives (so we can concentrate on other things) and does
so much more for society and people at large
One tip to women out
there attempting to scale heights... 
Never give up – things
will be tough, there will be critics but you continue to do what you have to
do.