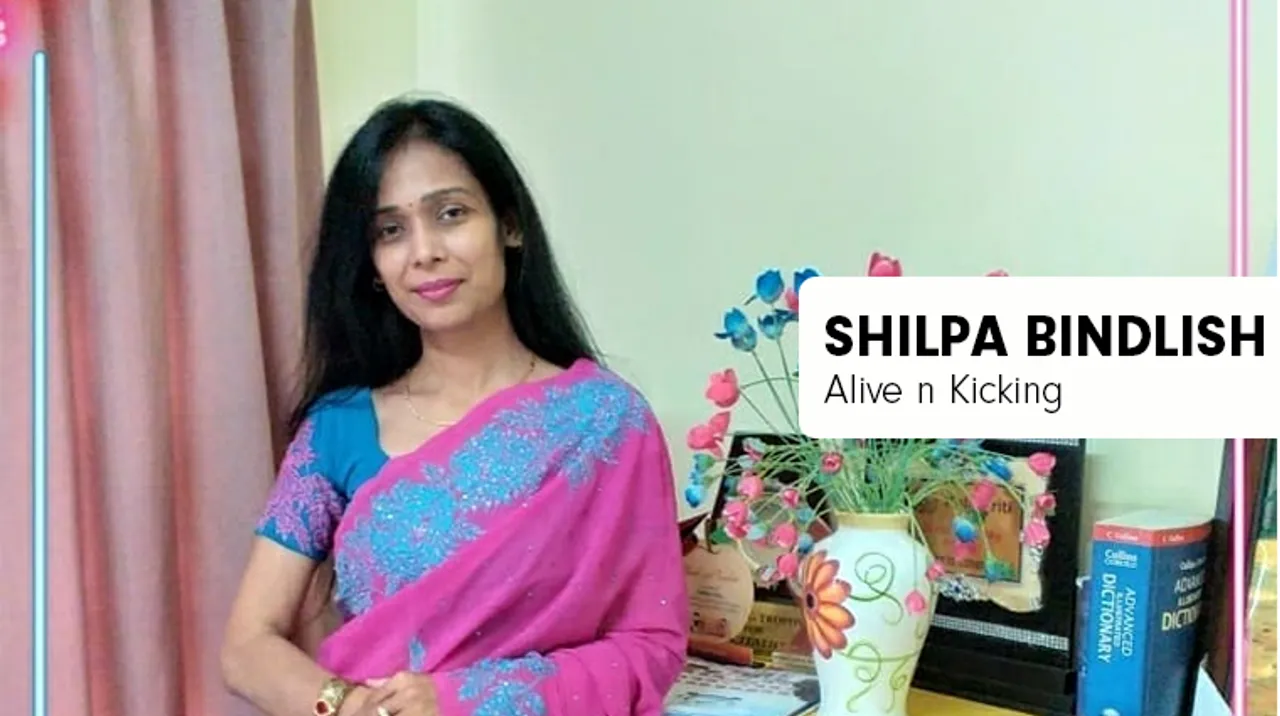 An educator by profession, Shilpa Bindlish ignites a thirst for learning amongst youngsters juggling her passion for content and teaching, at the same time.
Pursuing her passion for teaching, Shilpa Bindlish also found blogging as a platform to voice her opinions on various subject matters.
Not limited to any specific genres, Alive n Kicking is in-line with her philosophy for life aiming to deliver valuable food for thoughts on versatile topics.
Looking back, where did it all begin? 
Blogging had never been a 'planned' line of the groundwork for me. The reason I resorted to blogging was that I found it to be an ideal medium to voice opinions and beliefs. This is how my blog came into being without any concrete strategic plan.
What's in the name? 
My blog is named Alive n Kicking on my Husband's suggestion. I never wanted my blog name to be something that would bracket my content to a specific genre.
When the suggestion of 'Alive n Kicking' came, it somehow personified my philosophy of life to be able to survive despite hardships. It might not appeal to everyone, but makes sense to me and my write-ups largely justify the same. 
What is your USP in this cluttered space? How does your content give you an edge?
As
a reader myself, I don't enjoy reading stiff articles with strenuous vocabulary
for which I need to refer to a dictionary after every couple of sentences. I
prefer to keep the tone of my write-ups that could strike readers' interest, is
easy to comprehend and effortless to read. I think, my conversational style of
writing is my USP that encourages more engagement.
Please take us through your content creation process. How do you stay relevant and relatable?
I create content which I can be true to. Many times, there are themes and keywords that need to be incorporated, but embedding those in a subtle manner within relatable content is something that I personally enjoy. Relevance comes only when you can avoid shallow content.
How do you make moolah with your efforts?
Blogging
is not my full-time occupation. It's neither a money-minting machine for me.
But yes! I deserve to be rewarded with some compensation for my time and effort
(though not in monetary form always). For the brand collaborations, I usually ask
for the offered commercials and then accept/reject the offer depending on suitability.
 
How do you maintain editorial objectivity with the influx of brand briefs?
That's probably the most challenging aspect of blogging. I need constant prompting to myself to remain justified and mindful without being lost.
One instance/experience that made it all worthwhile.
In 2015, I got an opportunity to attend my first ever outstation blogger meet at Goa through an association with Indiblogger and Tata Motors. The fond memories of that trip will always be itched on my heart where I got acquainted with many talented bloggers of the country.
Weirdest brand brief/request ever.
Experiential review of a body-transforming surgery. I mean who wants to go for a surgery to write a post.
If not blogging, you would be?
I'm an Educator pursuing full-time teaching in the field of Computer Science for the past 16 years.
A day in your life...
My day begins as early as 6 AM when I get ready for work and take my son along to drop him to school. You'd find me non-existent in the blogging world till 3 PM when I don't have access to my phone. Once I reach home, I juggle between my blog assignments and household chores.
Message/tips for upcoming bloggers.
Authenticity
will only prevail in this superficial world. Be mindful of what you assert.
Your Favorite Influencer.
I
admire many who have versatility in their content and who take pains to keep it
real.
The Future you foresee for your Personal Brand.
A genuine leadership that could trust me/my blog for delivering valuable subject matter.