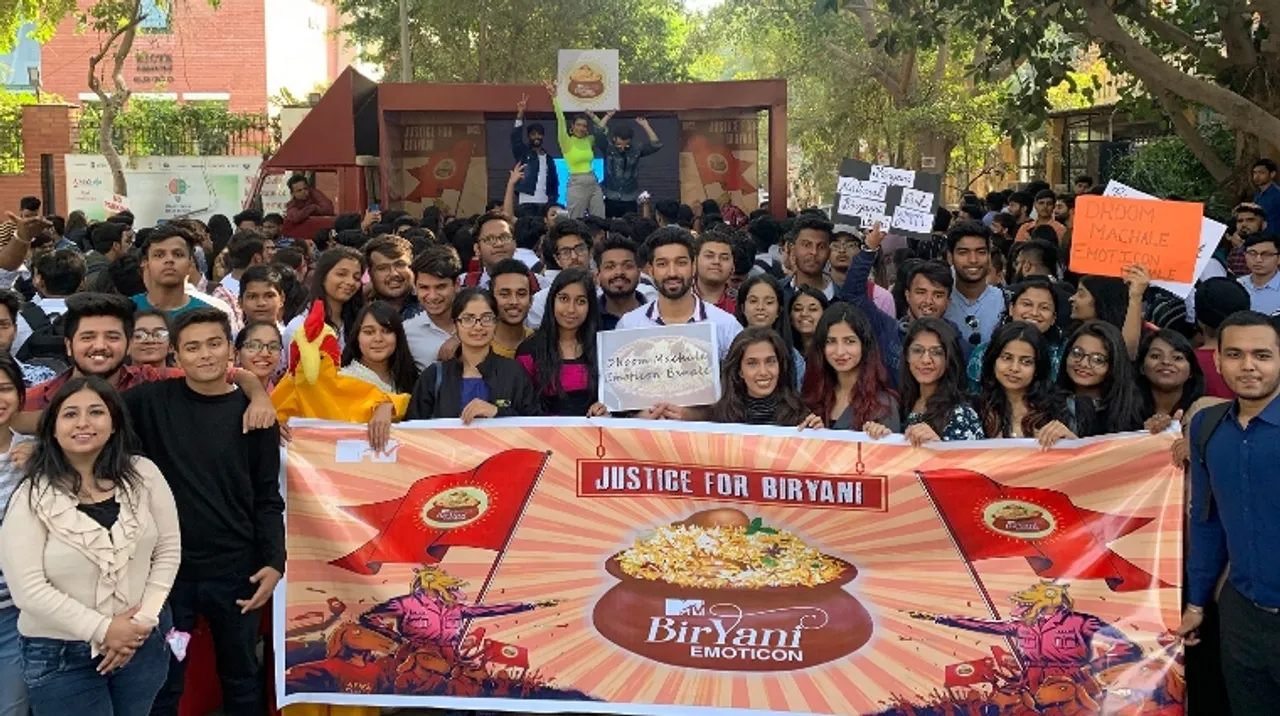 Using a blend of petition, on-ground rally, creatives, and digital conversations, MTV brought to life a plea for a Biryani Emoticon.
To give wings to the #JusticeForBiryani campaign, MTV brought together biryani lovers online and offline. Targetting college students and Indian youth at large, the core idea of the campaign was to highlight the need for a Biryani Emoticon.
Category Introduction
The Indian Media and Entertainment sector stood at Rs 1.67 trillion in 2018 with a growth of 13.4% over 2017. The TV industry grew from Rs 660 billion to Rs 740 billion in 2018 accounting for a growth of 12%. TV advertising grew 14% to Rs 305 billion while subscription grew 11% to Rs 435 billion. Television viewing households increased to 197 million, which is a 7.5% increase over 2016. With its current trajectory, the M&E sector in India is expected to cross Rs 2.35 trillion by 2021 at a CAGR of 11.6%. 
Brand Introduction 
MTV is a youth-oriented brand offering a vibrant blend of music and pop culture. The channel has a reach of over half a billion households. Across various social media channels, they have a follower base of 50 million.
Summary
As one of India's most savoured dish, ordered at an astonishing rate of 43 orders per minute, Biryani is more than just food for Indians. There are 3,178 emoticons in the Unicode Standard, yet not a single one is of biryani. To unify the Biryani lovers, MTV created a campaign that launched a conversation about the Indian youth's favourite food in the one place where the youth hangs out the most — social media. The campaign also had an on-ground leg, aimed at making Biryani an emoticon through a petition, rallies and social media conversations. 
Problem Statement/Objective 
The MTV campaign, co-conceptualized with Tonic Worldwide, was intended towards garnering support from across the country for making Biryani an emoticon on social media through a petition on Change.org.
Brief
Despite being one of India's most savoured dish, not having an emoticon for Biryani was a trigger enough to kickstart this campaign.
Creative Idea 
2019 saw the release of 230 new emojis including the waffle, the sloth and the wheelchair. Studies show that emotion plays a major factor in millennials' decisions, and what is the direct representation of emotions for millennials? Social media emoticons! 
At MTV, the understanding is that brands need to comprehend what their audience wants instead of trying to tell them what they want So, in the initial leg of this campaign, the audiences were first heard and then engaged with on MTV's social media fandom in a way that triggers conversations.
To kickstart the same, MTV launched two quirky, bone tickling films, along with engaging, tongue-in-cheek creatives and infographics across platforms, that made an earnest plea for a Biryani emoticon. The quirky 60 seconders were an attempt to make people aware of their intense passion for biryani, as a country, and then set the ball rolling on social media as the hashtag #JusticeForBiryani started trending in no time. 
Challenges 
To be consistently relevant to the youth is a challenge as they want a lot of things. They are always seeking to have their voices heard and be a part of the decision-making process. This means there are more opportunities for brands and even more challenges to breaking the clutter. MTV's research showed that the youth of the nation loved biryani. The challenge for the brand was to break through the clutter, pique the interest of the millennials and unify them to support something their love for biryani.
Execution 
In the initial phases of Biryani campaign, MTV started flooding their social media handles with a series of posts that depicted the variance and succulence of Biryani. As fans showered their support, the petition was launched to gain signages for the Biryani emoticon.
The campaign hit the streets of Delhi with the coolest and one of a kind 'Biryani march' led by VJ Gaelyn Mendonca along with college students. The social media was flooded with conversations around biryani and that led to trending of hashtags for 3 consecutive days.
Support eventually poured in on social media from faces like Soha Ali Khan, Neha Dhupia, Rannvijay Singha, Ayushmann Khurana, Nawazuddin Siddiqui, Athiya Shetty and Yami Gautam who vouched for getting a Biryani Emoticon.
MTV also partnered with Robin Hood Army; an NGO that provides food for underprivileged kids for the campaign where the channel fed Biryani to 1 kid for every 10 signages on the petition. 
Results 
Total traction on the hashtag: 5000+ Tweets
Impressions: 227.62
Reach: 63.28
Engagement: 4.2
Views: 5.6
Signages on the petition: 42K+
The Morcha for Biryani was attended by over 600 college students. 
"Quirk and innovation drive brand MTV. Through our brand campaigns, we have always tried to tap into the sentiments of India's youth. Given the ever-burgeoning affinity for emoticons amongst millennials, the Biryani emoticon campaign is an effort to expand the social media vocabulary and connect with foodies at the same time. It's thrilling to have so many people join MTV to get justice for Biryani. It will be a long road from an emotion to an emoticon for Biryani, but I guess, the journey has started and unified the youth behind the cause," said Navin Shenoy, Marketing Head, Youth, Music, and English Entertainment, Viacom18.
Source of data cited in the case study: A Billion Screens of Opportunity – FICCI 2019.