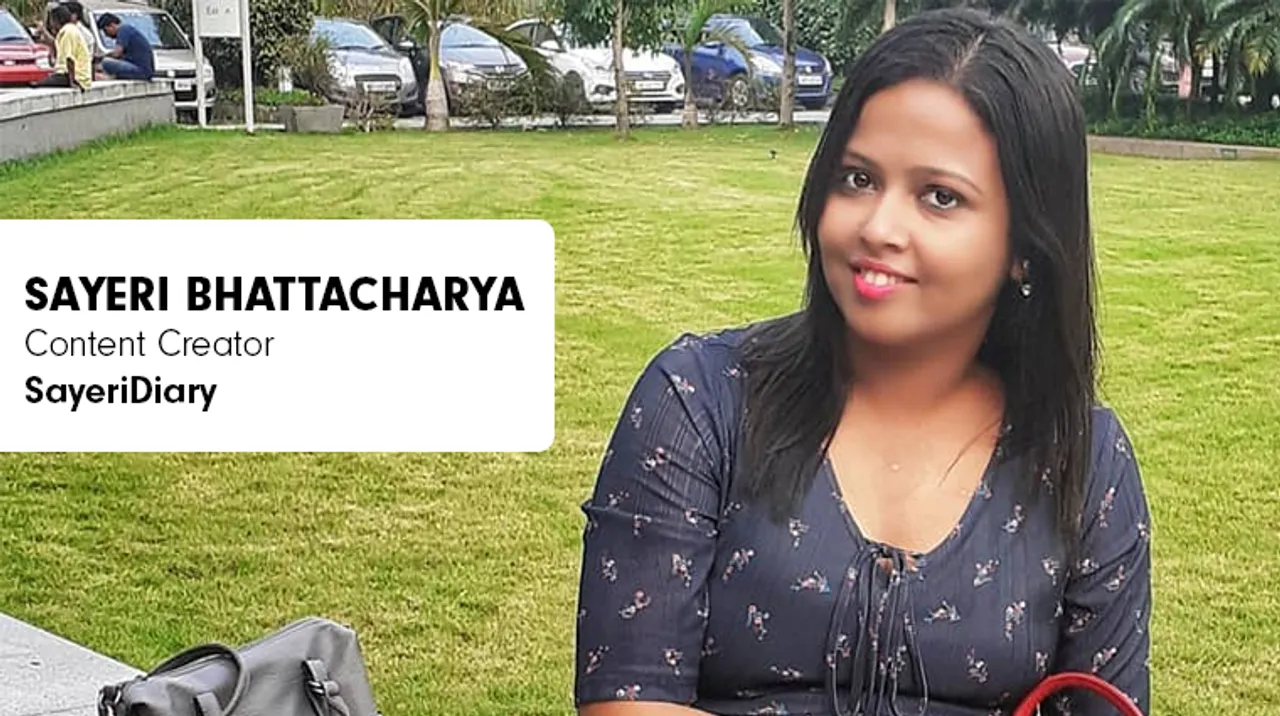 Hailing from Kolkata and a digital marketing analyst by profession, Sayeri Bhattacharya speaks about her blog, Sayeri Diary.
Sayeri Bhattacharya worked in a PR firm when she first came across some amazing influencers. Realizing the potential of the industry, Bhattacharya started her blog, 2.5 years back.
She takes us through the journey of inspiration and content creation via Sayeri Diary.
Looking back, where did it all begin? 
It's all about inspiration. By profession, I am a digital marketing analyst and I used to take care of the PR part of my previous company where I come across some amazing influencers.
I have worked with them and realized how amazing this industry is. They all influenced me to start my own page. It was 2.5 years back when I decided to start my own blog.
What's in the name? 
I wanted to pen down my daily thoughts, my fashion tips, etc. so for me, it is a diary where I am writing on different topics starting from wedding to Bollywood news, fashion tips and more. My name is Sayeri so its Sayeri's Diary and hence the name comes as Sayeri Diary.
What is your USP in this cluttered space? How does your content
give you an edge?
In this era of influencer marketing, you have to keep yourself updated always. I am a lifestyle blogger so I have everything in my blog from fashion to parenting you will get all types of contents here.
I don't follow any rules. I just write what I like to share with my readers. It can be a review of a beauty product or can be parenting tips. I maintain the blog as my daily diary and I follow informal writing style. That's it.
Please take us through your content creation process. How do you
stay relevant and relatable?
First I select the topic then I do some research on the keywords and then start writing. For Bollywood, I keep myself abreast with the latest trend, news and write accordingly.
How do you make moolah with your efforts?
 Basically in this field, you can earn in two ways:
From Google AdSense
From Brand Endorsement
I have worked with many brands but it needs more effort to make money from AdSense. I know the process but after a tedious job & family, it's really hard to put that much effort. I am struggling here.
How do you maintain editorial objectivity with the influx of
brand briefs?
A brand wants to promote its product or service through us but at the same time, we have to think about our readers also. So basically, it is all about maintaining a balance between promotion and over promotion.
What I do is, first understand the brand requirement in detail then create my own content with information and pictures. I prefer to use my own images so photoshoot takes a lot of effort.
In short, deliver interactive and engaging content for readers and maintain my blog aesthetic also.
One instance/experience that made it all worthwhile
Blogging helps us to connect with so many people. When I see people know about me it makes me really happy. Even a small appreciation from the PR team makes my day.
Recently an international brand invited me for their Kolkata store launch. I feel happy to see that my work got noticed by them.
Weirdest brand brief/request ever
There are so many. Sometimes brands and PRs ask for the work but after completion, they don't even respond sometimes. I do blogging because its my passion so I feel bad when I see brands even ask 300 INR for an endorsement.
We are the influencers and in this digital era, this is the highest valued channel to promote a business. So what we need is some respect at least and nothing else.
If not blogging, you would be?
If not blogging then I would have taken dancing seriously
A day in your life....
Work,
work and work.
Family, job, my kid, blogging, social accounts, and late-night work
Message/tips for upcoming bloggers
There was a time when Facebook was so popular and now it's all about Instagram. With time social account popularity will change but blog, YouTube - these are digital assets.
Still content is the king. I have seen many Instagrammers portraying themselves as bloggers when they don't have a blog. So please don't do that.
Create your own blog, write content there. And don't come to blogging for the sake of money. Do it passionately, brand, PRs everyone is watching you.
Your Favorite Influencer
There are so many like Akansha Redhu, Magali Vaz, Kritika Khurana. I like their work.
The Future you foresee for your Personal Brand
Yes, I have some big dreams. For me, my blog is like my second child that I am nurturing every day. I will establish it as a brand and I want to see myself as an entrepreneur.