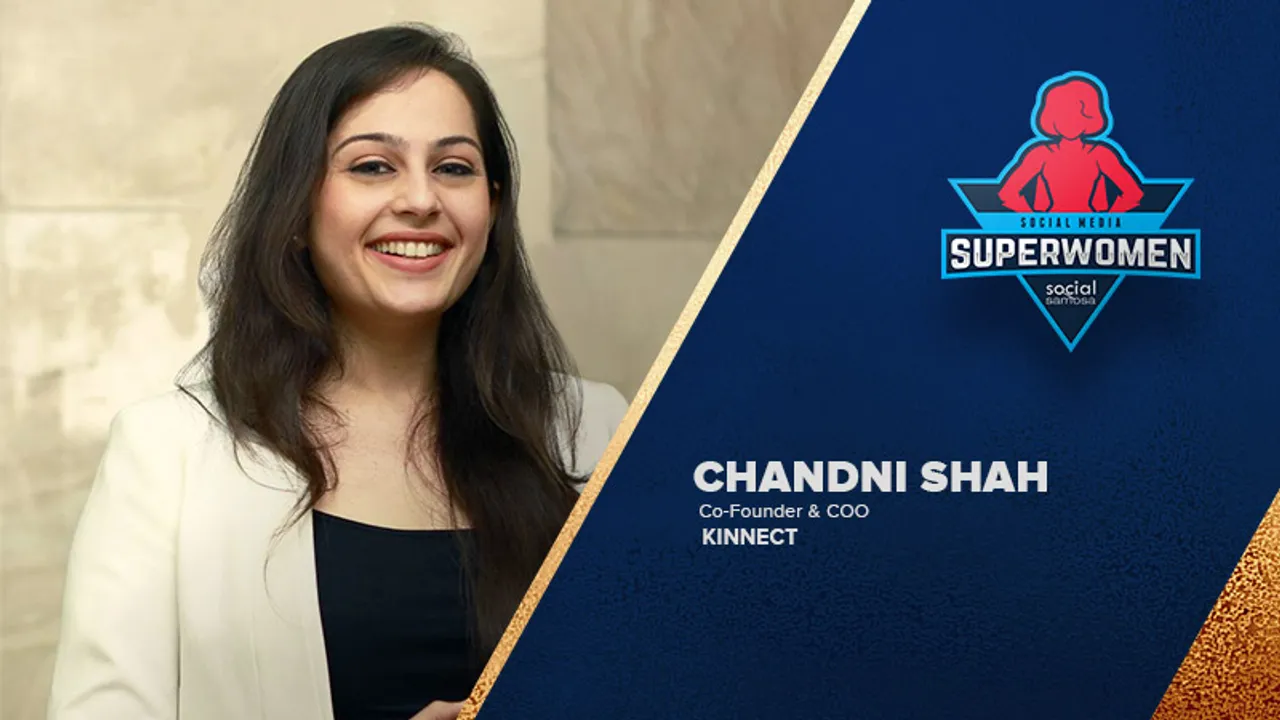 Chandni Shah believes that women are shattering the glass ceiling every day in the M & A Industry. A look at her journey and tips to the future leaders.
From starting Social Kinnect at the age of 22 to becoming the #Superwomen2019, Chandni Shah takes us through her journey.
How
would you define a Superwoman in today's day and age?
In any day and age, I would define a Superwoman as someone who can handle any challenge (personal and professional) with relative ease. It is someone who can juggle many hats, and do so without batting an eyelid.
But to go a level deeper, a Superwoman is someone who is not afraid to fail while doing all this and to learn from her mistakes. What does not kill us, makes us stronger!
One
quality that you think every superwoman has and that helped you win Social
Samosa Superwomen…
I started Social Kinnect at the age of 22. At that time, I was young and the task ahead of me was daunting. But what also helped me was my willingness to take risks. If I look back now, I wonder how I had the courage to start my own company at a time when most people were just out of college. I'm glad that I didn't doubt myself then.
Most Superwomen today have a similar
attitude towards risk-taking, which is why they have scaled the heights they
have!
How successful have women been in shattering the glass ceiling in the Media & Advertising field? Does the 'boardroom inequality' phrase still stand true?
Pay gaps and the prevalence of men in the
C-suite are things we cannot ignore. But the Media & Advertising industry
has always been one that is extremely welcoming to women. So many agency
leaders - both network and independent - are women. At Social Kinnect, 60% of
our leadership is composed of talented, agile and extremely personable women
marketers!
In an industry where it means everything to be a people's person who can juggle multiple roles, women are shattering the glass ceiling every day. I have a feeling this will only improve in 2019 and beyond.
What are the key changes this industry needs in order to make workplaces gender-neutral, safe, and nurturing?  
Primarily, I think we need to hire more
women all-around. More female employment naturally means a safer and more open
work environment.
Also, policies must be put into place that benefits both men and women alike. This means sufficient maternity and paternity leave, gender-neutral hiring, role allocation, and a lot more.
At Social Kinnect, we don't distinguish
between genders when it comes to doing great work. Your talent is what helps
you shine here, above all else!
One
Superpower you wish you had?
To be in two places at the same time! It
would make dealing with different clients and attending so many meetings in a
day a lot easier…
 The 'Superwomen' you diligently follow and who
inspired you...
Indra Nooyi and Indu Shahani are two
women who have greatly inspired me. One, for forging a unique path in the
once-male dominated FMCG industry. And the other, for doing the same - and for
inspiring so many young students - in the education industry in Mumbai.
I look to these two women - and so many
others - every time I need inspiration on how to be a fair, motivational and
inspiring leader myself.
One tip to women out there attempting to scale heights...
Don't be afraid to take risks. If the entire world is telling you that you cannot or should not take on something - but your gut instinct tells you that you can - listen to yourself!
Finally, don't be afraid to ask for help. Today, I hire capable people who have specialized skill-sets that I might not possess. And that's great! It just means that I will have the opportunity to learn and grow from them, and vice versa.