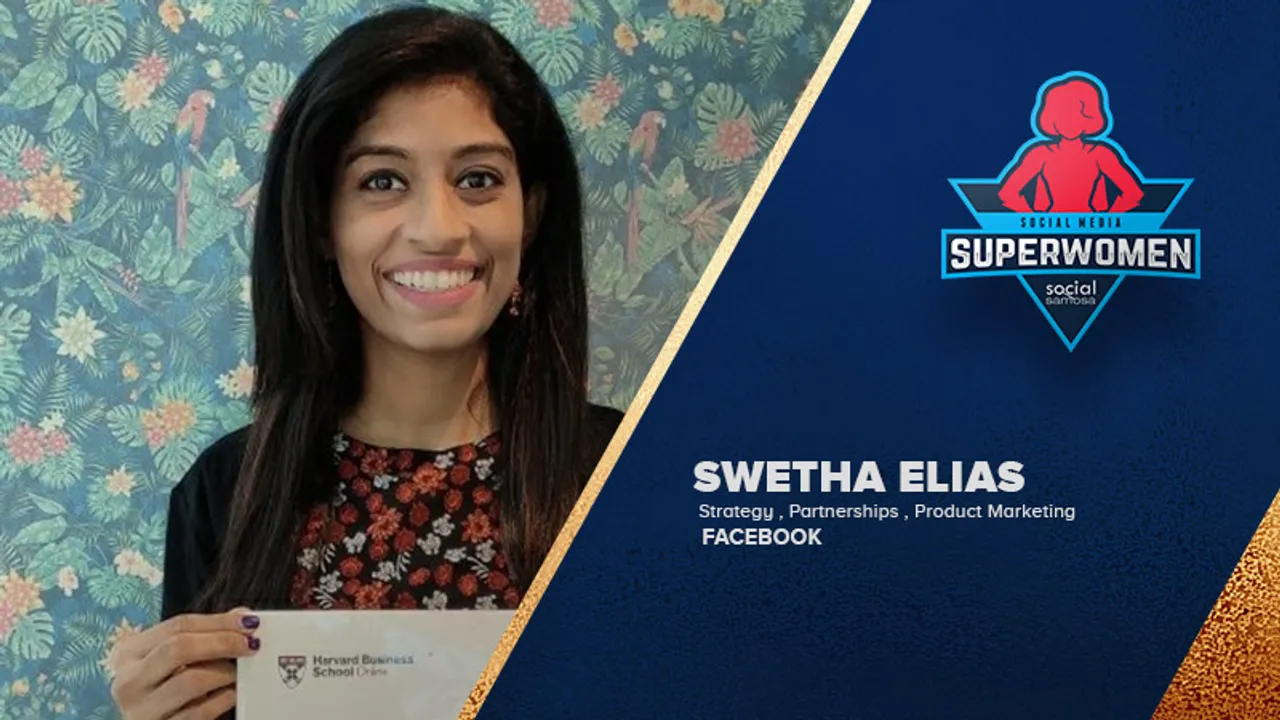 Swetha Susan Elias from TikTok, also a part of #Superwomen2019 shares her views on pertinent concerns around the industry.
Passionate about Social Media, Brand Building, Digital Marketing, and more, Swetha Elias, takes us through her journey as one of the winners of Social Samosa Superwomen 2019.
How would
you define a Superwoman in today's day and age? 
Superwoman in today's day and age works hard. She chases what she believes in, and is independent, but knows when to ask for help, be perseverant, balanced and doesn't let others define her.
One quality
that you think every superwoman has and that helped you win Social Samosa
Superwomen…
Go-Getter - Don't wait for someone to fix things for you. Take initiatives and change things. You won't get what you don't ask for!
How
successful have women been in shattering the glass ceiling in the Media &
Advertising field? Does the 'boardroom inequality' phrase still stand
true? 
Yes,  it still stands true to some extent but not fully. Women who held on their own and are serious about their career - were competent and professional, succeeded. Women who had ambition grew.
I did my tasks with utmost honesty and sincerity which has helped me grow in this industry despite the fact that yes, 'boardroom inequality' still exists.
When you conduct yourself as a first-rate professional, the gender you belong to becomes immaterial. If you are standing in front of a client making a strong strategy/marketing presentation, what matters is the content of what is being said rather than whether the person presenting it is a male or female. But yes it's never been an easy journey for women. There are times when they are being put down so that they don't climb up the ladder even though they deserve to be up there.
What are the key changes this industry needs in order to make workplaces gender-neutral, safe, and nurturing?   
Employers should commit to equal employment opportunities in the workplace. The management should not distinguish people on the basis of sex/age.
The management team must sensitize employees for gender sensitivity to prevent or minimize issues connected with sexual harassment and train employees to be more vocal.
Besides a well defined 'Anti sexual harassment' policy which ensures safety and equal rights for women, other initiatives like self-defense workshops, sessions with women police officers and NGOs to create awareness about women's safety and rights should be organized.
Flexible working environment/in-house child care at the office especially for the working mothers so that they can take care of their kids and focus on work too.
One Superpower you wish you
had? 
Omnilinguilism. You would never have to worry about a language barrier as you traveled around the world. We have to travel for work and interact with colleagues from across the world most of the time.
The
'Superwomen' you diligently follow and who inspired you... 
Sheryl Sandberg: It is no secret that women all across the world have trouble rising up the rank for various reasons. Some don't make it because of gender politics; others feel under-confident, and some discontinue work/take a break because of motherhood.
Sheryl Sandberg is changing that. She has not just risen up in ranks in her career; she has also constantly advocated for the causes for working women. She has always urged women to follow their ambition and not give up come what may, which is why she has inspired me the most.
One tip to
women out there attempting to scale heights... 
Strive to be inspirational and optimistic. Just believe in your potential and try to aim for the highest.