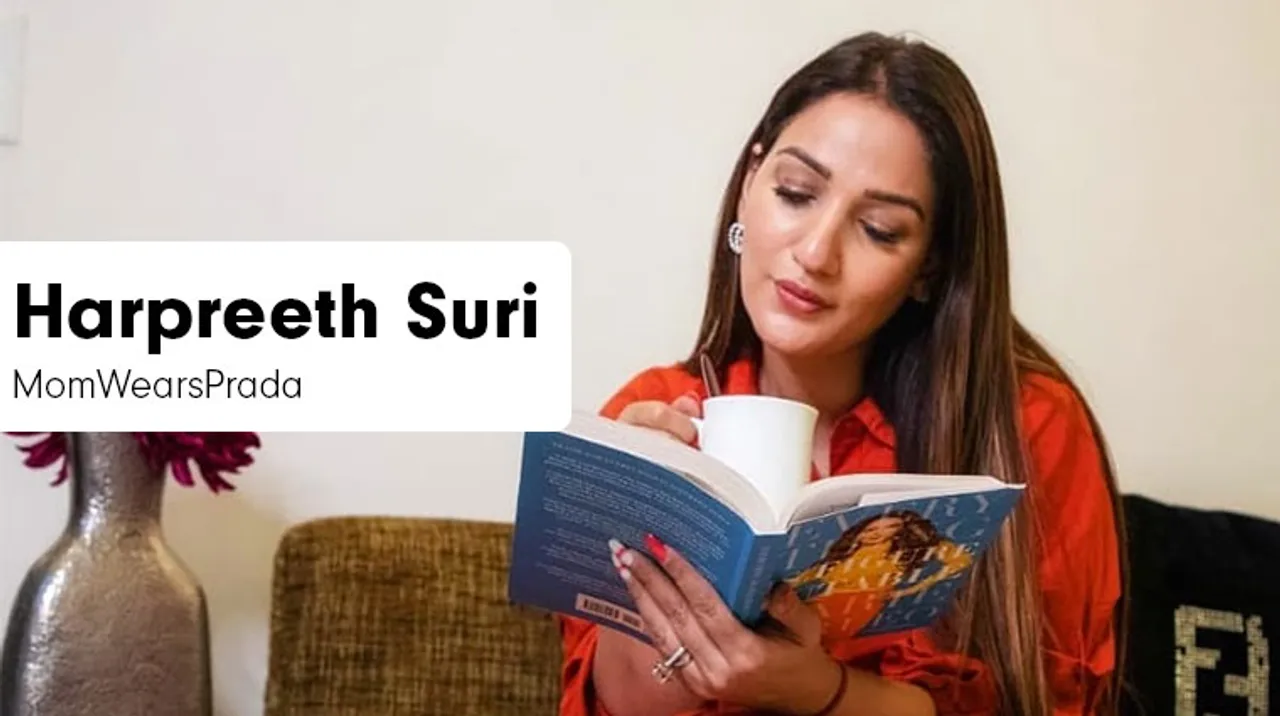 Harpreeth Suri shares her journey from being into a corporate job to juggling roles between that of a mom and an influencer for luxury brands.
The most beautiful step for Harpreeth Suri from Mom Wears Prada was to take a sabbatical from her 9 to 5 corporate job to turn into a full-time influencer for luxury brands.
With her love for brands and content-creation, Suri took a leaf from parenting and parenthood to bring MomWearsPrada into existence.
Looking back, where did it all begin? 
This journey has been nothing but the most beautiful step I decided to take while I was still doing my 9 to 5 corporate job. It was more on the lines of how I wanted to spend time with my kids and I was failing miserably to do that because of my job commitments.
When I decided to take a sabbatical and actually started to spend time with my kids, it felt as if I was a different person altogether. There were so many things that I wanted to ask people, so much I wanted to tell people on parenting, on how I am still living the best life and I guess that's when it hit me.
That is when Momwearsprada's journey actually started. From curating the best carnivals for kids to sharing my parenting experiences while still living & loving myself to the fullest.
What's in the name? 
I love brands and because of the career choices I've been surrounded by brands almost all my life so it has become a part of me. I have tons of favorite brands but of course, Prada would be the apt answer here!
And that's how momwearsprada came into being!
What is your USP in this cluttered space? How does your
content give you an edge?
If you've been following me for the longest time, you would have noticed, I only work with luxury brands as that is the segment that I have established myself into. That is something that I've all my life looked at & after and it kind of speaks to me.
My content is something that I would personally see or use for myself & my family so it gives you a straight away firsthand experience; I feel that somewhat gives Mom Wears Prada an edge.
Please take us through your content
creation process. How do you stay relevant and relatable?
I make sure they're kids friendly. If it's a kids' brand, my kids need to like it before I start promoting it. If they don't well, then it's a no for me. Whereas, when it comes to me, I myself try each & every product before giving a proper review.
My followers are the real audience so whatever I'm putting out there for is for them, so that they don't have to do hit & trials because I'm already doing that for them and their kids
How do you make moolah with your efforts?
My relationship with a product is what matters the most. I, as a shopper/individual/woman, should enjoy the product, the experience the most to further put efforts to share it with the world.
How do you maintain editorial objectivity
with the influx of brand briefs?
At the beginning of all my collaborations, I make sure to inform the brands that this is something that I would want full freedom on. The content & how I deliver that content is completely my call and the brand has to respect it.
However, as it's said that you cannot clap with just one hand if the brand is spending an x amount of money they would want for us to talk about certain touchpoints. Those touchpoints are something which I try to focus on more- good or bad is totally my call.
One instance/experience that made it all
worthwhile
When Viral Bhayani did a post on me and addressed me as "a mom who rocks Instagram."
Weirdest brand brief/request ever
To promote a Skin Lightening brand, it was the weirdest
brief for me as I would never push something like that.  
If not blogging, you would be?
I don't think I would call myself an influencer as I am still very young to the influencer clan so just a usual mom with 2 naughty kids who decided to share her life & her learning through this ever-growing social media platform, just a usual mom!
If I wouldn't have decided to start Mom Wears Prada then I guess I would have still been a corporate bee juggling between family & work.
A day in your life...
Ordinary is boring, they said. It would be easy, they
said.
Well, let me tell you the ordinary is not boring and definitely not easy!
I wake up, get my boy ready for his school, sometimes Aayat & I go to drop him off sometimes he takes the bus. Then it's the husband's turn to get ready, so Aayat & I see him off after a nice breakfast. After playing a little with my doll, It's time to see her off too. That is when I get my little me too & I decide to take a little power nap before I actually step into my daily chores of being a part of the social media family.
I also make sure I sit with my inlaws & Kunal once he's back to have a little family time along with the kids finishing off our dinner. And every once in a while, we decide to do a night out, which my install fam is a huge fan off. Thanks for all the love. I promise to keep doing that forever!
Message/tips for upcoming bloggers
The
influencer market is at a boom right now and If you have something unique that
you would love to share with the world then go for it. Don't think too much
just go for it. Get a blog, start writing & posting. Just do it!
Your Favorite Influencer
Masoom Minawala, I feel there's a tinge of magic in each of her posts or stories. She brings her heart out in the open through all her wonderfully curated content.
The Future you foresee for your Personal
Brand
I never started Mom Wears Prada with the intent of becoming an influencer, instead just to have a platform where I can share my interests & likes, my experiences with the world. So for me to foresee a future would be in the same space, I love curating carnivals for kids and currently I curate the biggest kids Christmas Carnival in Delhi.
It's something that I'm super passionate about and have been working towards making it bigger with each passing year. Apart from that obviously to have a good hold in the luxury segment as I have grown within the brands for almost a decade and would love to remain in that sector.