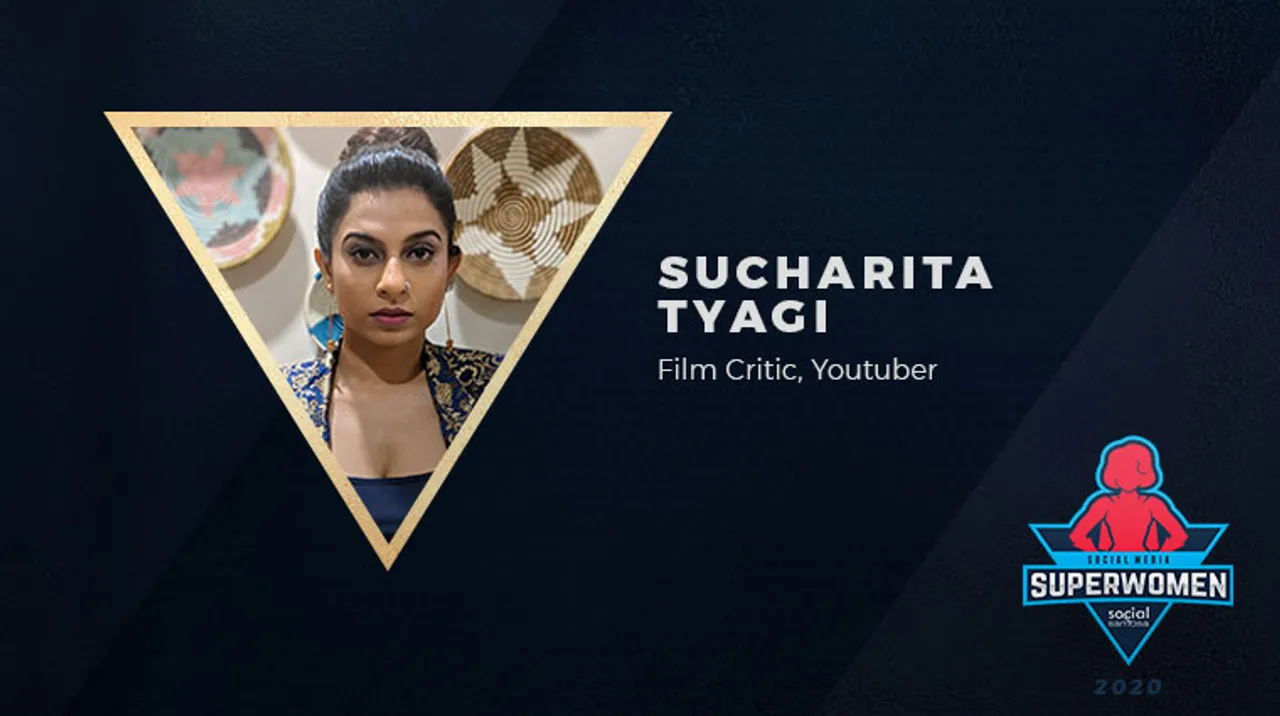 Donning multiple hats, Sucharita Tyagi is a woman of her words. Also a winner of Social Samosa Superwomen 2020 under the bloggers' category, she talks about the power of a resilient woman.
Her LinkedIn bio defines Suchrita Tyagi as a Millennial content creator, movie critic, writer, emcee, voice-over artist, video producer, and a pretty neat person, overall. While also a prime time Radio Jockey,  Sucharita is often seen juggling between her multiple roles. Sucharita Tyagi is a Superwomen 2020 winner.
In a candid chat, Tyagi shares her definition of a superwoman and discusses the key changes the industry needs in order to make workplaces gender-neutral.
How would you define a Superwoman in today's day and age?
If you're just getting out of bed and managing to run your life efficiently, without intentionally causing harm to the world around you, congratulations because that's literally all it takes to be a superwoman. Going about your life in the best way your know-how, and helping yourself become a kinder, bigger version of you daily, makes you a superwoman.
One quality that you think every superwoman has and that helped you win Social Samosa Superwomen…
Resilience. The involuntary but inescapable fight, every woman
is fighting, to just keep re-surfacing, despite a multitude of odds stacked
against us.
How successful have women been in shattering the glass ceiling in the Media & Advertising field? Does the 'boardroom inequality' phrase still stand true?
'Boardroom inequality' is just inequality. People don't suddenly become sexist and start gaslighting women at the workplace. Work is only an extension of your life as a whole and your attitude and societal constructs permeate it just the same as they do your home. So yes, 'boardroom inequality' is still very much around. Any glass ceilings which have been shattered have taken gargantuan efforts from women who've come before us, who we owe a massive debt of gratitude to. There's a lot of work still left to be done.
What are the key changes this industry needs in order to make workplaces gender-neutral, safe, and nurturing?  
I talk to the male bosses reading this - Hire more women.
Promote more women. Look into your own biases. Are you inadvertently only
helping your 'boys' succeed because it's easier less of a challenge for you?
Check your privilege. Give your female subordinates the same kind of
professional access to you, which you give the men. Hear more, learn more.
Implement.
 One Superpower you wish you had?
The ability to have conversations with strangers at a party.
 The 'Superwomen' you diligently follow and who inspired you...
I don't 'diligently follow' anyone, one mustn't, because that threatens to cross over into worship. I take nuggets of inspiration from women all over the world, and try to implement the lessons in my life. Recently I've been closely following Barkha Dutt's coverage of the effect of the COVID-19 lockdown and it's incredibly inspiring to see the work she's been doing.
 One tip to women out there attempting to scale heights...
Go easy on yourself. It's okay to give up for a bit and start
again when you're ready. Things are getting crazy out there right now, you've
got to prioritize yourself first. Take breaks, decompress. The world will
continue to spin on its axis tomorrow too.