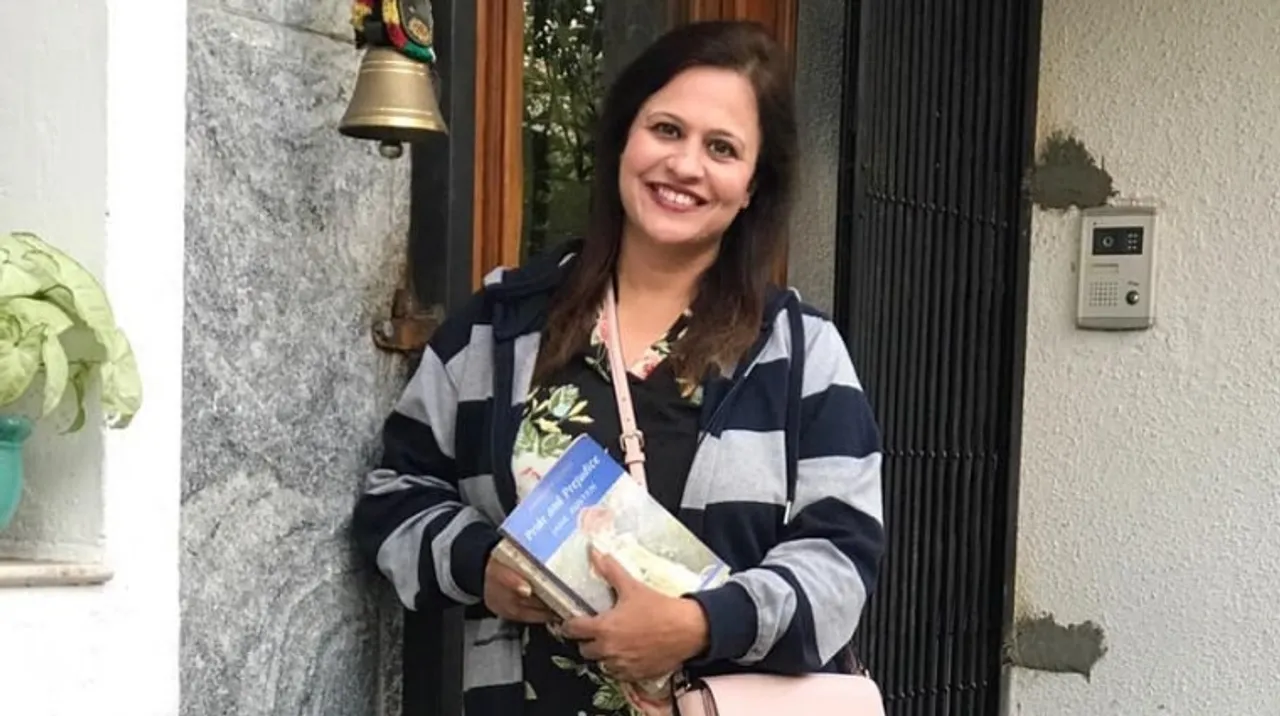 With Fabulous Mom Life, Lata urges mothers to live their lives to the fullest and enjoy motherhood without compromising on life.
For Lata, her blog is a space for all things mom. She could be travelling, using a beauty product or cooking, her concerns are that of a mother and that's what her content is all about. She feels it is important for a content creator to know their niche, audiences and create content accordingly. She tells us more about her journey so far.
Looking back, where did it all begin? 
I have been a full-time content creator for over 16 years now. I launched my women's portal DotComWomen.com in 2003 to culminate my love for all aspects of a woman's life — be it work, home, family or lifestyle. It was followed by a series of other Lifestyle websites. But I was always behind the scenes. You can equate my job to that of a magazine editor except that this 'magazine' was online.
The Instagram boom coincided with a phase in my life when I had just given birth to my third child and was, not surprisingly, living my life like I was used to — decorating, dressing up, entertaining. But I gradually realized that what was the normal course of life for me, came across as some kind of feat for the others. Every single day, I would be asked things like 'how do you manage with three kids', 'how do you continue to balance your work and personal life after having 3 kids', 'how do you keep your house the same way after 3 kids' and even 'how do you manage to keep your nails painted while looking after your 3 children' LOL!
This led me to think that I might have something of value to share with other moms. As content creation is right up my alley, I obviously thought of another blog. But the medium of content sharing had changed drastically over the years. Social media was the major platform. So, after giving it a serious thought, I finally decided to lend my face to the content I was creating. In other words, I decided to face the camera and visually open up my life and home in my new digital venture — Fabulous Mom Life.
What's in the name? 
What led to this venture was the fact that my lifestyle — after three kids — had become a source of either disbelief or inspiration to many who knew me. It made me realize how often it is that women lose their own identities after becoming a wife or a mother. I wanted, through my own lifestyle, to urge them to live their lives fully. I wanted to show them how it is perfectly possible to live a life you love, after becoming a mother. And along with it, show them how they could enjoy their motherhood without compromising on life. My blog and related social media platforms cover not just tips on how I raise my 3 kids, but also how I have fun along the way.
"Fabulous" is how I define my life and 'Fabulous Mom Life' sums up exactly what I want to share with other moms. Life can be equally Fabulous (or more!) even after kids.
What is your USP in this cluttered space? How does your content give you an edge?
I keep things real. Whether it is about Parenting or Fashion or my home style, I only show what I can actually do on a sustainable basis. Most of my Fashion followers, for example, follow me because they can relate to the outfits I put together as they are functional enough for a real body size post-birth. I never 'create' content just for the sake of it. My kids birthday party posts are very popular. Again, they are real parties that I create in my own home from scratch using what I have available and my followers can see and recreate them. My content on FabulousMomLife blends seamlessly with my real life.
Please take us through your content creation process. How do you stay relevant and relatable?
Content creation for a Mom/Parenting Instagram influencer is a completely different affair as opposed to what I am used to when it came to my websites. Most part of it is very spontaneous as it follows your life and there is only so much that you can plan in advance when you have kids in tow! So I have learned to keep extra time for each little project that I might be taking up or a little adventure that I might be planning, to prepare my content. Pictures, although they take a lot of careful thought, are still easier than videos, which require dedicated time, venue and equipment.
Relevance is actually my only content strategy. I make sure that each picture, article or video has something to convey that my followers will find useful or inspiring. As a modern Indian mom, I also like to mix in a lot of traditional along with the modern life of an urban Indian. This is what my real life is like and real is always relatable.
How do you make moolah with your efforts?
I have a fair share of brands reaching out to me for reviewing their products or for a shoutout to their new launch or a sale etc. If their products fit the criteria of what I use for myself and my family, I am happy to spread the word about them to my followers through a strategic post or a video on my social media or blog. 
My blog has some good traffic and I monetize it with Google Adsense. I have not tried any other forms of monetization yet and don't want to lend too much of a 'sponsored' feel to my quality content.
How do you maintain editorial objectivity with the influx of brand briefs?
Objectivity to me, is equal to integrity, considering the nature of my work and the fact that other moms look up to me to tell them what products are good for them. As I result, I have always done my research before teaming up with a brand. I have also refused several offers because I did not think their product was a good choice or because they wanted me to say something that I did not want to commit to. There have been debates of epic proportions over this (with brands or their PRs)! In a rare case, I have also refused to endorse a product after trying it out, but that happened only once. I am aware of my responsibility towards my followers.
When endorsing a product or service, I keep all my reviews editorial and clearly mention what worked for me or my children (in relation to the product) and remind my followers to choose products based on their preferences/requirements. Because let's be honest — a product can be wonderful and yet work for some and not work for the others. A single person can only give you their opinion. It cannot be generalized. I try to point out this simple fact as often as I can. 
One instance/experience that made it all worthwhile
There is this massively popular Instagram post of mine where I spoke to my followers about being judged for having 3 children. The overwhelming response to that post made me aware of just how many people were following my journey. But more than that, that post led to some heartfelt discussions by moms who were judged for many such things. They were all full of support for me and used my post as an outlet for all their pent up feelings. It was like a huge gathering of women outpouring their deepest emotions and finding consolation in the fact that they are not alone in this journey. That one instance made me realize the impact of 'social' media and how effectively it can be used to reach out to so many who are in need of support.
Weirdest brand brief/request ever
A brand wanted me to do a campaign called 'Not just a mom'. They wanted me to nominate mothers (apparently like myself) who were 'more than just a mom' and who had achieved 'something' in their lives like being an accomplished dancer or an entrepreneur. I know that they meant well and only wanted to honour the achievements of mothers but I felt that they could not have said it in a worse manner. I was taken aback! How can you belittle someone for being 'just a mom'? How can you praise someone who achieved 'something' when so many of us have voluntarily taken a decision to devote our present time and efforts for our families. Referring to them as 'not just a mom' would be like pointing out that the others do not deserve praise for doing something that they do with such selflessness. Does a mom need to validate her importance by doing something in addition to what she feels happy doing and what is deemed to be the most important job in the world? 
I have been an independent career woman almost all my grown-up life but I don't take it as some sort of a yardstick of happiness or contentment. 'Just a Mom' is an equally important thing to be. We all find our happiness in different ways and it was not a nice feeling to see a brand who promotes women's welfare coming up with an idea that was clearly not given enough thought. Needless to say, I refused to be a part of it.
If not blogging, you would be?
The owner of a quaint little shop selling my own brand of home decor as well as vintage finds.
A day in your life...
First thing in the morning, I take a walk and tend to my garden before the kids wake up. From there, the rest of my morning is as crazy as any other mommy's out there. After the kids are out of the house, I open my laptop and finish the day's tasks before the youngest one comes home. Since brands and PR firms don't have the restrictions of my odd working hours, I take calls and respond to emails and messages in intervals throughout the day while being around the kids. Evenings are mostly about dropping off and picking up kids from various classes. So yeah, until the kids are older, this whirlwind daily routine with work hours being squeezed in somehow, is how my days are going to be like. So far, it has worked fine so I am not complaining.
Message/tips for upcoming bloggers
Two main things — First, it is impossible to 'Fake' it in the long run. So if you are here to stay, keep things real. It will give your work consistency and generate a lot of respect and goodwill.
Second, find your niche. There are too many experts in each field for people to follow a 'do-it-all'. Find what you are passionate about and stick with it for your content creation. You might think I am creating content in too many areas myself, but no. My niche is 'Moms'. Whether I am travelling or using a beauty product or cooking, my concerns are that of a mom and that is what my content is all about. A young solo traveller would find my 'family beach vacation packing list' quite useless and it is fine because I am not targeting him. Find out who your audience is and create content for them.
Your Favorite Influencer
It has to be Traveling Desi. I follow him on both YouTube as well as Instagram and am amazed by his dedication to his work. His content is consistent and extremely entertaining as well as useful. I find it very inspiring how he constantly works to improve the quality of his work by either learning new skills or upgrading his equipment.
The Future you foresee for your Personal Brand
The kids are growing up and I am no longer in the diaper-changing phase. That means a little more independent projects to take up. Self-growth is on my mind and as my brand reflects my life, I will be sharing more on self-growth through my content. 2019 gave me some lovely opportunities to connect with myself and go back to my passions. I am hoping to continue that in 2020 and would like to inspire other moms to do the same along the way. I also plan to create more content on being financially independent as I have been receiving a lot of questions on the subject. It will touch many areas but mostly my area of expertise — online earning.