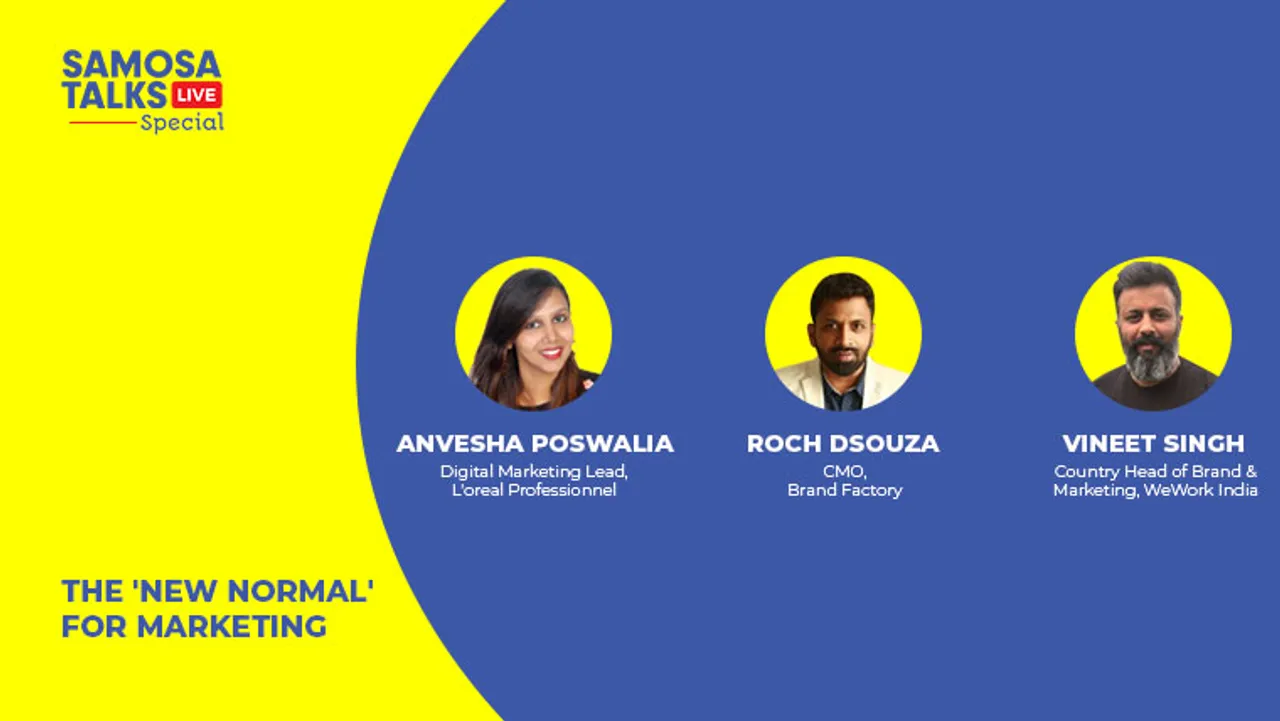 As parts of the world inch towards the New Normal in varied paces, Social Samosa puts together a panel to discuss the Future of Marketing.
After weeks of mandatory lockdown due to the pandemic, places are starting to open up. Vehicles are on the road and people in offices. Life is getting back to track. However, there is a lot to wonder when it comes to how the new normal would shape up and the role marketing would play in it. Could people be nudged to buy products? Is our infrastructure ready for buying experiences? Would people be willing to step out?
Social Samosa got a panel together to discuss possibilities and how they would differ for across categories. The panel included Anvesha Poswalia, Digital Marketing Lead, L'Oréal, Roch Dsouza, CMO, Brand Factory and Vineet Singh, Country Head of Brand & Marketing, WeWork India. The discussion was moderated by Hitesh Rajwani, CEO, Social Samosa Network.
Before COVID-19, brands could advertise products for sales. Due to various restrictions and a significant amount of gloom in the air during the lockdown, it wasn't possible to do so. Narratives changed. However, now that businesses are slowly opening up, can a brand push for sales again? Would they be able to deliver?
Decoding the New Normal
Brand Factory's Roch Dsouza talks about how the economy is moving towards saving than investments. People want to save he says and despite the fact that the brand he represents is known for giving big discounts, it would be tough because people who are trying to save will do so despite the discounts. And this behaviour would differ across cities.
"We are looking at the extent of COVID-19's impact on different markets and how they are bouncing back as spaces are opening up. Each market is displaying very different consumer behaviours," he says. At the stores that have opened up, tried-on clothes are being steamed and kept apart for 48 hours before being put back on shelves.
Going forth, safety and hygiene are going to be key factors driving consumer behaviour. One of the sectors that are bound to be affected the most are salons, where touch is key to the services. L'Oréal's Anvesha Poswalia says, "We are moving from low touch to zero touch. This is bound to help technological interventions to come up smoothly. Going forward, we need to tweak our products and how we bring them into the market."
In regards to the communication, there is a strong focus on aligning to the needs of the consumers, while being in sync with what the brands stand for. Poswalia asserts the need for brands to be empathetic to all stakeholders involved, including customers. "For us, the priority is to help salons get back on their feet," she says.
Another key aspect to the conversation around the new normal is the way people would work. Is work from home a permanent thing? Would companies of tomorrow need offices? Would people be willing to commute for work they can do from home?
WeWork India's Vineet Singh feels that people might look for flexible options but work from home is a not permanent fixture. "I live in Bangalore and yesterday as I was driving back from work, the number of cars was pretty much the same as before. Though safety, hygiene and a focus on social distancing will be key going forward, things will pretty much bounce back to the old normal," he says.
Marketing in a crisis takeaways from the panel:
During a crisis is where your character stands out.
Don't just jump in just because everyone is talking about it.
Keep a check on opportunities and look beyond our comfort zones.
Be empathetic towards your customers and other stakeholders.
Don't change the fundamentals of how you built your business in order to gain customers.
You can watch the entire discussion here: