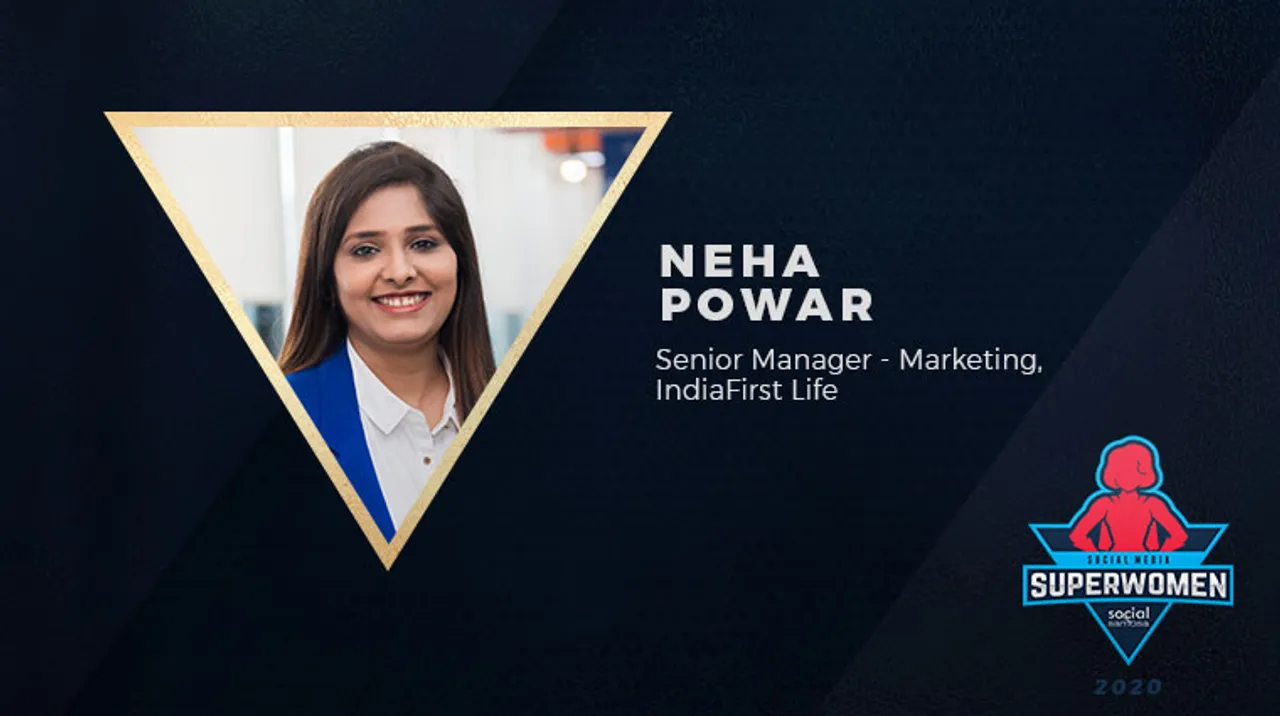 With over 11 years of digital experience, Neha Powar has emerged as one of the winners of Superwomen 2020 and believes in constantly upgrading herself.
For Neha Powar, Senior Manager - Marketing, IndiaFirst Life, digital marketing has always been her passion where she looks at opportunities to add value through her campaigns - looking beyond just reach, impressions, clicks, or engagement.
Here she shares her two bits about her professional journey and superwomen she is inspired by.
How would you define a Superwoman in today's day and age? 
As women, we have been always told to overachieve and justify our worth in society due to the gender roles allocated for centuries. I personally do not think that we need to manage multiple roles. We just need to be amazing at what we do. For me, a Superwoman is someone who knows her self-worth and does things not because she is expected to do but rather does things that she would like to do.
One
quality that you think every superwoman has and that helped you win Social
Samosa Superwomen...
I think one quality that every superwoman has is to be unapologetically driven to achieve personal and professional goals. It's one thing to be ambitious but it takes a whole lot of energy to ensure that you achieve your target whatever the circumstances may be.
How
successful have women been in shattering the glass ceiling in the Media &
Advertising field? Does the 'boardroom inequality' phrase still stand true?
Yes, my belief inequality exists and that's not just limited to gender roles. They can be based on perceptions, roles, or sheer rapport that you share with your key stakeholders. What's worked for me is the ability to keep moving forward and not look for support elsewhere but find it within. I am my biggest cheerleader and I feel it's all the women who have made it to the top believed in themselves, gender takes a backseat when it comes to excellence.
What are the key changes this industry needs in order to make workplaces gender-neutral, safe, and nurturing?   
I think in the industry and organizations I have worked in I have found workplaces always gender-neutral and the reason that they have been able to do that is by talking more about results and less about a gender stereotype. What has also worked well in my case are organizations that have not positioned rights given to women at the workplace as 'benefits'.
One
Superpower you wish you had? 
Read mind. The human mind is so unpredictable, and being a psychology graduate I have always been in absolute awe of our cognitive abilities and the lengths and depths of a human mind. Being able to read it at my convenience would save me a lot of effort.
The
'Superwomen' you diligently follow and who inspired you... 
RM Vishakha – CEO of IndiaFirst Life Insurance. To be the woman in the man's world 'literally' and seeing her achieve excellence and keep doing great things without losing empathy is an astounding and highly desirable quality.
One
tip to women out there attempting to scale heights... 
Keep upgrading and be the best version of
yourself.