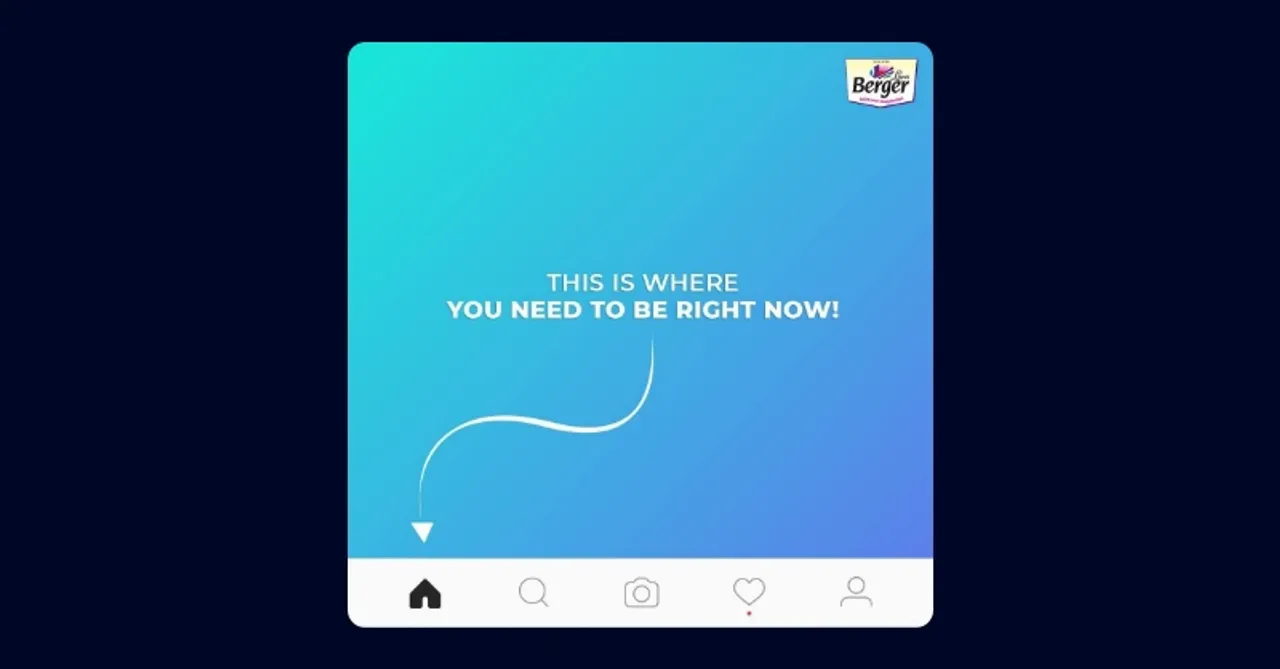 Berger Paints India got celebrities to talk about their lives under lockdown as well as share health and fitness tips on Instagram.
Berger Paints India wanted to stay relevant in the lives of their followers under lockdown as well. So, they ran two campaigns featuring celebrities, Paint Your Imagination and Home Shield, to be useful to consumers while keeping the communication in sync with their brand values.
Brand Introduction
Berger Paints India is a paints company with a significant brand presence in India. As a part of their digital marketing practices, they mainly focus on brand/product awareness, lead generation, customer relationship management, and increasing engagement and brand recall.
Summary
In an attempt to turn a challenging situation into a meaningful change and establish a more meaningful relationship with audiences online, Berger Paints roped in celebrities to take over their Instagram handle for a day, and talk about their life under lockdown. The audience got a glimpse of how their favourite celebrities are fighting lockdown boredom and using this time creatively to learn a new skill or two. 
Problem Statement/Objective
With these campaigns, Berger Paints wanted to maintain brand engagement and reach during the lockdown period. They wanted to leverage their digital presence and communicate in a manner that is relevant, real, empathetic and transparent to stand out from the clutter. During an uncertain time, it was important for the brand to spread good ethos and positivity while still staying relevant in their domain.
Brief
The brief given to the digital agency, HGS Interactive, for both campaigns (Paint Your Imagination and Home Shield) was to collaborate with celebrities and create content to increase brand visibility and engage with the audience.
Creative Idea
Celebrities from different niches (sports, entertainment and movies) were approached for the campaign. The brand collaborated with celebrities such as Rannvijay Singha (Television Star), Adah Sharma (Actress) and Akash Chopra (Indian Cricket Commentator and Former Cricketer) to take over Berger's social channels.
For the Home Shield campaign, the brand tied up with health and fitness experts like Yasmin Karachiwala (Celebrity Fitness Trainer), Pooja Makhija (Nutritionist) and Dr Animesh (Surgeon) who shared tips on boosting immunity and staying healthy during the pandemic. 
Challenges
Due to the social distancing norms, the brand had to be quick in their thinking and finding ways to execute the campaign without anyone stepping out of their home. It took them several virtual brainstorming sessions, video meetings and a collaborative approach from the agency, client and celebrities involved to create the required content and deliver a successful campaign.
Execution 
For #PaintYourImaginationAtHome campaign, the celebrities took over Berger Paint's Instagram stories, checking in several times a day to share a day in their life, lockdown edition. The Stories put up by Rannvijay Singha, Adah Sharma and Akash Chopra have also been saved as Instagram highlights by the brand.
For the Home Shield campaign, the celebrities and influencers shared tips on their channels to boost immunity and stay healthy and fit during the extended time spent at home. The campaign was in-line with Home Shield's communication, your home' is what is 'shielding' you from the virus, stay home and stay safe.
Results 
Paint Your Imagination campaign (Instagram only):
The total impression garnered was 706,975
The total reach garnered was 706,975
The total views garnered was 519,148
Home Shield campaign (Instagram only):
The total impression garnered was 507,488
The total reach garnered was 408,117
The total views garnered was 201,504
Talking about the campaign, Upasana Dash, Digital Marketing Manager, Berger Paints India said, "Our viral campaigns during the lockdown were able to deliver a message to the community of staying home and staying safe while still being relevant to the brand promise — your home is what shields you."
"It is an interesting time for agencies and brands. For those who have a strong digital strategy in place, it has been a fruitful period. We have had a long association with Berger Paints and have helped them leverage their marketing efforts. During this unprecedented time, we have been able to redefine their strategy and approach with relevant, original and responsible content," added Sachin Karweer, Business Head, HGS Interactive.