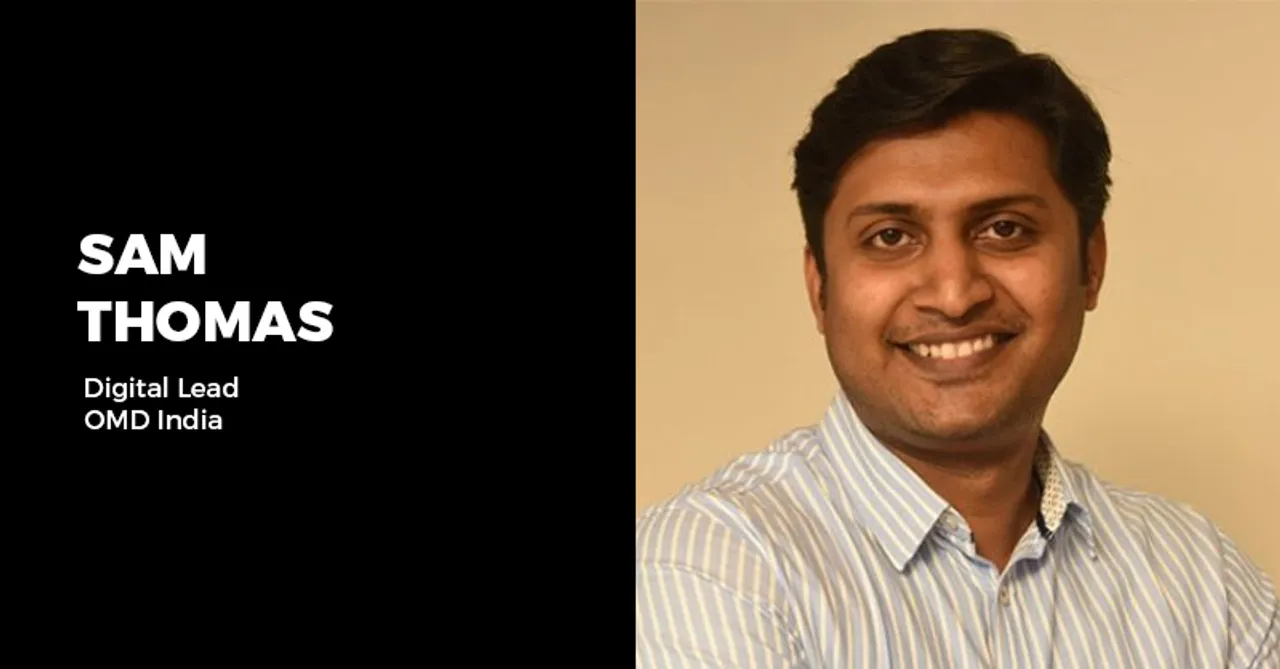 In a conversation with Outbrain Digitalks, Sam Thomas, Digital Lead at OMD India talks about the impact of the global pandemic on the industry and how it can be leveraged as an opportunity in disguise.
Native platforms have seen a considerable rise in spends, as it's become one of the most well-known ways for brands to really connect with their audiences. According to Sam Thomas, in many ways, native reflects broader growth trends and has come a long way from its early beginnings. 
"The natural fit for us is to place native ads programmatically as content integration," says Sam, who believes that the true potential of native can be explored programmatically.
Native programmatic advertising has advanced and it is presently a full story of content that connects with the audience, offering in excess of a straightforward connection to a brand.
Sandeep goes on to explore the significant share programmatic will take in overall spend strategies. While programmatic is an essential part, the idea of driving performance programmatically is also a key value proposition brands are looking at by associating with DSPs like Zemanta. "We're looking forward to working actively with Zemanta as a DSP Player in the wake of quality and brand-safety concerns."
The COVID-19 outbreak has brought companies into uncharted waters, pressing them to reevaluate how they oversee and operate their business. While digital companies in numerous verticals are experiencing success and growth, others are claiming that the outbreak will affect the digital industry and force entities to adjust their future outlook.
According to Sam, COVID-19 has encouraged technology, out of the box thinking and innovations that are changing our world and the way our industry will work to grow business. Although there was an initial knee-jerk reaction from brands to go silent at the start of the outbreak, marketing budgets have since returned, as consumers want brands to take a proactive role in contributing to society.
During the pandemic, it has entailed brands finding their human sides. Consumer optimism in India declined due to the crisis, changing where, what, and how customers make purchases. People's preferences, needs, and expectations have evolved, one in which they want brands to communicate how they are making a positive difference in this unprecedented situation. Marketers should, therefore, use this time to reinforce customer confidence by connecting with audiences on an emotional level, using its brand influence to spread positivity and be an inspiration.
The COVID-19 outbreak has also resulted in those customer interactions existing online more than ever before. Despite auto sales being down by 47%, the whole experience of car-buying is now emerging under a changed landscape. Auto companies are adopting more digital-focused initiatives for sales. Car launches and virtual showrooms are becoming the new normal to convince customers to buy new vehicles, thus resulting in a more flexible purchasing process. 
In an ever-changing digital landscape, it very well may be difficult to genuinely look at what works — and all the more significantly, what doesn't. Programmatic buying brings a lot more data into that equation. Programmatic, combined with information-driven creative, can deliver and convey increasingly compelling digital advertising campaigns.
"It is very important to educate the digital custodian of a brand about the right infrastructure and tools required to measure the success and business outcome at each stage of a campaign," says Sam. Apart from keeping a close watch on the critical success factors, it is equally important to determine a basic framework for the funnel, whether that's to create an experience and build awareness, or provide content to captivate readers and incite action. 
Talking about the expected changes in the next 5 years, Sam flags the need to have a "common currency" for the measurement of business among digital practitioners. A common metric will help ascertain the progress of marketing campaigns. Without an established currency to keep track of campaign results, it becomes difficult for brands to determine - and for the platforms to prove - if ads are performing well. There's no doubt digital has become the main way people consume content, and Sam also brings to light the development of digital platforms as a great method to engage with consumers, expanding deals and shifting more and more ad dollars to digital channels. This creates a mandate for the digital practitioners to make each dollar count and drive the right traffic and audience, from interest to purchase, for the best ROI. 
Watch the full episode here.