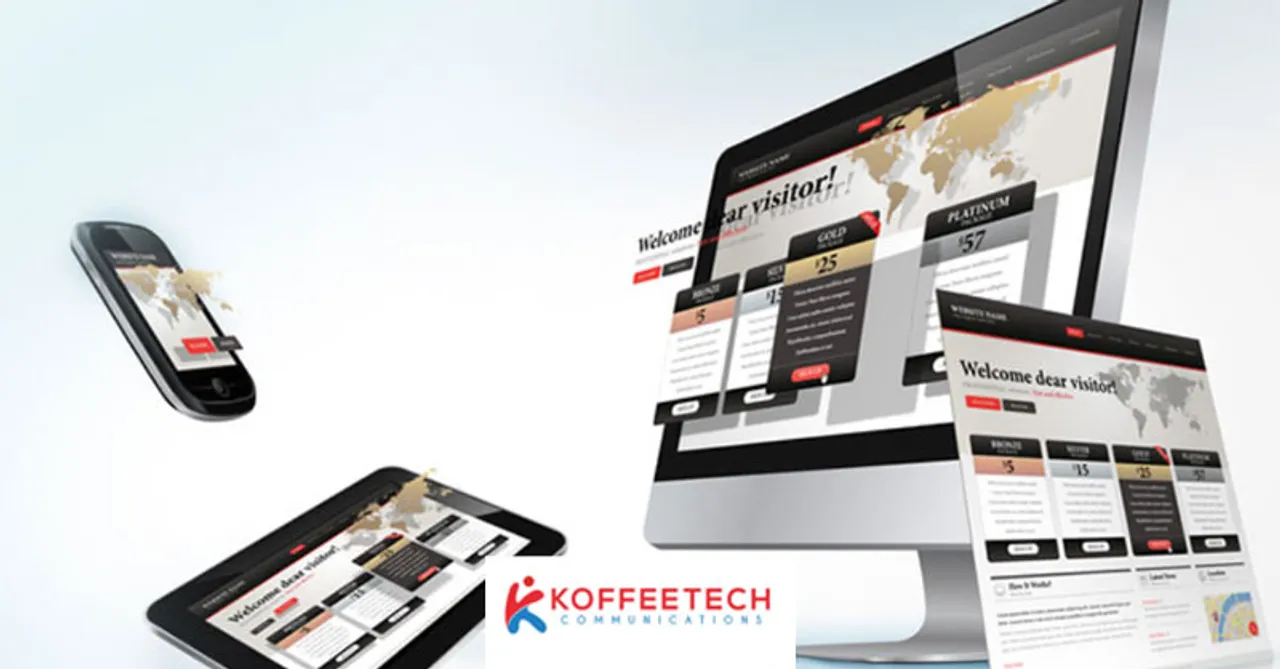 How do we define Koffeetech communications?
Founded in the year 2016, Koffeetech Communications is a digital marketing agency headquartered in Mumbai. 
Koffeetech specializes in creating easy-to-use digital solutions; assisting brands and designing effective social media marketing campaigns and delivering tailor-made solutions at the highest levels of creativity and execution. 
What's in the name? 
The idea is to provide an efficient way of brand communication which is as simple as sipping a cup of coffee. 
Koffeetech – the wordplay here is Koffee + technology.
What do we do? 
Koffeetech aims to garner significant increase in brand reach and enables consumer-brand engagement. To serve this purpose, the company uses different tools & their integrated services are divided in four categories:
Digital Marketing
Website Development
Branding 
Public Relations
Why we do it? 
The agency and its operations are headed by the founder Jay Rathod who is a self-taught marketing maven and is passionate about the thought of creating and delivering the right tool to brands/services/individuals who seek to reach their intended customer base. From brand awareness to lead generation, Koffeetech develops global campaigns that aims to persuade a potential buyer to a buyer by setting a relatable narrative.
How we evolve? 
The driving force behind Koffeetech Communications is its employees, clients, and audience. Building meaningful relationships, learning from past experiences, matching up with the trends, staying updated about the happening in and around the industry, being adaptive and innovative of the changes are few factors that add to the evolution of the agency.
Social responsibility in social media 
Social media has become the biggest content consumption medium. As a digital marketing company, our major role is to be responsible for spreading credible, authentic, and verified news.
Servicing clients from the healthcare industry, we share regular tips and measures to advocate healthy living through social media channels prompting towards a healthier society.
We have also been instrumental in contributing to the betterment of the society as the digital partners to various NGOs about pressing issues like lack of education, food, and basic necessities for living. 
The need of the hour 
The power of digital media is immensely growing and there are some issues that need to be addressed.
If we take a step back and look at the present challenges, it would be the lack of awareness amongst the SME business owners who think social media/digital marketing as an optional marketing channel instead of an imperative tool of promotion. One must encompass the 'big picture' that digital marketing brings about with targeted analytics, reaching the right consumers with an end result of concrete brand awareness. 
We learned the hard way 
During the initial days of the company, we were a bunch of marketing enthusiasts who decided to dive right into the deep sea with accepting clients in an ever-changing industry of digital media.
We learned it the need and importance of having dedicated resources for designated roles and avoid playing a single man army - 'a jack of all trades, master of none'. 
Did we just share that? 
When the grid creative on Instagram was trending off the roof, one of our clients asked us to create a grid format for them as well. This was our 1st effort in giving in to the Insta trend and to our absolute nightmare, the creatives of the grid got jumbled and no one could tell what we were trying to showcase. What was worse was that no one from the team realized this until the client flagged it to us 1 hour later. 
They work with us 
Our clientele base ranges across various verticals such as Education, Dental, FMCG Companies, Engineering Services, Food, and Fashion.
From the dental space, we have Orthosquare Multispecialty Dental Clinic Pvt Ltd, Toptime Network Pvt Ltd - Delta's Pharma Venture, Pasio Consumer Goods, Khogo,, TagModels from the fashion segment to name a few of our 150+ clients acquired in the last 3+ years.
The industry as we foresee 
Digital is the Future. With the ease of internet access and the growing number of social media users, we see the influence of digital marketing growing rapidly in our country.
In the near future, we may witness companies pulling budgets from traditional marketing sources and investing in digital marketing as most companies might shift completely to digital.
A day without Internet 
In the current era, a day without the internet would be like a life without oxygen. 
Lastly, are you hiring?
Yes