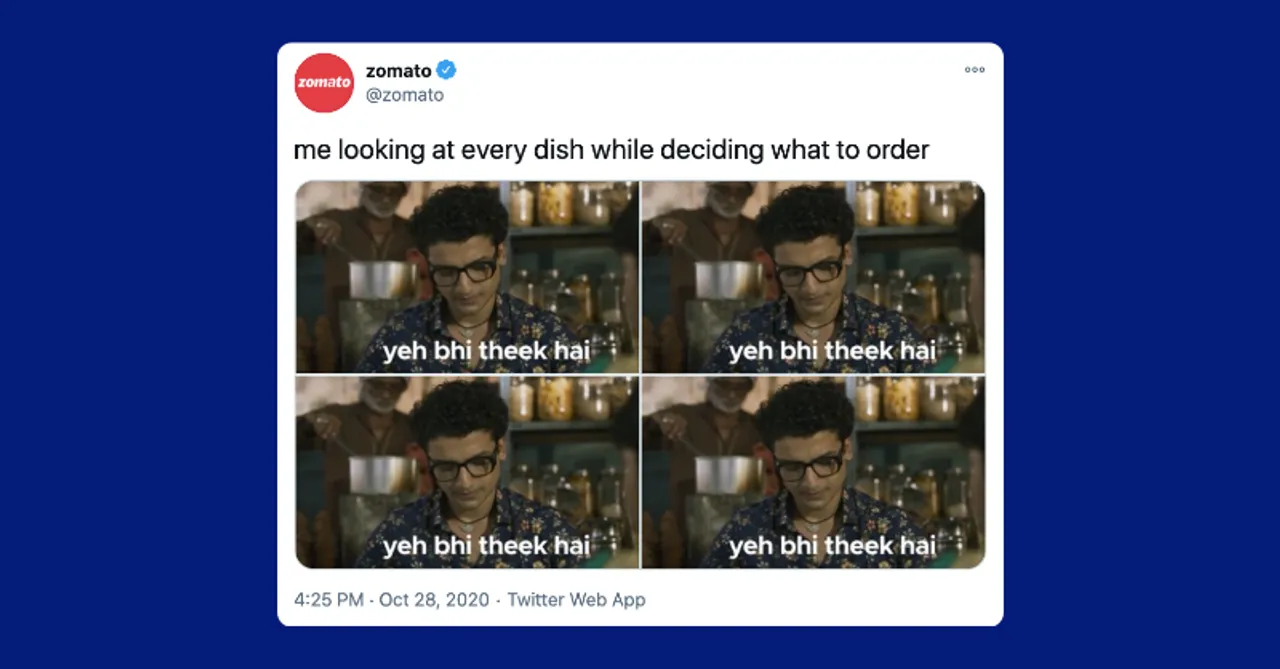 With a few days for 2020 to end, here's the best of Twitter through the lens of brands, integrations, innovations and interactions.
Twitter is a reflection of what's happening in the world and what people are talking about. Over time brands across categories have leveraged Twitter's ad offerings and influence to strengthen their presence among audiences. The constraints of 2020 encouraged brands to be more creative, thoughtful and personal, resulting in Twitter campaigns that warmed the heart and left consumers wanting more. As we wrap up 2020, let's look back at some brands and campaigns that stood out and made a difference.
Axis Bank
While nearly every industry was drastically impacted in 2020, the worst-hit were local vendors and small businesses, with many being forced to the brink. Axis Bank took up this important concern and asked people to #ReverseTheKhata, referencing the bond between customers and their corner shop through the maintenance of a 'khata'.
Netflix India
Netflix India built on the insight of people looking up recommendations on Twitter to build #NetflixMatchmaker. The innovation used a customised bank of emojis to serve fans with a personalized experience on Twitter, helping them decide what to watch. For example, tweeting a gift emoji with the hashtag would likely generate a recommendation for a holiday movie.
Star Sports India
To make up for the lack of on-ground sports experiences, Star Sports turned to Twitter to bring fans closer to all the sporting action, especially on two key occasions — the Indian Super League and the Indian Premier League.
During ISL, Star Sports invited football fans to send in Tweets with messages for their favourite footballers under the #TrueLove campaign. At the trophy-lifting ceremony of the finale between ATK FC and Chennaiyin FC), these love-filled Tweets presented in a physical form as Twitter-confetti and were showered upon the winning team.
For the IPL, Star Sports cued people in for the opening match through reminders on Twitter, activated by the Heart-To-Remind functionality. The brand also changed their Twitter username to 'Star Sports at 7:30 PM' to mark the time slot as the viewing time for the IPL.
Samsung India
While launching the #GalaxyS20PlusBTS edition, Samsung India routed its campaign towards the massive BTS fandom on Twitter. The brand launched a custom BTS quiz to engage with the K-pop band's ARMY on the service who could put their love to the test and even stand to win a pair of the Galaxy Buds+ BTS edition.
The targeted campaign not only reached its audience but also had them glued to their Twitter timelines through a series of Promoted Tweets with creatives featuring various members of the band. The BTS edition campaign was part of a sustained promotion plan for the S20+, with the global launch event achieving millions of views worldwide.
Amazon Prime Video
As Prime Video prepared to premier Mirzapur 2, it decided to count down to the launch along with eager fans, and host a watch party to answer everyone's wishes and get people watching (and reacting) together. Through a carousel events page, the brand curated a timeline of all conversations around #Mirzapur2 and also rolled out exclusive content leading up to the big day. A 'Mirzapur throne' emoji was also launched to fuel excitement.
Following the watch party, the show's characters were leveraged to engage the audience via a personality test pairing people with their favourite #Mirzapur characters when engaged with the tweet.
Uber India
Playing off their slogan to #MoveForward, Uber India suggested people #MoveWhatMatters. The brand echoed the directives of public health authorities, asking people to stay home and stay safe, while their drivers continued to serve India's essential workers. The brand also urged people to come out in support of their driver-partners who had also been impacted by the pandemic and set up the Uber Care Driver Fund.
Hyundai India
Hyundai India had launched its new TUCSON this year via a (virtual) event called #TheNextDimension. Hyundai adopted a three-phased strategy for the launch; it acquired an active viewership through the Heart-To-Remind functionality, which reminded people to tune-in for the launch; it took over the service's premium real estate with a Promoted Trend and live stream to maximise visibility, and to wrap up the launch it Tweeted highlight videos from the event which were injected into people's timelines via Promoted Tweets, making sure nobody missed the action. The live event recorded over 1 million views in the first 12 hours itself.
CRED
Fintech startup CRED launched its first-ever campaign with a series of videos with an aim to create a strong impact and reach new customers. The campaign was spearheaded by some of the strongest voices in the public space, including the founder himself. Moreover, picking up on a trend around nostalgia, they worked with some of the most iconic talents from the 90s and early 00s including, Govinda, Bappi Lahiri, Madhuri Dixit Nene, Anil Kapoor, Udit Narayan, and others in a creative way, ensuring mentions of CRED on Twitter reached new highs.
Zomato
Keeping up with cultural moments and trends, Zomato stayed connected with its audience through conversations that were fun, light-hearted, and more often than not, perfectly hilarious. From being excited about a cricket match to being grumpy because of hunger pangs, Zomato engaged with its audience in one-on-one banter, replying and engaging with tweets.
IndiGo
Since the test launch of Fleets in June, several brands have embraced it with content designed especially for the format. IndiGo stood out by engaging with its followers through consistent and coherent messaging. Adhering to the needs of its patrons, the brand has been using the format to keep passengers informed about flight schedules and other real-time updates.
Do you have a favourite brand on Twitter? Do tell us in comments or write to us at content@socialsamosa.com.