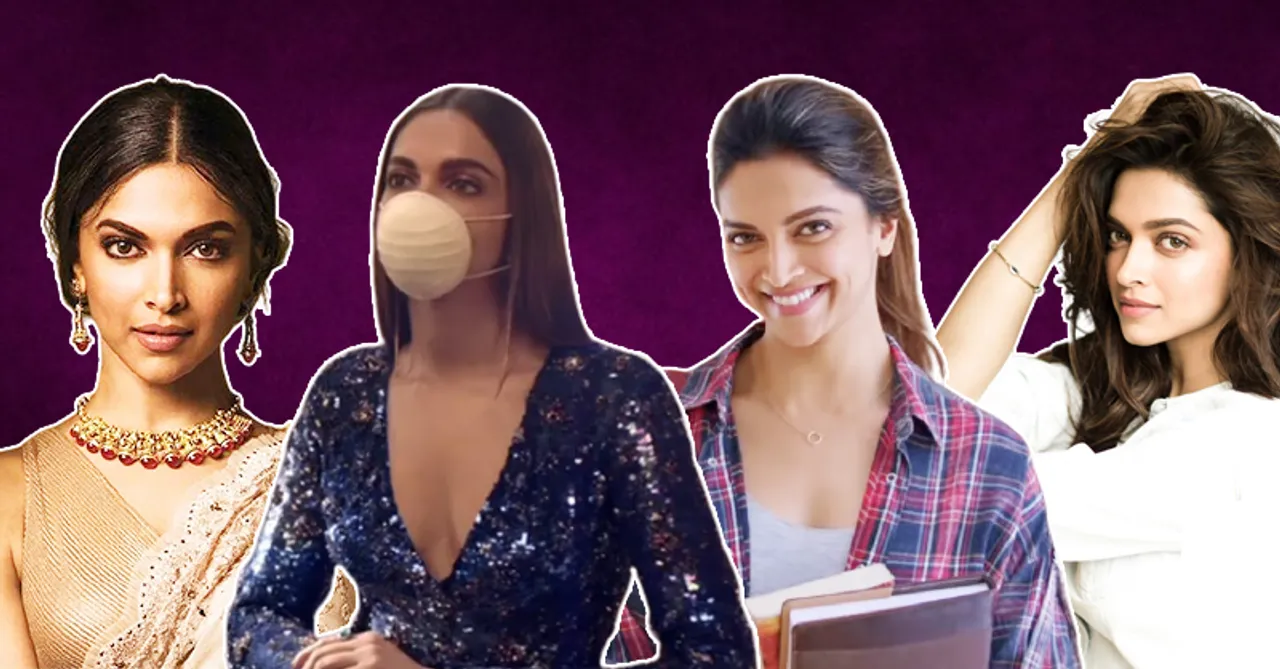 This express train takes you through the journey of Deepika Padukone as a celebratory brand endorser and lines up the captivating views of her notable campaigns.
Since her debut in the Hindi Film Industry in 2007, Deepika Padukone has had an upward professional graph with some stagnant phases, but her endorsements and campaigns have always remained on the higher end.
Her brand value experienced a colossal climb in 2018 and she has had one of the highest brand values for three consecutive years (2017-2018-2019). From the third rank in 2017, Deepika jumped to rank #2 with a brand value of 102.5 million USD in 2018; in 2019 her brand value was 93.5 million USD ranked at #3.
She remains the top endorser in the Personal Care segment, followed by E-Commerce, Fashion & Apparel, and other sectors. In 2019 she bagged a total of more than fifteen endorsements.
In recent years, one wouldn't be surprised if they saw Deepika's face on three billboards on one traffic signal, an ad in the newspaper stashed in the back of a cab's seat, and in the pre-roll ad on a YouTube video they see to kill time, she is the bankable face of several brands.
While the number of campaigns she appeared in grew after she established herself as an actress, she has been a part of several adverts since the initial phase of her career during the modeling days. A few of the first ads she featured in was by Close Up, Limca, and Liril.
With the growing popularity she has gained, she has also taken a stance on various topics.
In 2015, she founded The Live Love Laugh Foundation, an organization working towards mental health awareness and destigmatization of mental illness. In the campaign series #NotAshamed, we saw her in the real-life role of a mental health advocate.
Parallel to the movies, we also see her don several characters in ad films. Such as a traffic cop in Goibibo, a royal queen for Tanishq, a teasing friend for Asian Paints, or an empathetic daughter of a shopkeeper, and many more.
The express is now leaving the station.
Kya Aap Close Up Karte Hai? - Close Up
Jewels of Royalty - Tanishq
Khushiyon Ki Zidd Karo - Britannia Good Day
Summer Film - Coca Cola
Andar Se Strong - Colgate
#NotAshamed - The Live Love Laugh Foundation
Clean Air, Beautiful Homes - Asian Paints
The Anti Bacterial Paint ft. Ranbir Kapoor - Asian Paints
Khayal Rakhenge Khush Rakhenge ft. Ranveer Singh - Lloyd
Flash Charge ft. Sidharth Malhotra - OPPO
A Game Of Badminton or a Game Of Coffee? - Nescafe India
GoStays ft. Vicky Kaushal - Goibibo
Velvet Touch - Lux
#BendTheRules - HP India
Complete Care - Parachute Advansed
If we have missed out on any of your favorite Deepika Padukone Campaigns, write to us at content@socialsamosa.com or let us know in the comments below.