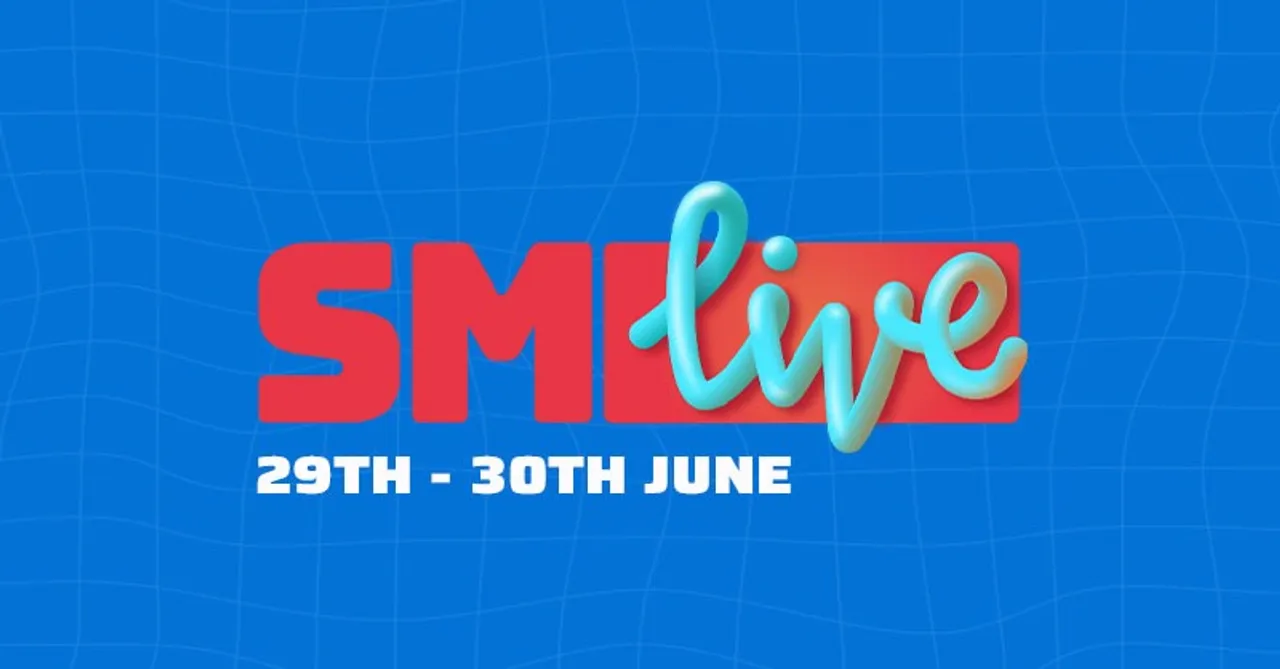 We are back with #SMLive to commemorate World Social Media day for two days of insightful sessions, featuring industry leaders. #SMLive Season 5 will be Live from 29th-30th June 2021, register now!
Social Samosa brings to you Season 5 of #SMLive, India's first Live conference to discuss the trends that shape the present and future of Social Media and Digital Marketing. As we brace forward to commemorate World Social Media Day, we bring the yearly virtual conference, this time around for two days from 29th-30th June 2021 with invigorating sessions and panel discussions.
#SMLive is our endeavor to bring the best minds from the social media sphere on one podium for intellectual exchange with industry stalwarts, starting with Instagram Live on 29th June 2021 followed by Zoom sessions on the consecutive day which will be simulcasted on Social Samosa's Facebook, YouTube, and LinkedIn pages.
Here's the list of the interesting line-up of sessions & panel discussions enamored by eminent speakers:
Day 1: 29th June 2021 (Instagram LIVE)
4:00 to 4:45 PM: The Audio Content Revolution: What Brands and Creators need to know
Varun Duggirala, Creative Entrepreneur, Podcaster, Co Founder & Chief Content Officer, The Glitch
4:45 to 5:30 PM: Gaming Influencers: Tapping the power of a loyal community with native content
5:30 to 6:15 PM: Content Diversification across Platforms - Learnings from Popular Creators
Day 2: 30th June 2021
1 PM - 1.30 PM: Language, Video & AI: Creating Exponential Value in a Social World
Ajit Varghese, Chief Commercial Officer, ShareChat
1.30 PM - 2.00 PM: Content Ecosystem on YouTube
Aman Malhotra, Head of Brand Solutions, Google India
2:00 to 2:30 PM: The Rise Of Social Audio
Preetha Athrey, Head - Marketing, Twitter India
2:30 PM - 3:00 PM: The Future of E-Commerce: What's in store for Brand Marketers and Entrepreneurs
Nitin Chopra, Industry Head, E-Commerce, Facebook India
3:00 to 3:45 PM: Understanding the Blueprint for Entertainment Marketing
3:45 to 4:15 PM: Are Social Media Admins the new Brand Ambassadors
Sanket Audhi, Creative Director, Dentsu Webchutney
4:15 to 5:00 PM: The Audio Advertising Opportunity for Brands and Businesses
Fireside Chat: 5.00 PM - 5.30 PM: The Content Marketing Economy: How it started vs How's it going
Devaiah Bopanna, Co-Founder, All Things Small, Former Head Writer, AIB
5.30 PM - 6.00 PM: Reality Check: How Brands should approach Moment Marketing
Preetham Venkky, President at 22feet Tribal Worldwide & Chief Digital Officer, DDB Mudra Group
6.00 PM - 6.45 PM: Social Commerce + Influencers: Upgrading ROI game
6:45 PM - 7:30 PM: Top Trends on Instagram and How to Apply Them
Ravish Jain, Country Head, PicsArt
With the event to go live tomorrow, stay tuned for a celebration of knowledge and social media in an exhilarating manner. We are certain that the learnings and anecdotes from the experienced panelists and sessions would help our community of digital marketers to upskill and upgrade.
So, what are you waiting for? Register for the event through this link now!
Have more queries? Write to us at team@socialsamosa.com. In case of suggestions, feel free to drop your comments below.