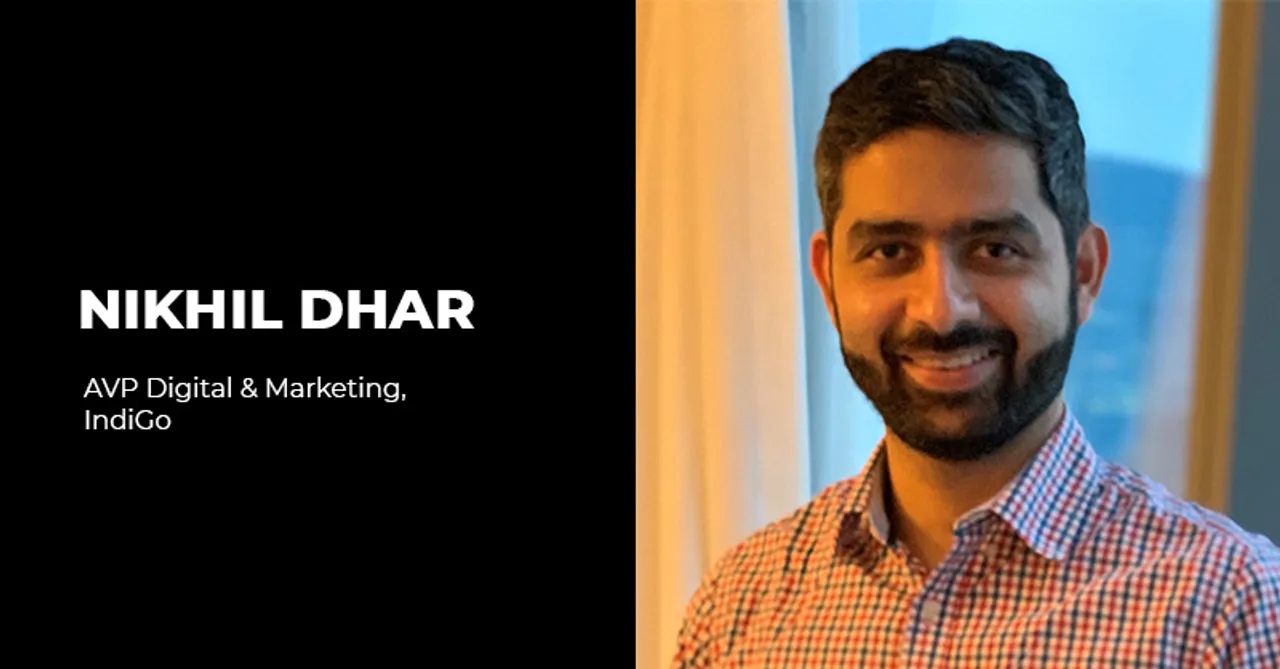 Nikhil Dhar - AVP Digital & Marketing, IndiGo sheds light on the brand's influencer marketing initiative that helped flyers step out in a pandemic ridden world with details around influencer selection and measurement metrics.
Aviation was among the most impacted businesses during the pandemic. Even when air travel resumed, travel went from a leisure activity to a need-based service. In the backdrop of the changes COVID-19 brought, Indigo rebranded as the Lean, Clean Flying Machine with influencer marketing at the heart of the rebranding. 
Nikhil Dhar, AVP Digital & Marketing, IndiGo takes us through the nitty gritties of influencer marketing in the middle of a pandemic, with the light on how the campaign helped the aviation brand bring consumers out of their homes. 
Edited Excerpts: 
What was the idea behind taking the influencer marketing approach for the Lean, Clean Flying Machine campaign? Please share the insights that went behind the conception of the campaign? 
The first lockdown in 2020 marked a significant event in the history of Indian aviation. Once the lockdown lifted, the industry saw a tremendous shift in consumer behaviour and sentiment. Travelers were mainly worried about hygiene and safety rather than additional frills like leg space or the variety of food. 
All the brands across different categories bombarded consumers with information on how they are doing multiple things for protection against COVID-19. With this we realised that it would take more than just a campaign, to reassure travellers on how flying is among the safest means of transportation in the post-pandemic world. We decided to re-brand IndiGo as the Lean, Clean Flying Machine. 
Influencer marketing became an important tool for us to not just tell them, but truly convince them by giving a sneak peek through the lens of another individual. For example, we made some of our influencers showcase the entire journey of how flying really was post covid. We also made them pre-board the aircraft to capture the cleaning shots and showcase the level of sanitisation the aircraft goes through before every flight. 
What were the parameters in place before selecting influencers for the campaign? 
We had some key parameters to choose the right set of influencers. These were divided Into both qualitative and quantitative factors: 
Qualitative (Content focussed): 
Influencers whose content tonality and TG matched with a brand of our repute.
Influencers with authentic content - not too sales focussed 
Influencers who were a part of the travel domain or had travel related content on their feed were our top priority
Influencers who were followed by top brands and personalities and even aviation enthusiasts. 
Quantitative: 
- Profiles with a minimum following of 100K.
- Engagement rate of above 3%.
Do the influencers still collaborate with the brand? Campaign-centric approach v/s long-term community building - what is your approach towards influencer marketing? 
We don't look at influencer activation as a short-term engagement. Since Lean, Clean Flying Machine was like re-branding IndiGo, constant collaboration with influencers was important to ensure that this message was spread across to audiences. We have seen a few influencers who have collaborated with us as many as 4 times within a very short span of time. We would work very closely with them to not only ensure that they have a seamless experience at the airport to freely create content but also keep a tab on trending ideas and music that we felt would work better with a particular influencer's audience. This resulted in a highly engaged audience. 
Lastly, instead of doing influencer marketing in a burst (i.e. – a couple of weeks), we focused on sustained efforts with 3-4 Influencers travelling every month to ensure consistent brand awareness which also helped us in building long-term relationships and widening our influencer network.
Was there a different brief for influencers from Tier II & III cities? How do you alter your approach to work with the audiences in these markets? 
Firstly, language plays a vital role when we go regional and it's important to maintain relatability of communication with the audience. Secondly, it's Important to bring out more authentic content which does not feel forced, so we allowed Influencers creative freedom. Lastly, from a content perspective, we asked influencers to also focus on tactical stuff such as how to book a flight, how to fill your health declaration form, etc, so that consumers from Tier II and III cities are able to understand these new requirements better. 
One of the major faux pas brands tend to make in influencer marketing is giving the copy/content instead of allowing the influencers to create content within their genres. How do you enable influencers to explore their creativity while keeping the brand ethos consistent? 
Nobody in this world wants to read about what a brand really has to say/advertise. 
Keeping our primary agenda in focus, we gave the influencers full freedom to create the content as per the given brief where we would co-work with them on concepts, trending transitions but also ensured they engage with their audience through engaging stories and post at a time when their audience was active the most rather than us giving them a specific time to post. An influencer knows their audience at best! We particularly believe in the ideology of - when you get an expert on board, trust their expertise. 
To ensure all brand ethos were followed along with aviation guidelines given by the government, we made sure do's and don'ts were part of the brief so that they are aware of creative boundaries (such as no content with staff while in air, etc.). We also requested the influencers to share the content with us before going live to do a final sanity check. 
What were some of the challenges encountered while working with influencers during the lockdown? How did you solve them? 
Getting them out of their homes was our biggest challenge. We had to speak to each one of them, convince them about how things are happening on-ground and how the staff is braving the virus and taking proper precautions to report to the airport and in the skies every day.
Also, with a significant impact on our business, it was imperative to engage influencers with limited (almost nil) spends. 
Which are the best platforms for the distribution of influencer marketing campaigns? 
Our main focus as a brand was on Instagram, Facebook, and Twitter where our key audiences were present. The performance varied from influencer to influencer however, with Instagram being the main platform, we got an above-average reach and engagement on all our posts. We are currently working to see how best we can leverage the content across platforms and campaigns to optimize the costs. 
Take us through your measurement metrics to calculate ROI on influencer marketing. What kind of results did the campaign see?  
Post this campaign we saw a significant increase in our market share and load factors. Our market share increased from 48% in Feb 2020 to 53.9% as of December 2020. Our passenger traffic grew three-fold from 11.9 lakh in June 2020 to 39.5 lakh in December 2020. Also, customer confidence increased by 16% post the campaign launch. Lastly, we reached over 60Mn people on social media with 99% of the conversations with a positive sentiment.
The ASCI guidelines released this year require influencers to tag branded content. Has this impacted the way you work with influencers or the overall performance of the campaign?
We think this is a good step to make it easier for consumers to distinguish between branded and non-branded content. We have not seen any significant impact as of now since the ASCI guidelines were introduced. Our influencers are happy to mention that this is branded content. We feel that content is king. If we give their audiences the content that is authentic and something they would relate to, it wouldn't matter whether that's a collaboration with a brand or not. 
3 learnings from influencer marketing that you can share with our readers  
Our three key learnings till now would be: 
Do not micromanage your influencers and give them creative liberties. While you may be the expert at marketing, they are the experts in content creation. Trust their expertise and work with them, not make them work for the brand!
Consider each of your influencers as a brand ambassador - so that they only promote your brand during the collaboration phase but become a true advocate of your brand. We have seen a lot of our Influencers come back to us with more ideas and thoughts cause they really liked our product and wanted to use it again.
Choose the right set of influencers - currently you have a wide variety of influencers to choose from. As a brand, it's critical that you select influencers which resonate with your brand and help you achieve your metrics.