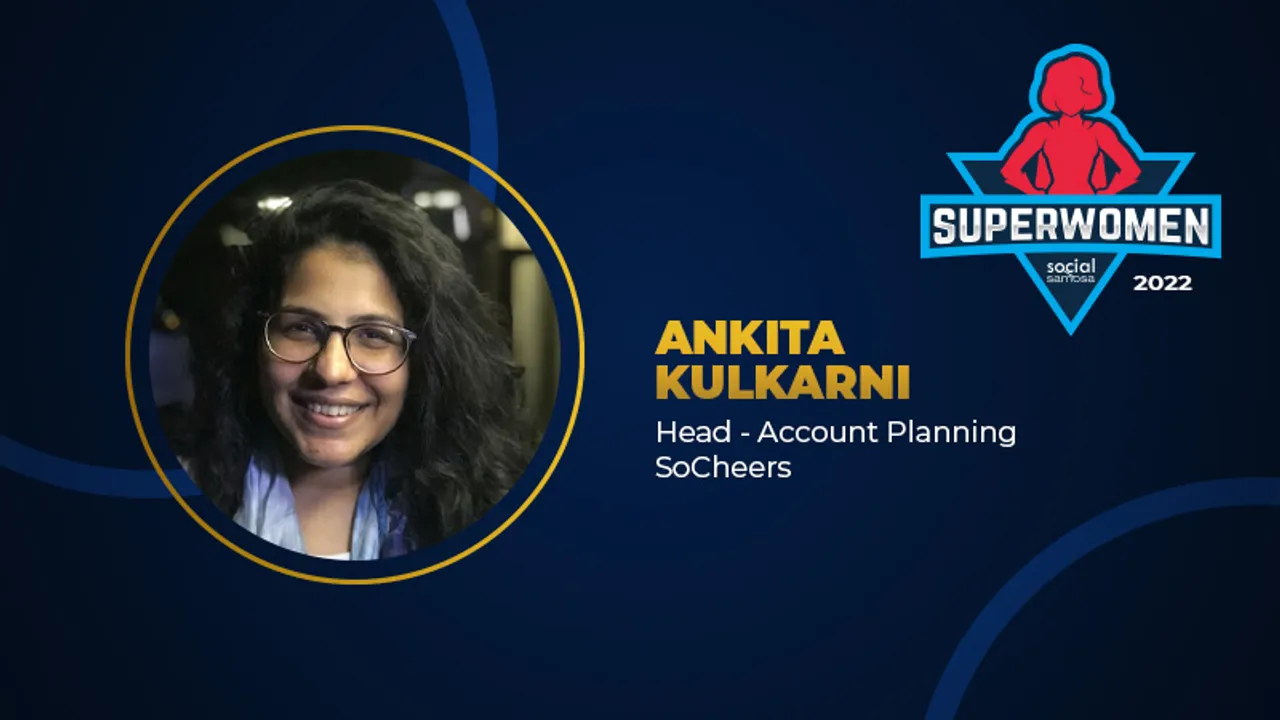 Ankita Kulkarni of SoCheers the relevance of the term 'Superwomen' in today's day and age, the changing paradigms of the Indian A&M industry, and what it means to have a work-life balance.
Ankita Kulkarni, Head-Account Planning at SoCheers and winner of Social Samosa Superwomen 2022, talks about all things Advertising and Marketing.
Edited Excerpts:
What do you think it means to be a superwoman in the New Normal?
Women excelling at and acing in their chosen fields, and at life in general, with all the inherent challenges scattered along the way, is something that'll always be super to me - new normal or old.
A big part of success is mental health & work-life balance - how do you ensure to create work-life balance for yourself & those around you?
Human beings don't have an on-off switch but adding it to our work might not be a bad idea. I feel the most productive when I can assign singular focus to what I'm doing, so when the switch is "on", I'm completely immersed in my work. And after a day's work, I usually consciously try to disconnect, where spending time with family, a chill hang session with friends, or getting lost in a good book, helps infinitely.
We understand that some projects could be demanding and might eat into the "life" side of the work-life balance. But as a leader and as part of the greater philosophy at my organisation, we actively promote never to make it a habit. Also, even if one person can take away something useful from how I go about my day, I believe that I'd have led by example.
Moreover, having informal, casual discussions with your teammates about things that interest them outside of work, does wonders for team bonding, morale, and ultimately overall well-being, because it allows a person to share something non-work-related with their colleagues.
While a lot has changed for the better in the A&M industry, what kind of challenges continue to exist for women? Especially with the whole WFH & hybrid work situation.
Yes, as you rightly said, the A&M industry, like many others, is moving towards a gender-equitable space. It has visibly shifted from being a male-dominated one earlier, to now many organisations having an equal ratio of men and women - in some cases later even surpassing the former. But scanning the larger industry, the number of women in leadership positions is still far from equal to that of men.
The Egon Zehnder Global Diversity Report 2020 specifies that only 5% of executive chairs and 10% of non-executive chairs are occupied by women in India, clearly alluding to the challenges that women face moving up the ranks. These challenges could range from systemic, to societal, to organisational, to the individual; each equally cumbersome in a woman's journey towards success.
What in your opinion, helped you excel in your career?
I think there are three things that have helped me hugely throughout my career:
My curiosity and my inherent nature to try and learn more about anything and everything…umm…except maths (smiles) I wish I had that inclination too though!
My mentors. I was lucky enough to find the best and most approachable managers and colleagues throughout my journey, who showed me the ropes and explained away my million queries, without once making me feel dumb for asking those questions.
Saying an enthusiastic yes to all opportunities that came my way, even the tougher ones. I'm grateful for whatever it is in me that pushes me to take the leap of faith and then pushes me further to make good things happen with it!
One Superwoman you look up to & why
I was raised by a wonderful woman who instilled strong personality traits in me. And I've found amazing strength in each woman I've met since. So, for me, all of them are superwomen.
Beyond the superwomen in my life, I ardently look up to Malala Yousafzai, because her story is inspirational to the bounds one can't put into words. She envisioned a better way of living for herself and her community, and believed in it with such ferocity that she took on numerous battles - and dangerous ones at that - to make it a reality. At a surprisingly young age, she proved to the world that it takes just one to start the process of change.
One thing you would like to change about this industry
I love this industry, I mean it's one that helps me keep in touch with my creative streak day after day. But "kuch bhi perfect nahi hota, use perfect banana padta hai"! So, yes, one thing that I'd love to change is the acceptance, attention and adulation of mediocre ideas, or the age-old habit of playing in safe waters and not aiming to do something bold or different when it comes to creative campaigns.
One thing that this industry desperately needs
Work-life balance has all but become a jargon in the industry. Some organisations are making genuine strides towards bettering it but being the interconnected community that A&M is, tangible results won't be achieved until the entire industry works in tandem. Everyone's personal time should be respected, allowing them to maintain a decent balance. And more importantly, the ones who successfully draw this line and live by it, should be applauded instead of being negatively called out.
One tip for all aspiring A&M professionals out there
Talk to a lot of people! Listen to and understand what they say and more importantly the underlying meaning behind it, because advertising, as a field, is closely related to human emotions and behaviour. Love advertising and it's sure to love you back!