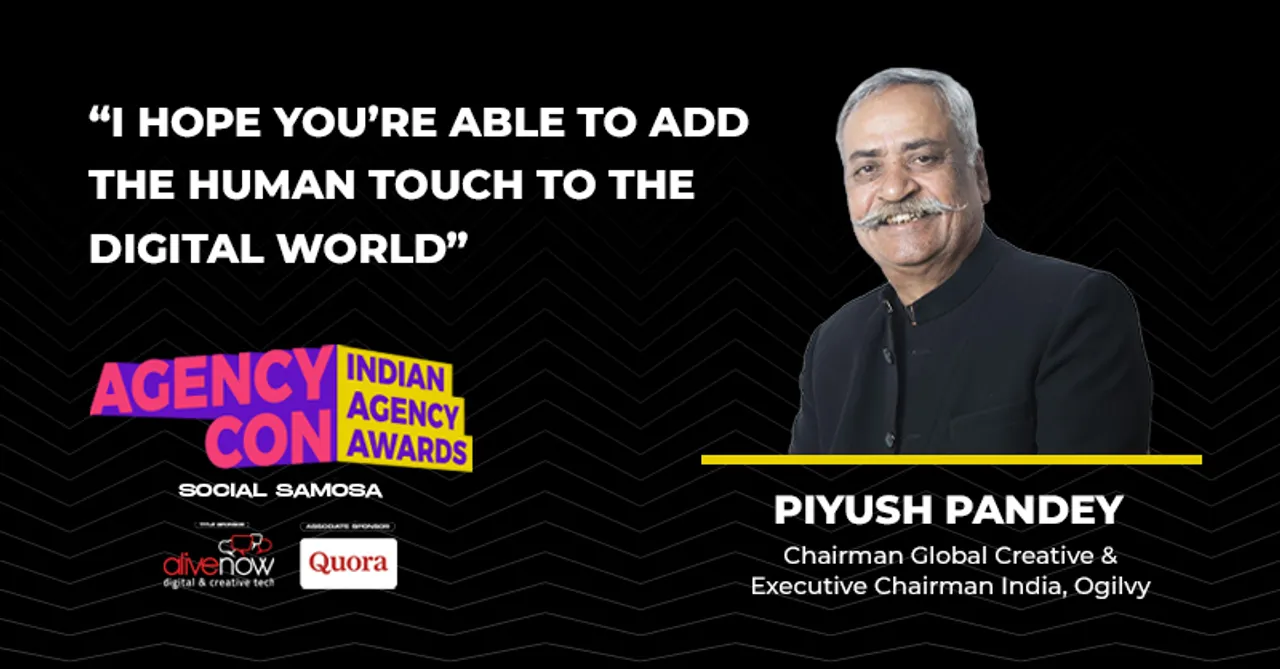 The iconic ad-smith, Padma Shri Piyush Pandey graced the inauguration of Social Samosa's AgencyCon Indian Agency Awards & Summit presented by AliveNow with enlightening insights.
The advertising prodigy Piyush Pandey, Chairman Global Creative & Executive Chairman India, Ogilvy shared anecdotes from his early days transitioning into the creative direction from account management at Ogilvy, and insights that don't change with the changing tide of the advertising landscape.
The First Step In The Creative Direction
Piyush Pandey shares that people went into professionalizing media in the late 80s, and he walked into a change, a new set-up started of proliferating advertising; the advent of TV had completely changed the advertising landscape, and this was the time around which h transitioned from account management to creative direction. He believes the current lot is into the next level of change.
Key Takeaways
Advertising mediums may change from Print to TV to Digital… What doesn't change is the ability to keep the human connect
Ideas can travel at the pace of the consumer
Nobody knows what's in store for the next 10 years
Think beyond your imagination, that engages people…
There's no such thing as a creative block, they're speed breakers, they last for a bit, pass them over
Like friends are made on mutual trust, it's the same way with clients
No Piyush Pandey can attract talent. Talent is attracted by the work you do
Retention is about respecting the person you hired
You are learning from people, as much as they learn from you
Whether it's 3, 5, or 7 seconders, don't count the numbers
Add a human touch to the digital world
Rapid Fire
Cricket has always been synonymous with Piyush Pandey's life, and no conversation can go on for him without the mention of metaphors associated with Cricket. Apart from the fact that a draft proposal he wrote in 1995 with Arun Lal and Amrit Mathur became one of the major sporting leagues in the country – IPL, he also applies learnings from the game in real life. Owing to this attachment with Cricket, here's a rapid-fire with cricket analogies.
First Century
Chal Mere Luna
Ducks
Ducks are best forgotten
Coach In Advertising
Suresh Malik
Man Of The Series Moment
Kuch Khaas Hai - Cadbury Dairy Milk
You can open a market when you give digital a human touch. Whether you do it in 7 seconds or 3 seconds or 3 minutes, touch some hearts, don't count numbers, Piyush concludes.