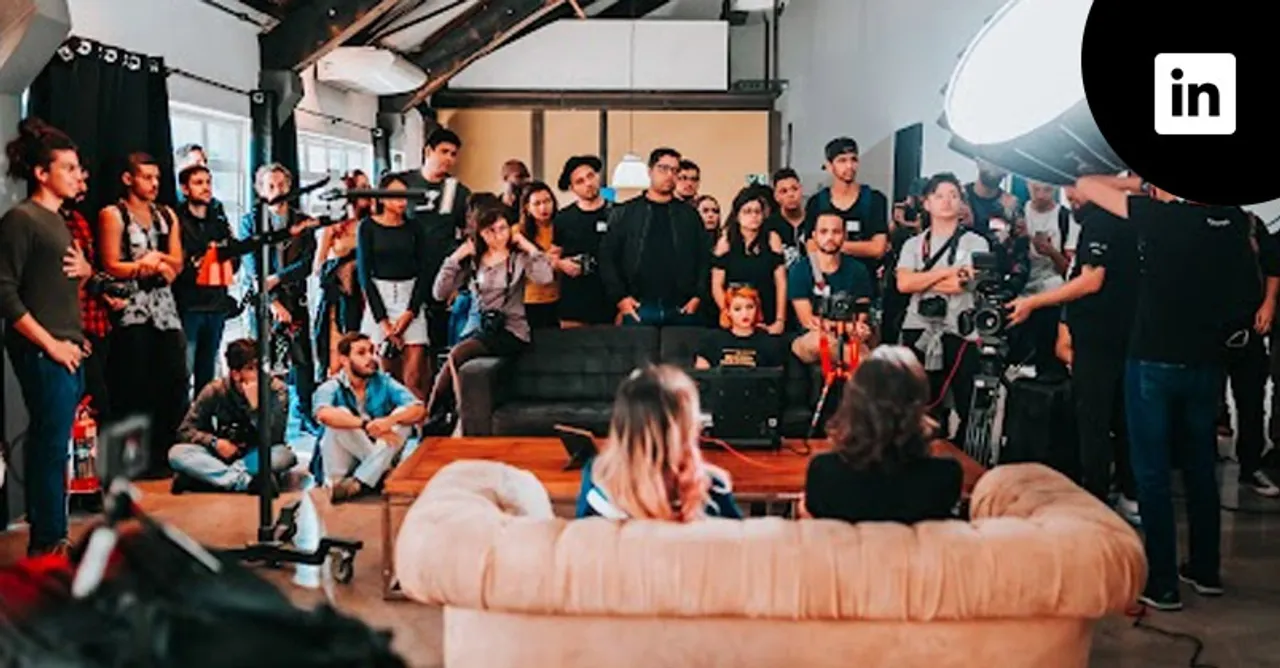 With virtual and in-person events both seeing a rise in the ecosystem, here's a run-down by LinkedIn on what the future of B2B Marketing will look like.
In recent months, in-person events have made a roaring comeback and for the most part, the B2B marketing industry has welcomed them with open arms. Though in-person events are something that everyone craves, Virtual events have evolved rapidly and have cemented their place in this "new normal" world of work. They're here to stay and are an essential part of the marketing mix for all B2B businesses.
In a recent post shared by Yolanda Zaw, Sr Content Marketing Manager - LinkedIn gave a guide on how Virtual & In-Person Events Will Both Play a Part in the Future of B2B Marketing.
A Time and Place for Everything
One of the biggest debates over the past two years is virtual versus in-person experiences. Looking back now, Yolanda thinks the only reason why this was such a hot topic was that we had no choice. 
At the peak of the debate, Zoom fatigue was real and people were starved of in-person interaction. It was virtual events or no events at all and that left us craving what we couldn't have. 
In spite of this, however, when LinkedIn surveyed event organizers in Australia & New Zealand, India, and Singapore, over two-thirds of them said that they expect to continue running virtual events in the long term: 
64% of event organizers in Australia & New Zealand wish to continue running virtual events in the long term. Their #1 reason: virtual events cost less (46%). 
78% of event organizers in India expect to do so for the top reason that it's more environmentally friendly (57%).
66% of event organizers in Singapore agree that virtual events are here to stay for the #1 reason that it offers the opportunity to attend events globally without travelling (47%). 
Playing to Their Strengths 
How best can one deploy virtual and in-person events, is the big question. To help everyone weigh the pros and cons, as part of the LinkedIn Event Framework the platform listed down some points which are developed based on universal principles across the entire event lifecycle: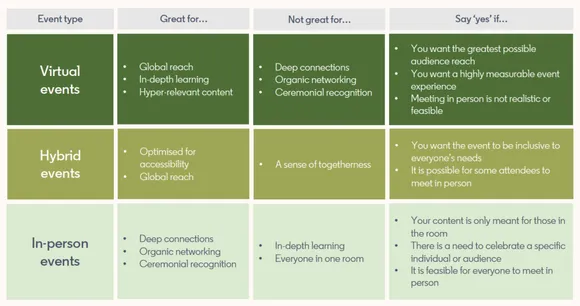 Virtual events are great for global reach and scalability
Going virtual lowers the barrier to event participation since attendees no longer need to be in a specific physical location. 
As an example, consider how, when the Stockholm Chamber of Commerce started SthlmSessions, a weekly, 30-minute interview show live-streamed on LinkedIn, they were able to attract an average live audience that is 5x larger than that of their regular business events. 
In-person events are excellent for in-depth sharing and networking
Nothing beats in-person events for sharing, networking, and building connections. This happens more organically as attendees run into each other and pause to chat. 
Of course, this means that getting the right people in the room is essential. Take Singapore's innovation agency IPOS, for example. They host IP Week @ SG, the world's premier intellectual property event centered on sharing and networking. When this was promoted on LinkedIn to a targeted global audience, IPOS was able to exceed its conversion goal by 3.5x. 
Evolving With Events 
Yolanda's key takeaway from the past two years is that events are an enduring but evolving marketing tactic. Events are here to stay, no matter what, but the shape and form they take must naturally change to fit people's needs and behaviors.