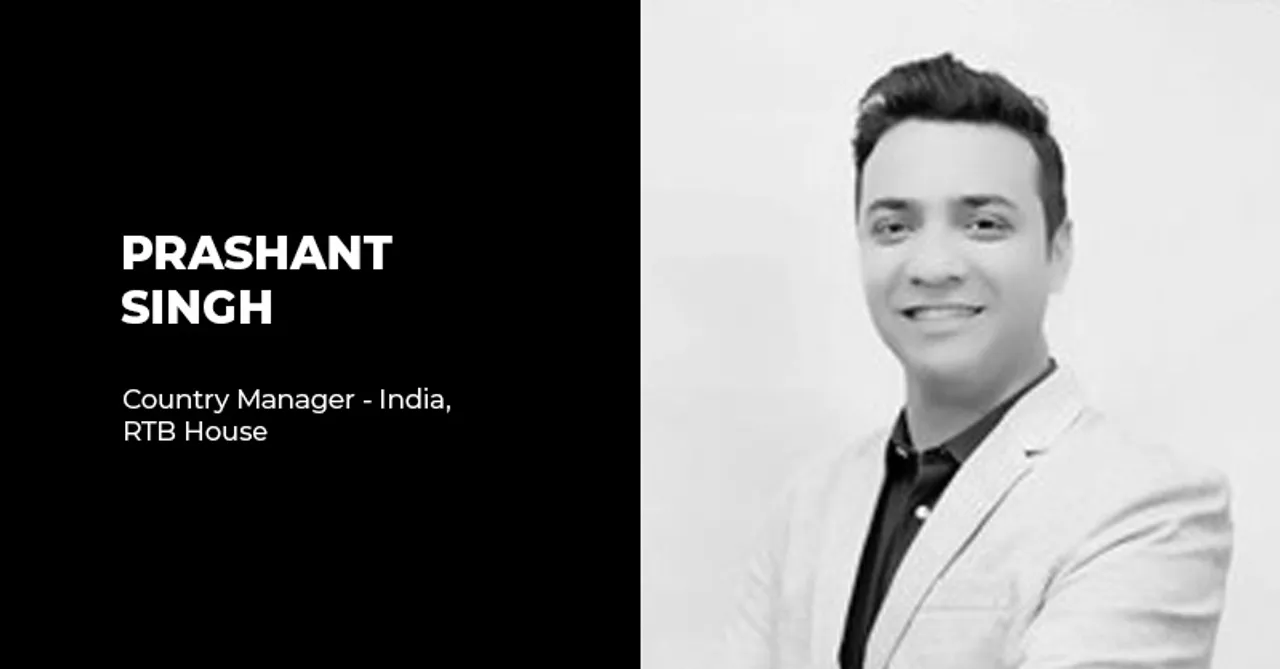 Prashant Singh of RTB House shares insights on ethical data extraction and management, optimized use of tech-based tools such as AI, ML, and DL for creative campaigns, and establishing a brand-safe environment on social media platforms.
Prashant Singh, Country Manager – India, RTB House shares expert insights on the fusion of modern technology and creative storytelling, the utilization of data in a privacy-centric habitat, and a few more of the vexed questions that the tech-related discussions in the industry are currently flooded with.
Here are his nights on creating a brand-safe environment through deep learning, blending foundational data in campaigns, and principled extraction and use of data.
Ethical Use Of Data
Social media platforms have been known for facing privacy breaches and unethical extraction and use of data for targeted advertising. For instance, recently FTC charged Twitter for deceptively using data garnered from two-factor authentication to sell targeted ads to advertisers, affecting more than 140 Mn Twitter users while boosting Twitter's primary source of revenue.
In 2018, Facebook was reported to be executing a similar activity wherein the company used their users' phone numbers provided for two-factor authentication and applied it for targeted advertising. Kashi Hill, a Gizmodo reporter also explained that if a user shares their contacts with Facebook, the platform would then use the shared contacts to target them with ads.
There have been several such instances such as the Cambridge Analytica Scandal, and similar ones, wherein the use of user data and harm to privacy has been brought to light, and since then regulators, industry stakeholders, and users have been raising and working on concerns related to the protection of user data.
Talking about how organizations can ensure ethical use of data for personalized marketing Prashant mentions, "privacy is a topic close to industry and consumers and cookie-less solutions are the future".
For the unacquainted, cookies are small blocks of data that store user activity on a website, and social media platforms such as Facebook also optionally use this data along with in-app activity for targeted advertising.
Prashant further explained that regulators are becoming more concerned about privacy, so cookie-less solutions have become important for the whole advertising ecosystem. "Businesses should not find shortcuts to protect business revenue".
Discussing the strategy adopted by the founders at RTB House, he mentioned that the company works with first-party data to build on the performance. This data is treated as the brand's intellectual property, making sure that this data is not built for any of their other clients' campaigns.
"Even if the data is stored on our servers, it can never be used for any kind of communication that is not related to the brand, or that the consumer has not signed up for", he adds.
He further highlights that cross-utilization is a common practice in India, a lot of companies do it, and they do it because neither the brands know about it, nor there is a regulator, nor consumers are aware of it.
Data X Creative Storytelling
The fusion of creative storytelling and modern technology has been on an upsurge and the evolution of creative works is going through multiforms of occurrences.
While technology-led campaigns such as dentsu Creative and Vice Media's 'The Unfiltered History Tour' and Ogilvy Mumbai and Cadbury Celebrations' 'Shahrukh Khan- My AD' both won a Titanium each at Cannes Lions 2022; Zomato faced severe backlash for their over an AI-generated campaign featuring Hrithik Roshan that named a temple as a restaurant, hurting the religious sentiments of viewers.
Manual intervention at a PAN-India or a massive scale is humanly not possible, which is why acing technology and data management is required to remain at utmost priority and needs to be aced to avoid blunders that may arise negative brand sentiments, as well as to improve the efficiency of the campaign at an optimum level.
Talking about the blend of data and storytelling, Prashant shares that "Data is an opportunity as well as a challenge", further adding that today if they work with a big fashion e-commerce brand, they collect around half a billion data points. For some of the advertisers they've been working with for over 3-5 years, it takes up more storage space and also throws in new challenges.
He states, "Today when we use data for ad campaigns, it is purely driven by technology, there is no human intervention, and it is directly inclined to how consumers engage with the brand on their digital properties as well as on the internet overall, it's all determined via deep learning models, the most advanced version of AI.
For utilizing data in creative campaigns, Prashant stresses the practice of cutting down data that you don't need. "We recommend that there is already a massive amount of data generated if you're in a mass consumer business. Start cutting down the data that you don't really need, evaluate MarTech options, start looking at who your consumer is".
He also highlights 'frequency capping' as an important practice. Frequency capping is the use of data to determine the number of times a particular viewer will see an ad campaign for optimal impact, not overdoing the communication. He states "overuse of ads can create a disconnect with the brand".
Use Of Technology For Brand Safety
Building brand safety on social media platforms has always been a strenuous task. The influx of user-generated content on these platforms makes it prone to creating an unsafe environment for branded advertising. An ad campaign may be contextually irrelevant or appear to be capitalizing on a situation or may garner negative brand sentiments if it appears in an unsafe environment or a detrimental trend.
Prashant states that deep-learning models are a reliable MarTech tool for this common concern. As we may be able to protect an ad campaign or the brand from certain keywords, but not from its synonyms or a similar context. Deep learning comes into practice because it has its own neural network which analyzes the given input and also learns from the action items and then creates its own solution.
"This is the only scalable and sophisticated solution and an artificial intelligence solution like deep learning is required. Recently, since the Twitter and Elon Musk fiasco, a lot of talks about how bots are harmful to the advertising ecosystem have also been highlighted. But technology has helped automate the communication and, channel a more positive side of the ecosystem, which also includes customer support".
Prashant Singh, RTB House exclusively interacted with Social Samosa at MMA India Impact 2022.