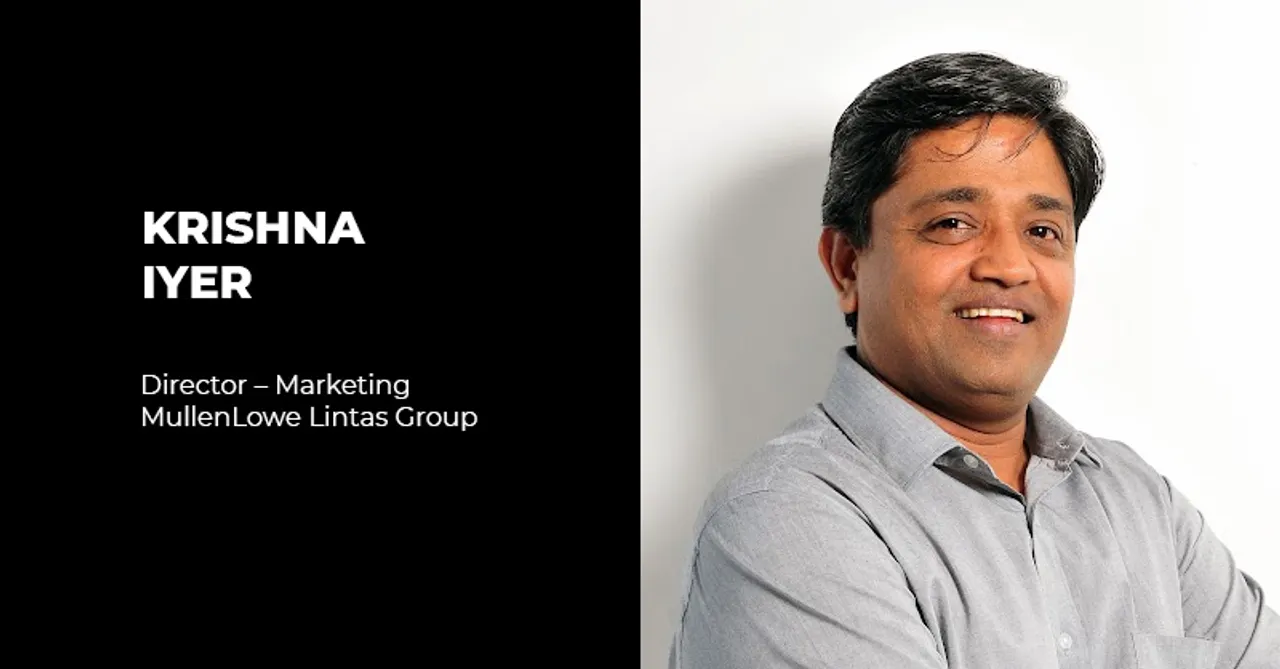 In conversation with Social Samosa, Krishna Iyer of MullenLowe Lintas Group draws an analogy between the legendary Sourav Ganguly and Sachin Tendulkar partnership, and client-agency rapport, while decoding the changing ecosystem.
Krishna Iyer, Director – Marketing, MullenLowe Lintas Group and a jury member at SAMMIE BSMB shares some trends that he foresees leading the coming year and advises agencies on how to sustain a longer shelf-life for their campaigns, in this brief interaction with Social Samosa.
Edited Excerpts:
Please share insights on the current state of social media marketing post-pandemic. What do you see as a permanent change in consumer inclinations?
The world witnessed a rapid rise in digital marketing post-pandemic. This rise is here to stay. Within digital marketing, social media will remain a powerful marketing tool in the armoury of marketers.
In my chats with marketing heads, they have found high ROI through social media investments and expect it to remain a fourth of the digital marketing budgets.
Marketers rely on building richer customer experiences which is especially true for brands that rely heavily on online marketing.
Consumers are always a step ahead of the brands. Brands should be open to experimenting with new channels and features on existing platforms. Hence, they should always be aware and use what's new on existing platforms. For instance, leverage IG Reels to deliver short-form video content. Facebook's gift cards or TikTok for Business, are similar examples. Not only do new tools and features build a unique connection with consumers, but it also helps them to associate the discovery of these features with the brands that introduced them first. 
In less than six months, Disney+ managed a subscription base that took Netflix millions of marketing dollars and seven years to achieve. Remote working, learning, and shopping likewise have surged. The pandemic has hastened digital adoption and permanently altered the behaviour of consumers.
Please share a few prominent trends that would lead the way to 2023.
Several trends are sweeping the digital domain which helps to build a seamless user experience – AR/ VR, Influencer Marketing, Social commerce, Metaverse, and Social Listening. Some prominent ones can impact the online shopping experience and are more likely to surpass the physical shopping experience.
Trend 1: The cookie will finally crumble as more and more users do not wish to be tracked. Well almost, maybe. Google has delayed the end of cookies until 2024 for testing and acceptance of Privacy Sandbox APIs. It will challenge brands to think of ways to track conversions while creating more personalized user experiences without the cookie!
Trend 2: There is growing chatter around social networks about the lack of control. Users have very little say on how data is stored, what type of censorship is in place, decisions on publishing, etc. It is all dictated by the network owner resulting in a steady rise of decentralized social networks such as LOL, Phaver, and Social that claim to give more control to the user. Frankly, there is no straight answer as users expect different levels of censorship and free speech. Without a central governing body moderating it, there's always an increased risk of toxicity and radicalization. Though the start-up decentralized networks may not take over in 2023, however, they will cause big players to take notice. Leading social platforms will take notice and try to tackle more of the issues users raise and hopefully put more power back into their hands.
Trend 3: It is estimated that half of all social media users in China have made at least one social purchase. The US is also not far behind.  Social commerce is still finding its feet in India. The social commerce industry in India is estimated to grow by 71.5% p.a. to reach US$8,258.8 million by end of 2022 as per a report by Research and Markets.
Initiatives like Open Network for Digital Commerce (ONDC), will aid in democratizing digital commerce, helping small retailers move away from platform-centric models like Amazon and Flipkart to open and transparent networks. 
With new trends cropping up and being discarded at an accelerated speed, how can brands and agencies sustain a longer shelf-life of the campaign?
Being relevant, unique insights, and active use of data to know the consumer needs – are the lessons on brand building that will always stay. 
The Metaverse is a much-discussed phenomenon as we continue to unravel its possibilities and immersive capabilities. Many brands will have to dare and continue discovering, exploring, and finding ways to be on it. Brands can potentially sustain a longer campaign shelf life by adding value to the platform and not uploading just because everyone else is doing it.
Every day we come across various instances and opinions on 'brands as clients', looking back on the over 15 years of your experience, how would you describe your ideal client and ideal brief?
This point requires a cricket analogy that will help to drive home the point. Sourav Ganguly and Sachin Tendulkar duo hold the record for the highest runs (8227) as a partnership in a career, scored between 1992 and 2007. One was known as the "God of Cricket" and the other was nicknamed the "Prince of Kolkata" who have together changed the face and attitude of Indian cricket forever.
A client-agency relationship must share the same authenticity and trust like this pair to break records and set benchmarks for others to emulate.
How has the year been for the Indian advertising industry? As this has been the first year since normalcy has returned for a longer period and business bounced back during the festive season.
Digital advertising in India has contributed 33.4% and emerged as a key medium for digital-first brands and consumer tech companies according to Mint.
Full recovery of advertising on television was bolstered by the infusion of fresh content and the Indian Premier League and is expected to contribute ~42% share. OTT platforms, connected TV, online gaming, and e-commerce are also expected to grow. Advertising in categories like travel and hospitality which slumped during the pandemic has opened up due to the easing of lockdown restrictions. Ed-tech, fintech, and gaming have recovered and grown their visibility on OTTs. Businesses that rely heavily on imports such as pharma, and auto will be under pressure until the geo-political tensions and supply chain bottlenecks are resolved.
Please share your two cents on initiatives such as SAMMIE BSMB by Social Samosa which recognizes great work done by brands on social media.
Awards platforms such as SAMMIE BSMB by Social Samosa help to recognize clients, agencies and creative talent across a multitude of industries both mature and emerging. The use of sharp consumer insights, clutter cutting creatives which leverage the strength of medium comes to the fore inspiring the industry to set higher benchmarks.
What qualities are you looking for in the participants to spot the winner this year at SAMMIEs and what are your expectations from the nominees?
I am looking forward to creative ideas that are authentic, that break the stereotype with effective use of the platform, and thinking that goes beyond the brand. Let the best and the brightest work shine through. Best wishes to all the participants!