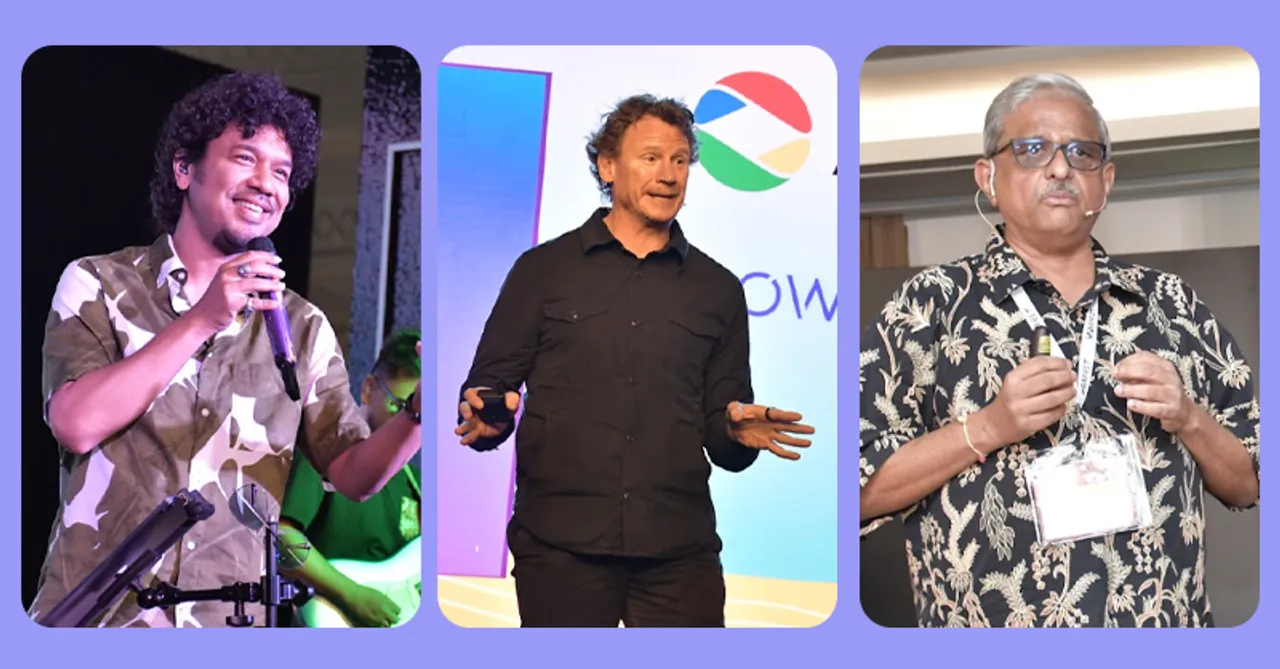 The final day of Goafest 2023 kicked off on a musical note and was followed by some insightful sessions and a thought-leading session sharing creative principles.
After two days of knowledge seminars, and conclaves by industry experts and creative minds battling it out at the ABBY One Show Awards, the final day of Goafest 2023 is here. The day kickstarted with Papon, Indian Playback Singer, taking over and mesmerizing the crowd with his voice.
The final day at Goafest commenced with a Knowledge Seminar by Anymind, titled, Seven Principles For The Future Of Creativity led by Nick Law, Global Creative Chairperson - Accenture Song. This session deep-dived into the necessity of establishing and embodying principles as a brand; to this end, Nick stated, "Every company needs to have consistent principles and dynamic practices. Sometimes, our industry sometimes forgets that it needs to be dynamic."
Nick has crafted a set of principles that ignite a fresh perspective on the future of creativity. His principles intend to act as a guiding light for artists, designers, marketers, and anyone seeking to harness the power of creative potential. Law offered profound insights and a deep understanding of the ever-changing landscape.
The seven principles for the future of creativity, guided by Nick Law, emphasize the importance of embracing creativity, technology, and its collaboration to drive innovation, create meaningful experiences, and deliver effective creative solutions in the evolving digital landscape, ultimately transforming the way brands connect with audiences and shape the future of advertising.
Day 3 also witnessed two masterclasses; the first one laid emphasis on storytelling, which was presented by Bharat Avalani, the visionary founder and CEO of Connecting the Dots Marketing Consultancy. With the AFAA's 'Communicators as Storytellers' as its focus, the session discussed the art of becoming a business storyteller and the profound role that stories play in shaping brand experiences. As compared to brands, people are naturally interested in people, which is why the masterclass focused on consumer insights, strategy, and brand communication through storytelling.
The second masterclass, Silverpush — Dynamic Video Optimization: Unlocking the Full Potential of Video Advertising by Rahul Joshi, explored Dynamic Video Optimisation, unveiling the immense potential of video advertising and sharing strategies to optimize and leverage its impact for maximum results. A major focus of Rahul's was to build sustainable technology to make marketers excited about videos and drive conversions from them. In addition, the masterclass discussed how advertisers can boost conversions through videos and create tremendous impact through DVO and storytelling. The session ended with Rahul demonstrating how DVO helps advertisers present their products based on region, language, or user behaviour based on Silverpush's Himalaya face wash use case.