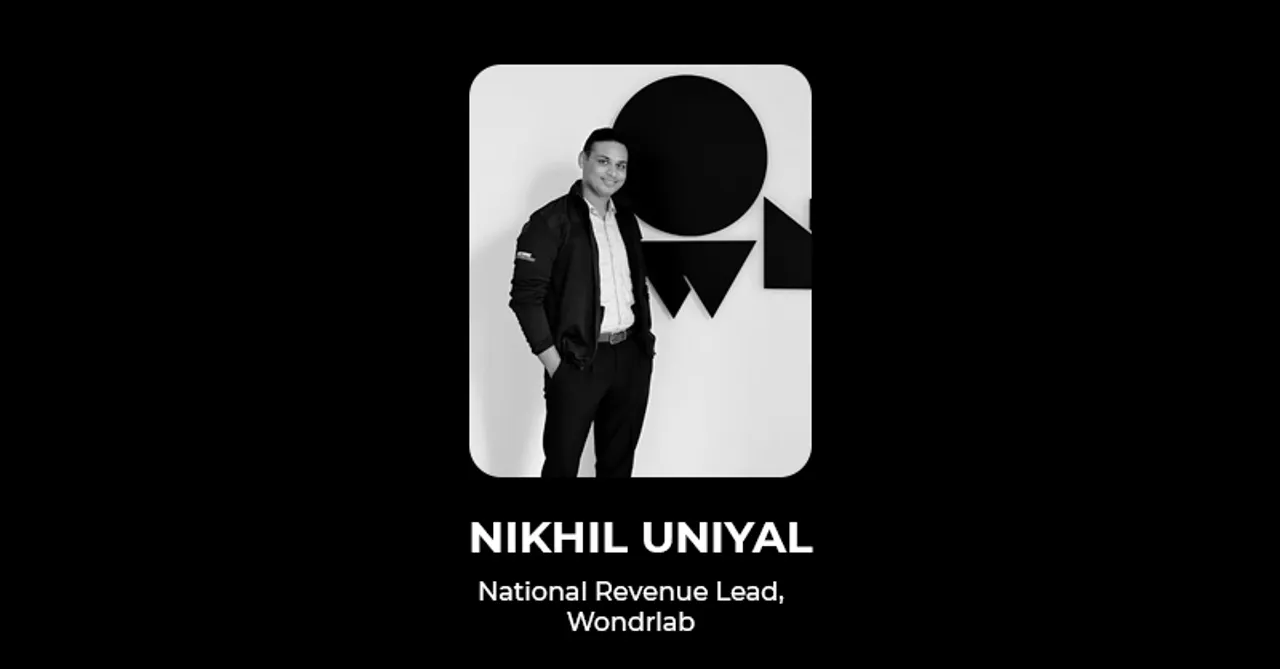 Nikhil's achievements include driving bottom-line profitability, increasing revenue for existing intellectual properties, and effectively managing a diverse client base.
Martech network Wondrlab has announced today the addition of Nikhil Uniyal as the National Revenue Lead. This strategic move strengthens their leadership team, which includes Siddhyesh Narkar as Chief Technology Officer and Bilal Ansari as Lead, Data Analyst.
As part of its martech vision, Wondrlab has made strategic acquisitions. This includes the integration of WYP, a digital-first creative agency, and the development of Wisr, India's pioneering open tech platform connecting brands and schools to foster school empowerment through brand partnerships.
Additionally, the network acquired Opportune, a data-driven influencer marketing platform employing proprietary technology and a vast creator network to drive impactful influencer marketing campaigns. To complete their offering, they also acquired Neon, a performance marketing agency. These acquisitions collectively provide clients with a seamless full-funnel experience.
By welcoming Nikhil Uniyal to the team, Wondrlab aims to achieve exponential growth and make significant strides in the coming year. With over 14 years of experience in diverse media and marketing roles, Nikhil has expertise in crafting and managing large-scale campaigns, creating intellectual properties, and adeptly leading sizable teams. Notably, Nikhil's journey into multi-media solution planning took off as he completed Google's Squared programme when it first launched in India. This ignited his passion for multimedia solution planning, a field in which he has consistently thrived.
Before joining Wondrlab, he worked with Mirchi, Times of India and Group M, among others. He focused on driving bottom-line profitability, increasing revenue for existing intellectual properties, and effectively managing a diverse client base.
On the appointment, Vandana Verma, Co-Founder & Managing Partner of WondrLab, said, "We are thrilled to have Nikhil join the WondrLab Network. His proven track record of success, extensive industry knowledge, exceptional leadership skills, and ability to drive revenue growth will play a pivotal role in our continued success. As the National Revenue Lead, Nikhil will be instrumental in driving revenue growth and spearheading strategic initiatives that will further enhance our full-funnel experience. I extend my best wishes to him."
On joining Wondrlab, Nikhil Uniyal said, "Joining Wondrlab presents an exciting opportunity for me, and I am eager to contribute to the growth of the MarTech network. Wondrlab's commitment to innovation, strategic thinking, and data-driven approach perfectly aligns with my professional values. I look forward to collaborating with the talented team at Wondrlab and leveraging my expertise to drive revenue and deliver exceptional results for our clients."