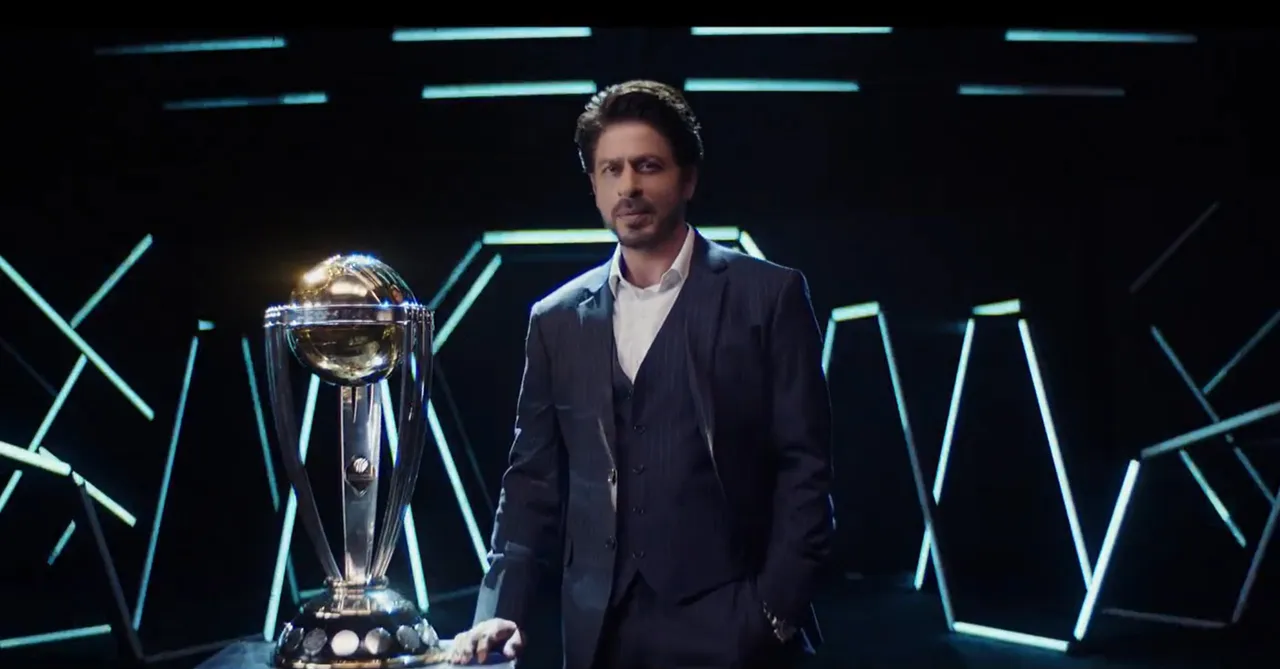 The campaign by ICC for Men's Cricket World Cup has been unveiled and the blend of the most awaited sporting season and the popular Indian actor, Shah Rukh Khan is working wonders.
'It Takes One Day', the campaign by International Cricket Council (ICC) and Board of Control for Cricket (BCCI) features Shah Rukh Khan, along with cricketers JP Duminy, Shubman Gill, Dinesh Karthik, Eoin Morgan, Muttiah Muralitharan, Jonty Rhodes, and Jemimah Rodrigues. The film has been produced in collaboration with Disney Star, ICC's global broadcast partner, along with TCM Sports and Zoo Media. It had been unveiled in partnership with Meta, the official digital content licensee at an event with over 85 social media personalities.
The CWC23 campaign is a montage of milestones and major highlights of the Men's CWC tournament through the years and transitions through scenarios of the worldwide fan base through the screens. The creative concept of the campaign is an extension of India's brand identity for this cricketing season - 'Navarasa', the nine emotions the audiences experience during each match that keeps them on the edge of their seat.
Navarasa is based on the cultural roots of India's artistic heritage that traces back to performing arts in the Indian Theatre and draws from the nine emotions felt by the audience during a performance. The campaign adapts Navarase for its creative concept and weaves a narrative around the nine emotions of anguish, bravery, glory, joy, passion, power, pride, respect, and wonder.
Remarking the campaign Geoff Allardice, Chief Executive, ICC, states, "This campaign is a true celebration of One Day International cricket and builds a sense of anticipation of what we can expect when the ICC Men's Cricket World Cup 2023 returns to India. The emotions, or Navarasa, are felt by fans and players alike during One Day and this campaign brings to life that shared experience. Cricket and cinema are at the heart of the Indian psyche, and we've infused the two to create appeal far and wide."
Sandhya Devanathan, Head & VP, Meta India, also mentioned the social network would be working with the ecosystem to tap the various formats in which fans and players can interact and will continue to set up fan experiences till the end of the tournament.
The reception of the campaign has been substantial within a few hours of its launch. The actor's charm has worked wonders for the campaign. With most replies to the Twitter thread announcing the launch showing excitement to see the actor, and memes - the language of youth talking about how he can even share chemistry with a trophy.