When we think of monument marketing, Dubai's Burj Khalifa stands out the most. Just over a month ago, the internet was talking about the giant 3D Barbie that stood neck-to-neck with the world's tallest building. Not just Hollywood but back home, many brands have used the giant structure as a prominent way of marketing.
Recently, Baskin Robbins India unveiled its new brand identity by flying a CGI banner in the sky, grabbing many eyeballs on the internet. On the other hand, to talk about its privacy controls and product features, WhatsApp used 3D anamorphic installations and did an immersive OOH campaign. The only similarity between these larger-than-life campaigns was the use of Mumbai's Gateway of India as a canvas for advertising. 
According to a report shared earlier this year, ad spends on Out-of-home (OOH) ads was projected to touch Rs 3,400 crore. Amidst the 15-second chase, CGI has piqued the interest of the brandverse, and brands are occupying the OOH space at large, with Gateway of India securing a prominent place in their marketing strategies. 
On a normal day, the monument witnesses a footfall of 1000+ visitors. Founder of Wrap2Earn, Elmer Dsilva thinks that this is one of the main reasons for brands choosing the monument as a backdrop to advertise their products. He told Social Samosa, "Drawing in massive numbers of tourists & visitors, it provides enhanced visibility and reach. And its aesthetic structure helps brands create memorable and visually appealing content with a cultural connection." 
For a culturally rich country, Gateway of India acts as a monument that attracts all walks of people. Dipankar Sanyal, CEO, Platinum Outdoor and MRP thinks that brands associate with the monument for its historical and cultural relevance. "It brings about a sense of pride and patriotism amongst consumers and therefore has a positive rub-off on the brands. It has iconic imagery and is visually striking, thereby grabbing immediate attention and recognition. An association with a monument like Gateway of India creates huge PR and adds visibility in today's age of social media," he said. 
Gateway: A unique canvas for brands
"A monument like Gateway of India is at once both, canvas and icon," said Chinmay Karandikar, Director – Brand Strategy, Dentsu Creative. 
Monument marketing isn't a new tactic that brands have discovered. Back in the 1920s, a French car brand, Citroën lit up the Eiffel Tower with 250,000 bulbs to showcase the brand name. In recent times, America's World Trade Centre has seen some brands showcasing their campaigns as well. 
Dsilva thinks that it is essential to leverage monuments with a blend of creativity, cultural sensitivity, and respect. 
WhatsApp's 3D anamorphic installations at the Gateway were an attempt to create an immersive experience to bring the platform's privacy features alive. 
"We couldn't think of a better location than the iconic landmark and by using elements like the kaali-peeli taxi, red post box, iconic street lamps and pigeons at the Gateway of India that are so quintessentially Mumbai, we've tried to capture the essence of the city and make the experience memorable for Mumbaikars," a WhatsApp spokesperson told Social Samosa.
Earlier this year, Baskin Robbins unveiled the brand's new identity using CGI and placed Gateway of India as its backdrop.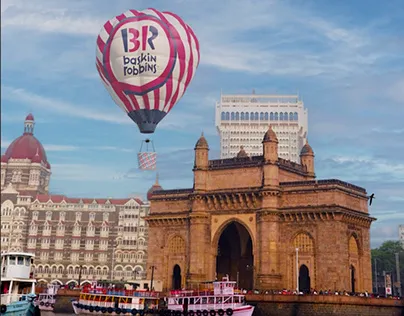 Aleesha Desai, Deputy General Manager (Marketing), Baskin Robbins India believes that the Gateway of India is an iconic and globally recognized symbol of Mumbai and India as a whole. 
She said,  "Its historical, cultural significance coupled with its overall grandeur makes it a powerful visual cue for marketing activities. Such content possesses a unique ability to transcend our typical customer demographics, allowing us to connect with a more diverse array of individuals. Consequently, this strategy enhances our brand's visibility and engagement, fostering deeper connections with a global and culturally diverse online audience."
Back in 2014, The Maharashtra Tourism Development Corporation (MTDC) and Philips joined hands to use Gateway of India as the backdrop to demonstrate the brand's lighting systems.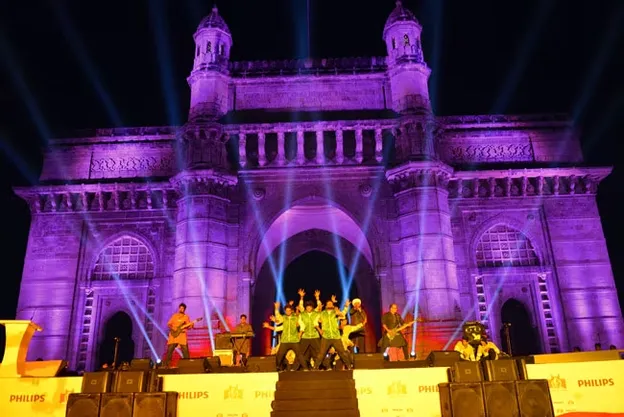 Keeping the diverse Indian culture in mind, Phillips showcased its lights and incorporated the diversity. 
Sanyal said that brands associating with such monuments should keep the local culture and ethos of the people in mind and be sensitive to the historical and cultural significance of the monument.
Dsilva said, "In today's world, it is vital to strike a balance between creativity and respect for the monument where innovative campaigns enhance the monument's aesthetic appeal rather than overshadowing its importance."
CGI will pave the way
Global players have chimed in and leveraged both CGI and the monument as well. 
Recently, Netflix India flew a banner that read 'Follow @archiesoninstagram' above the national monument to promote their upcoming film. The ad was created using VFX. 
Similarly, last year the OTT platform used projection mapping on the monument to promote 'Stranger Things 4' Vol. 1's release. 
"Since this is about both talking to Indians and talking about India, we've seen mostly big global brands use this space. It allows them to signal their commitment, and the cultural nuances of the area and the city are a great creative inspiration," said Karandikar.
International and legacy brands seem to have taken a liking for the monument. With CGI, this form of advertising is expected to become more accessible and popular. 
Sanyal said, "CGI will make it easier to use a monument like Gateway in the context of the campaign virtually."
Animation and VFX hold a significant market share of the media industry in India, and it was estimated to have grown at a compound annual growth rate of 35% between 2022 and 2023. In the past, many more brands have opted to include CGI in their campaigns. 
Another reason why monument advertising might become grand in the near future is CGI and its cost. 
"CGI has the potential to transform monument advertising by offering cost-effective and versatile solutions," said Dsilva. 
"Unlike traditional methods that require costly production and physical materials, CGI reduces expenses associated with content creation and adaptation. It offers flexibility and reusability, allowing advertisers to modify campaigns in real-time and target specific audiences more effectively," he added.
On the other hand, Desai isn't too sure about combining the two together. She said, "CGI can be a powerful and great tool for storytelling and engagement, but according to us, when a historical monument like the Gateway of India is involved, it should always be used in a way that honours the cultural and historical significance of this iconic landmark."
Monument marketing has seen a keen interest  from brands in recent years. Moving beyond the international buildings, brands have taken a liking to the desi architects to create a cultural nuance. Recently, opting for another historical monument, on Mexico's Independence Day, govt. of India projected the nation's flag on Qutub Minar. 
Experts think that in the future, interactive storytelling can make historical landmarks more relatable and engaging for younger audiences. 
While using it as a canvas in the future, brands must remember a small piece of advice that Karandikar had to share. 
"Nobody wants to see a monument turn into a regular hoarding."