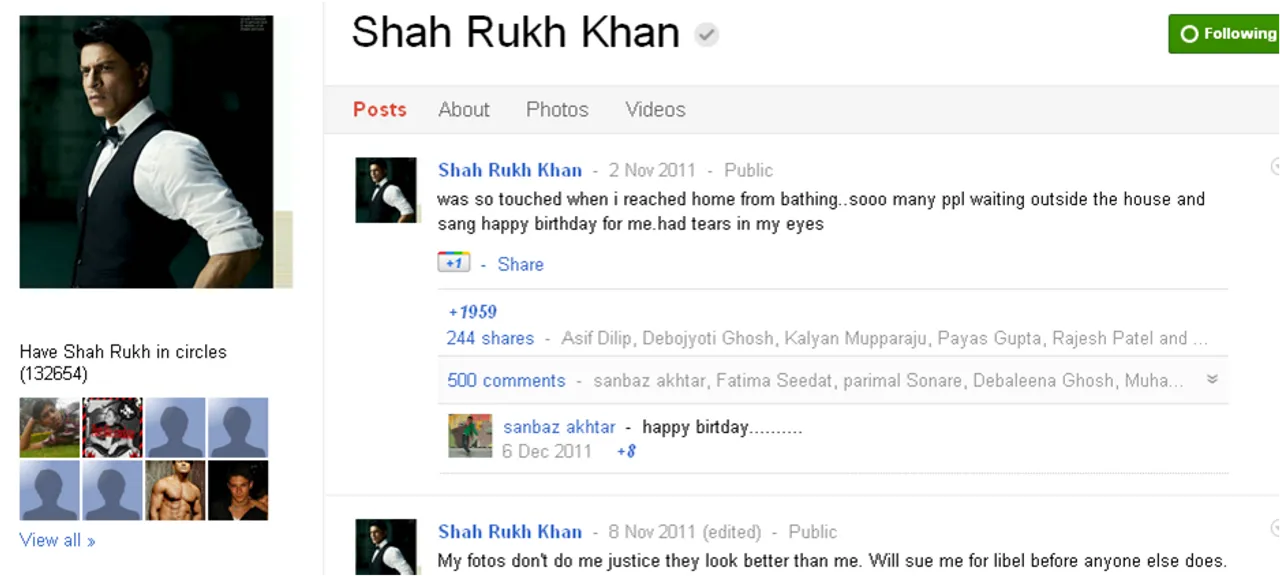 Before the advent of the various social media platforms, one would have to would rely on TV or the tabloids of the latest news and gossip of one's favorite celebrity. Now, with digital communication, its easier than ever before to be as voyeuristic as one wishes.
Celebrities are ecstatic about letting fans into their lives. We now have superstars on Twitter eagerly sharing their movie experiences and offering their support for various causes. It's increasingly easy to communicate with fans and manage the information dissemination personally, without the interference and 'editing' of the conventional print media.
Social media channels to communicate with fans are ever increasing. Google+ one such platform on which the stars are sharing and marketing themselves these days. It's very popular with public figures and celebrities who want to share their experiences with fans in the form of posts, photos and hangouts. Britney Spears, Ashton Kutcher, and Shah Rukh Khan are some of stars active on Google's social network.
Google +  will soon follow Twitter's footsteps of verifying public figures and this will be a great way to boost the credibility of public figures and allow them to communicate with fans and market themselves without fear. Let's take a look at one such profile from the entertainment world. He's not called the marketing 'guru' for no reason!
With 132,654 in his circles, Shah Rukh Khan is setting the digital world on fire.  Though his profile may not be active currently post Ra.One, he is every inch the superstar that we make him to be.
Jumping on to Google+, he has conquered the social media world with his invincible charm and aura. From posts on Lady Gaga's gift to his daughter Sara to heaps of marketing for  Ra.One, he's nailed it and how!
From well wishes and gratitude to his fans and colleagues to his round-the-clock globetrotting schedule, he sure knows how to convey the message. They are not in your  face, yet they catch your attention.
In a recent interview with CNN-IBN, he tells Rajeev Masand that all this talk about his marketing skills doesn't bother him. In fact he's super elated that it's he who showed the way to the others. After all, he is the King of Bollywood!
It would be interesting to see how more celebrities use Google Plus. Here are a few pointers.
Hang out with your favorite celebs or your best friends live and make free calls within friends.
Create circles because not everyone is your friend.
Things you might have missed if you are not on Google+:
Former Victoria's Secret model and America's Next Top Model host Tyra Banks hosted a Google+ Hangout to promote her new book, Modelland.
Dalai Lama on Google+ and his Google+ hangout on air.
Black Eyed Peas hosted hangout on Google+ and got Google home page love today.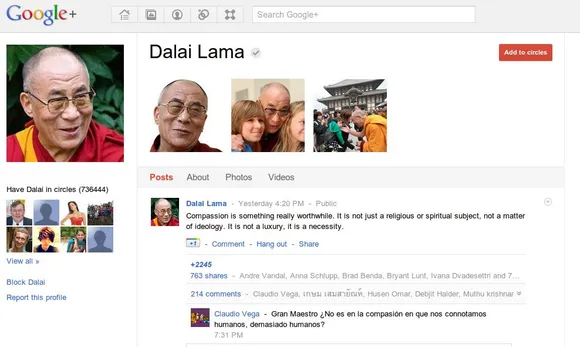 Google+  is like a social lab with features like Hangouts, circles, spark with no end for creativity.
Show off your creative side, & dive in to Google+.
If you follow celebrities, share your thoughts with us  if you think  Google+ is a better choice for celebrities than Facebook or Twitter and why?