The latest entrant to the Twitter world is none other than Indian Prime Minister's office. Yes, it's the PM's office and not the PM himself. The twitter handle for this account is @PMOIndia. This handle already has 27000 plus followers.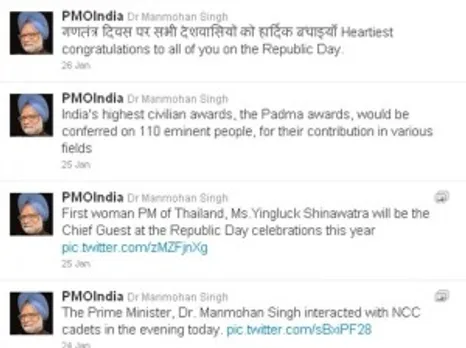 To put my first impression for this new Twitter entrant, I would say that it has left me confused and most probably most of the other twitter users too. The handle lacks any human touch in its tweets. The tweets made from this account refer to India's Prime Minister Dr. Manmohan Singh in third person. This handle gives you the view that this channel of interaction is being used just because it has become the norm to have a social media presence these days. Another point of improvement I noticed is that @PMOIndia twitter handle lacks a customized background for it's Twitter page.
What is really expected from the
@PMOIndia
twitter handle?
Online social media acts as a platform for direct person to person interaction. CEO's and other top management folks of big companies use the social media to be in touch with their final end customers which might not be possible for them otherwise. On the same lines, prime ministers and other important government officials can successfully use social media to maintain a direct contact with their country folks. In simpler words, PM should be using twitter to hear the direct voice of Indians or the aam junta. But is this really the objective behind @PMOIndia. Well, as of now it does not seem so. We can also be wrong as there have been only 10 tweets till now from @PMOIndia.
@PMOIndia can surely take in some learning from the @BarrackObama twitter handle. First of all, the president of USA uses a twitter handle with his own name and not in the office's name. Tweets from the @BarrackObama handle are in first person and have the necessary personal touch.  The @BarrackObama twitter handle is not just link sharing, information disseminating one. Barrack Obama often tweets his views on different topics also.
How can @PMOIndia benefit?
If properly used, Dr. Manmohan Singh can benefit a lot from this step. Twitter puts him in direct contact with the general public of India and that too the educated Indian lot. He would need to himself use this channel of interaction instead of his office doing it for him and make it his voice. He can also use this platform to hear the aam junta voice. The true power of this channel would be unleashed when he hears this voice and also responds to it, bringing the satisfaction to Indians that they can really talk to their Prime Minister easily and hear his views too. Well at the same time, we also wish that the PM office twitter handle would remain away from any unwanted controversies. Remember how one tweet caused trouble for Shashi Tharoor.
Another interesting fact to be considered here is that PM Office's twitter presence came at a time when India is debating the possibility of censoring content on the internet. Don't know if these two topics have any connection or relevance with respect to each other, but still it's a thought.
We have the spoof accounts too already! 

Some folks with a sense of humor have been quick enough to make spoof account too. A couple which came to our notice are -
@PMOlndia
&
@PM0India
. It wouldn't  have taken much time to copy the look and feel of the original page considering that the PM Office has not taken the effort to customize their Twitter page.

The people behind the spoof accounts are surely not big fans of Indian prime minister. Wonder if such accounts would also come under the censor board's eyes if one is set up for the internet content in India.