Most of us are familiar with bad community management practices on Social. While the best thing about Social Media is that "anyone can do it", there definitely needs to be a deep awareness of the unwritten rules. On Social, you must play a good host always and always be on guard. Listed below are a few of the most common bad practices and their remedies.
Posting recklessly
Even the coolest, most "casual" brands have broadly defined content buckets that they dip into with their messaging. You keep yapping about your brand and its products and people will start losing patience with you.  Say you're a kids' wear brand – service your audience with what it needs – give them entertaining ideas like dressing up your kids for a fancy dress party, organizing a little terrace party for kids, do-it-yourself toys etc. Give your fans something of value, create conversation points and lead them to build a bond with you. But this does not mean that you post whatever you wish to, irrespective of whether your fans want to hear it or not. Here's a post from Fiama Di Wills, a popular beauty care brand that has a reasonably high interaction rate. When they posted a social service message this World Environment Day, what followed was silence on the page.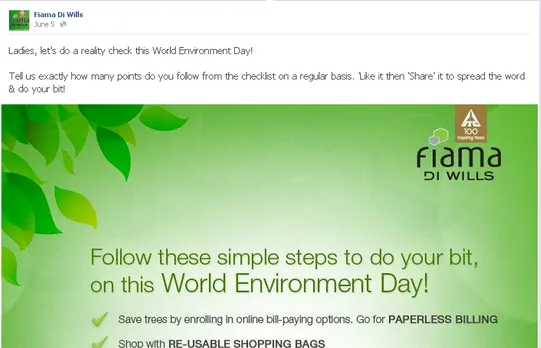 Take pessimism positively
Every brand has its fair share of advocates. And an even larger number of detractors and critics. Deleting negative feedback (unless it's blatantly offensive/ inappropriate) will make an already upset fan even angrier - and, it'll justify the start of a battle of words. If you address mishaps and mistakes up front,  your community will see that the people behind the brand are human, just like they themselves are. Soon, the other advocates on your page will join in the conversion. There's nothing like hearing your believers speak well of you. Deleting bad feedback suggests that a brand is trying to hide something, and we all know that doesn't usually go well with the followers. This one's a classic case of horizontal communication between community members. A fan posts a query on DishTV page and the other believers of the brand come to the rescue – that too, within just a day!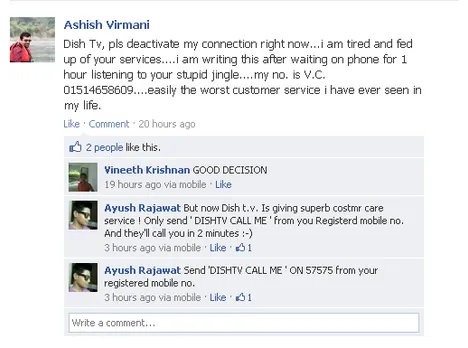 Show off but be humble.
There's a difference between showcasing your work, and bragging about it. People follow you on social because they're already familiar with your brand and what it has to offer. So incessantly re-tweeting or reposting testimonials "like you're with the #1 blah!" is a strict NO NO. You can,instead, provide value to your brand with pure content play – say, by suggesting a cool way to use your brand's products. This way, you're naturally inviting a transaction. Have something you just can't help but showcase? Ask fans for their opinions and ideas and make sure you close your posts with a simple 'Check it out!'. Go personal. Go conversational.
Know Facebook
Facebook comes with a long list of limitations. Make sure that you're thorough with the policies and page regulations guide. A contest that's hosted on the wall and not on a tab can get shut down easily and a cover photo with contact information can be removed. Know your territory before you set foot on it. This will help you avoid risking a last-minute scramble or an embarrassing gaffe when you receive a crackdown. Not all of Facebook's services are right for all brand's ideals, so find out how you can create an ecosystem that follows the rules and achieves brand goals. The help section on Facebook can help you with almost anything. For everything else, there's always Google. You can check it out by hitting the drop down menu button right next to the Home button on your Facebook screen.

Analyze, not report
Reporting and analytics are not the same, although they belong to the same class. Showing that a post received 17 likes is reporting; deducing that a post was successful because data shows your audience is most active at 9 am is analyzing. The key to good community management is understanding and gauging your audience, and the best way to do so is by auditing their interactions with your efforts. Keep doing a dipstick check and do the numbers - they provide a concrete way of measuring progress, and help you identify areas to improve.
Don't ask for a show of hands time and again
You've seen it before, and probably even done it a couple of times: "Help us get to 5,000 fans," "Like this post so we can beat our record of 90 likes on a single post," Five more comments to reach 100, come on..post!" . This is the absolute laziest way to grow a community and is strictly not recommended. You gotta earn your bragging rights, not beg for them.
Match your frequency with your audiences'
Posting or tweeting incessantly might turn off your readers and lead them to hide your notifications. Play it smart and time it right. Do not post more than 2-3 times a day – you can even reduce this number to 1 per day on weekends.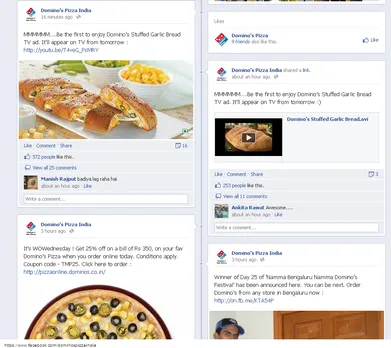 Above is an example of a very popular page in India that flouts all norms. They have multiple posts everyday and almost all are identical. Not the best practice, I must say.
Follow the masters
Read and subscribe to blogs about social media and community management. Sometimes, all it takes is one little insight and gives your brand the big push.
Real conversations do not just happen, they are made.
Automate, but sensibly. Stay in sync with your virtual world. Make sure you respond to conversations. All of these might take practice but they're bound to become second nature to you as a social media manager. The more strategic you are with your approach, the better your brand will fare, and the sharper you'll become.   Happy posting! Image Source Sean MacEntee