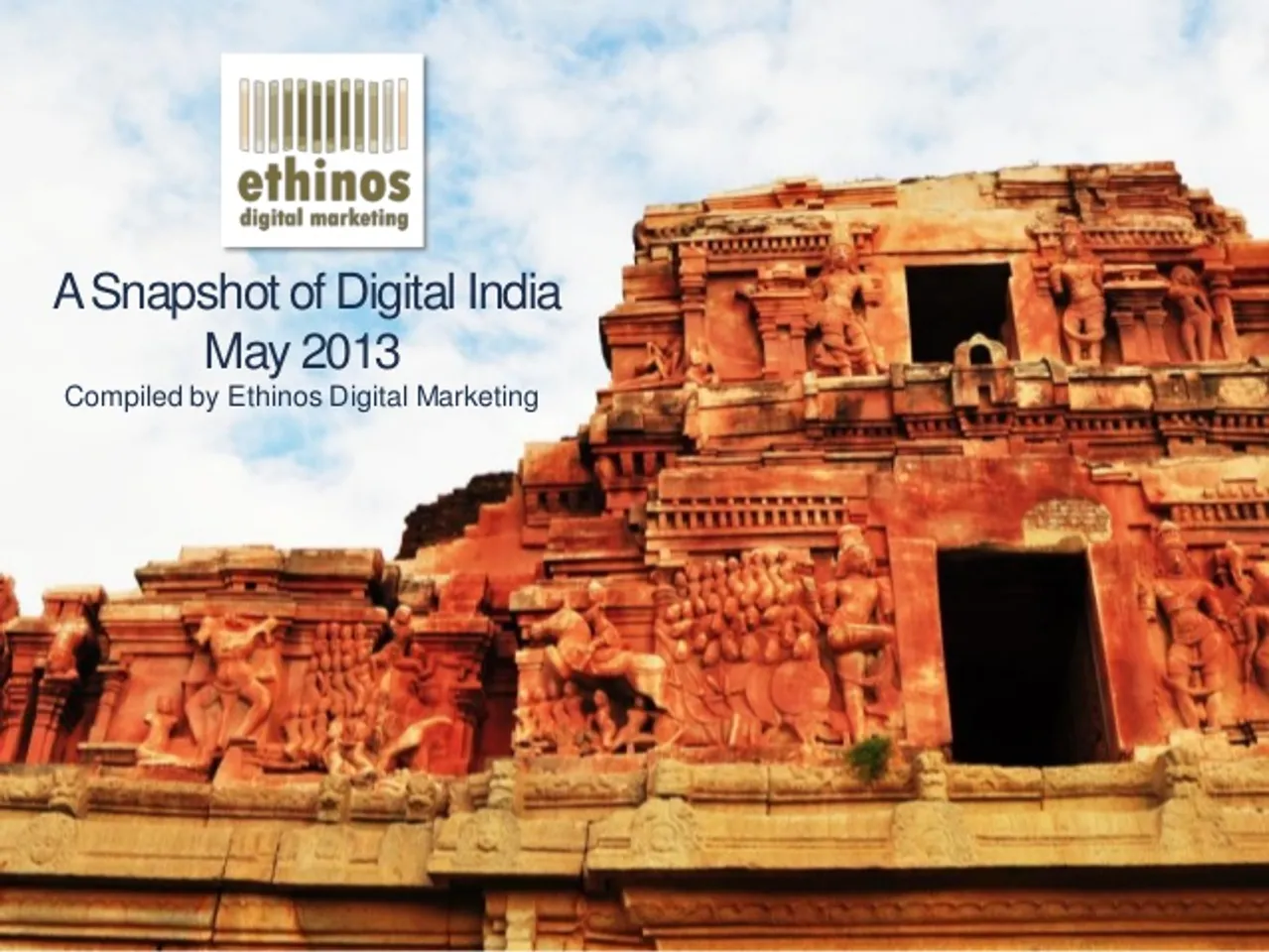 Ethinos Digital Marketing has compiled a report on Digital India till the month of May 2013. The compilation consists of statistics on online India's growth story in the last one year; including social commerce, mobile commerce, IPL on social media, social media security, and more.
Smartphone Market Share Statistics:
The smartphone market share is compared both globally and in India. It shows that Android Operating System tops the charts both globally and in India at 70.1% and 62% respectively. Other operating systems like iOS, Blackberry and Symbian follow at lower percentages.
In terms of smartphone brands, Samsung leads, again both globally and in India with it's fellow competitors Apple, Nokia, Blackberry, etc at smaller percentages.
Indian Tablet Market Share:
While tablet sales are on a rise in India, the preferred operating system is Android (88%). Globally too, Android is most preferred (56.5%), closely followed by iOS.
In terms of Tablet brands, Samsung is a winner in India at 19% share with Micromax closely following at 12%. Apple is a mere 9%. Globally however, Apple tops the charts with 39.6% share of tablet sales followed by Samsung at 17.9%.
This shows how when it comes to Tablets, the Indian market preferences are drastically different from that of the global market.
Size of Social Media Platforms:
The statistics on the use of social media platforms in India show interesting results. Facebook users have increased from 51 million in Aug'12 to 78 million in Apr'13. Linkedin has seen steady growth from 15+ million users in Aug'12 to 20 million in Apr'13 whereas Twitter has grown from 16 million to 33 million in the same duration.A surprising rise was observed in Pinterest users from a mere 1,34,000 in Aug'12 to a whooping 5.5 million in Apr'13!
Country wise stats show US leading with 158 million, India with 78 million and China with 580k users on Facebook. On Twitter however, China has over 400 million users while USA has 288 million users.
Country wise penetration on Facebook shows 50.22% in USA, 34.88% in Brazil while only 5.4% in India. Argentina has highest penetration on Twitter with 15% and India is at 2.65%. With respect to Linkedin, it's 25.17% in USA and 1.72% in India.
Indian Premier League:
Most IPL teams have been leveraging the power of social media through contests, promotions, fan following, etc. The combined strength of IPL fans on Facebook stand close to 10 milion, out of which Mumbai Indians have the highest share of more than 30%.
Twitter was on a roll during the IPL season, with majority of the contests and trending topics comprising of or related to IPL. On the activity front more than 66% of the tweets by the IPL franchises were proactive while 9% were replying to mentions. The IPLT20 website was among the top 1000 websites visited in India and social media contributed to around 6% of overall traffic.
Social Commerce in India:
Gartner research says that about 50% of web sales will come via social media by 2015. Also 40% of India's 90 million urban internet users say that online activities such as product research and price comparison influence what they buy. The India E-commerce market primarily comprises of 5 major segments being online travel, retail, financial services, digital downloads and 'other' services. Online travel and retail have a cumulative share of more than 85%.
Other interesting Statistics:
Online Advertising market has grown from INR 1,750 Cr in Aug'12 to INR 2,260 Cr in Apr'13. 

Users log an average of 72 minutes per day using apps on their smartphones.
67% people say they have been spammed by social networking sites
Everyday over 8 million inbound and 12 billion outbound messages are sent via Whatsapp.
The number of internet users in India is expected to be 330 million by 2016.
You can read the detailed report on Digital India in the slide below.