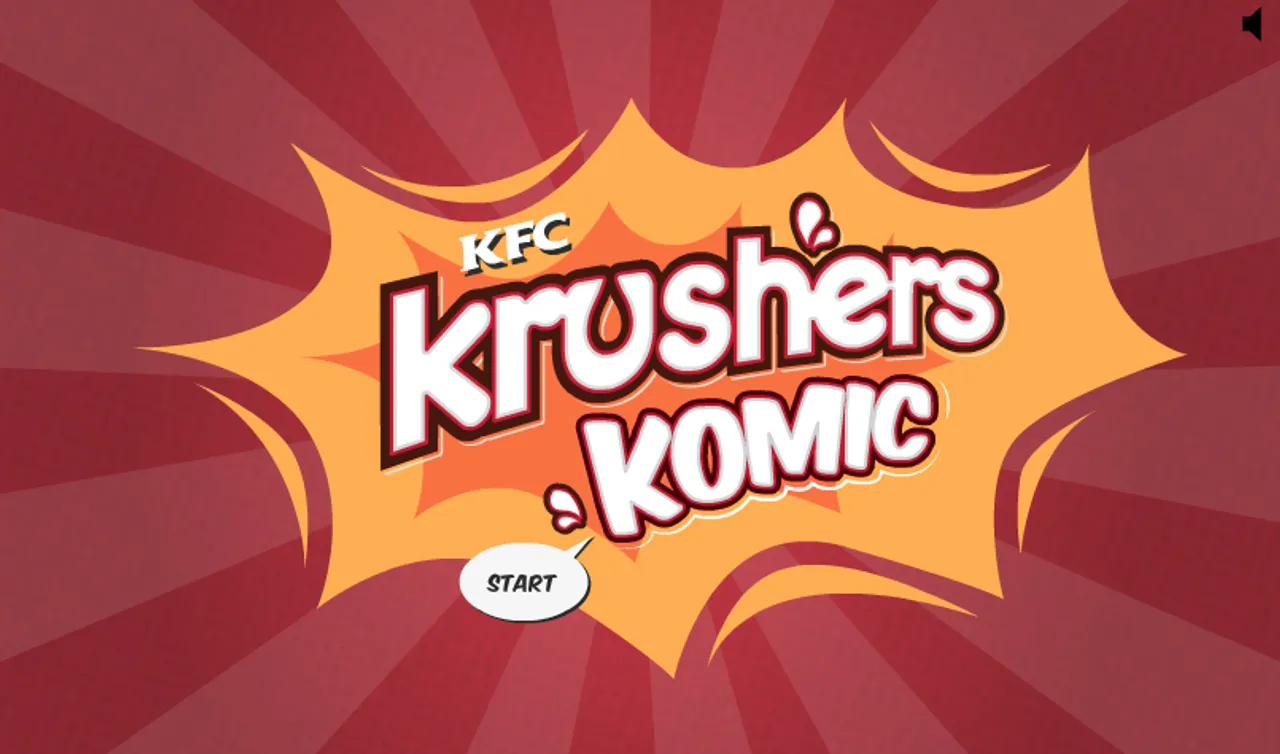 Be it the Currycature campaign or the KFC RJ Hunt, as a brand, KFC India has always stood out with its innovative campaigns in the digital space. This time, it is back with another one – the KFC Krushers campaign.
Objective:
The objective of the campaign is to promote KFC Krushers in an engaging way. The brand specifically aims to engage young audiences, through this interactive campaign featuring graphic novels and an interactive Youtube channel.
Execution:
The contest is smartly titled, "Win an Xbox 360" on the app page. The Facebook app asks for permission to access your information and post on your behalf. Once you select the required buttons, the page loads.
You must first select the story you want to be part of in the graphic novel. By default, since the app has access to your profile, the story selected will be only as per your gender. So, for example, if you are a girl, you can only choose to tell the story from a girl's perspective. Choosing the other story will not help, as you cannot proceed further beyond a point in such a case.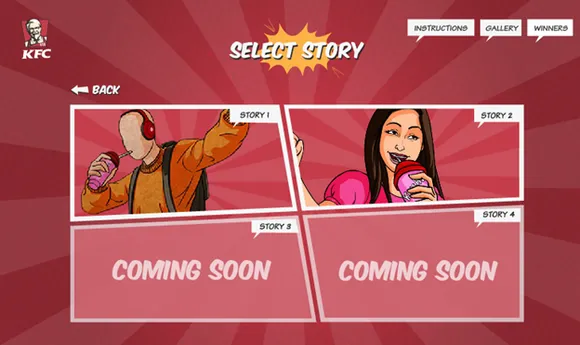 You are then required to follow a series of steps.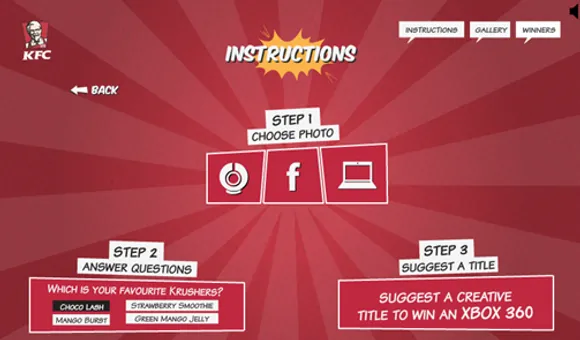 The first step is to select a picture – it can either be clicked using your computer's webcam, or you can upload a picture from your computer, or you can even use your Facebook profile. You are given the option of adjusting the picture within the character's image.
You must then answer a couple of questions. You need to put some thought into answering these questions as they will reflect in the graphic novel when you progress further.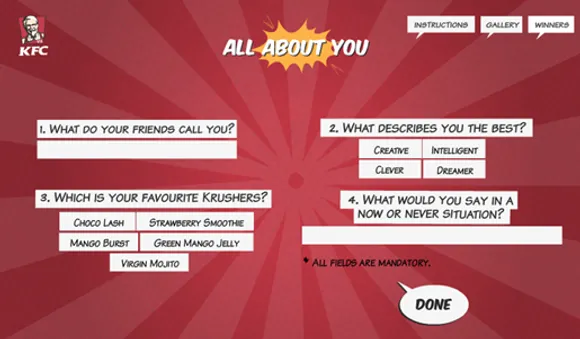 You are then taken through scenes in the graphic novel. You are the lead character. Typically, you will find that the story involves themes of youth and romance. Throughout the story, there is KFC Krushers branding. At one point, sipping KFC Krushers even gives the lead character an adrenaline rush! Eventually, the story has a happy ending at a KFC outlet.
You are then required to fill in your details and also give a title your graphic novel. There is a gallery showcasing graphic novels created by other fans. The contest will be running until 30th June, 2013. Winners stand to win KFC vouchers and a printed edition of their graphic novel. Three winners stands to win an Xbox 360! Winners will be chosen by a panel of judges.
The Youtube channel is interactive. Two students a boy and girl are sitting in the library. You must drag one of the three Krushers flavours to them, and then you can see the effect that Krushers has on them. Three flavours and two people means six stories, which is good in terms of content. Again, KFC India is clearly targeting the youth.
 Positives:
The app does not invite you to 'Like' the Facebook page in order to proceed further. It asks for permission to access and share your information.
Even though some brands have come up with the idea of using Facebook images, the idea of creating a comic is a great way to appeal to its audience. The comic is personalized with your own photo and dialogues. With this they have been connecting with each user in a unique manner.
I like the way how KFC has branded itself and promoted KFC Krushers within the comic and the videos. You can share the comic story with your friends and followers and that is how the app possesses a potential to go viral.
This campaign clearly seeks to engage the youth – whether it is the concept of a graphic novel or even the finer detail such as the story-line themes of college romance.
Exploring Youtube video interactivity is not something many brands do! It allows you to drag the KFC Krushers to the boy or girl, depending on wherever you choose to place it.
The KFC branding is consistent throughout and they are standing out of the crowd.
Scope for Improvement:
Users can select one of two stories for their graphic novel. It also shows two other stories that will be featured "soon". Given that the contest is almost about to end, it makes no sense to have a 'Coming Soon' option.
The terms and conditions mention that the winners will be chosen by a panel of judges. But, they also state that users can vote for entries. In such a case, if winners will eventually be chosen by a panel of judges, asking users to vote for the entries makes no sense.
There is only cross- posting of Facebook updates on KFC India's Twitter profile. They could have used twitter to promote this campaign.
Conclusion:
KFC India has customized its content for this campaign. Overall, the execution of the campaign is great in terms of targeting and also in terms of seamless branding.