No other brand, if not MTV, is an undeniable youth brand that pumps the adrenaline through the nerves of its young viewers. The television channel has a cult following and with a constant series of programs (reality shows) that it had served had let the testosterone flowing and adrenaline pumping. The latest in line is MTV  Chase the Monsoon, an Epic Bike Trip, or so they would say. To promote it MTV has launched a social media campaign led by Facebook, which I am going to review in this article.
Objective:
The objective of the campaign is to increased awareness about the show and to get viewers interested in the reality show. MTV has created CEAT Chase the monsoon, a biking road trip, show to keep its loyal fans interested in the channel, even during the monsoon, particularly the fans of Roadies.
The journey has begun from Pondicherry and in 21 days it will climax Mumbai. The four finalist teams, Blizzards, Cyclones, Hurricanes, and Typhoons, can choose any route they decide to choose as there is no route map to follow. They only have to pass through all 12 check points and be in Mumbai at the end of 21 days. The Roadies fan will be excited to see a show similar to Roadies in spirit.
Execution:

Facebook is the main platform that MTV is using to promote the show and to keep viewers interested and engaged on the web. There had been some occasional tweets for the show as well, but the real action is taking place on Facebook, where the TV channel has been active for many days counting down days to the event. The efforts have brought some good result. The page, at the time of writing, had 92,654 fans.
Before the show began, the channel had used an online voting system to choose top for bikers' team that would participate in a 21-day long journey from Pondicherry to Mumbai. To keep the social juice flowing, MTV has included something called Social Currency as part of the main design of the show. In order to have some cash to finish the journey, each team needs votes from its fans in forms of likes, shares, and re-tweets of the content they are supposed to share on social media. The teams will get allowance for food, fuel, and stay for the next day's travel based on how much social currency they aquire.
Positives:
The brand MTV is a natural fit for social media for its audience is what constitute a significant portion of social media users in a young country like India. The brand also has a good deal resources to deploy to create engagement. MTV has used Facebook to keep its viewers posted by giving enough information, but not giving so much to kill their hunger for the show. Some of its posts, like the ones shared below, have gone well with its viewers who not only want to feel the rush of enzymes to their brain, but also want to see what their favorite personality is up to, in this case Nikhil Chinapa.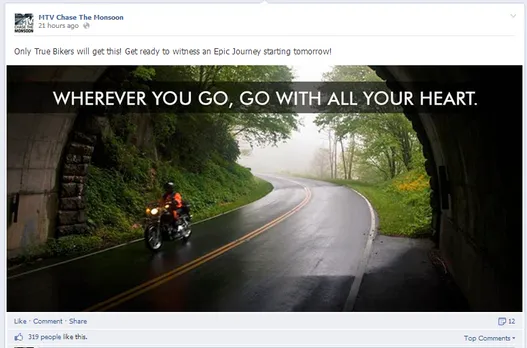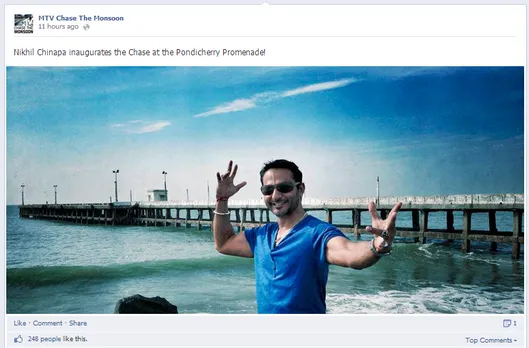 It had used Nikhil Chinapa to boost engagement on twitter as well. The following image is a testimony to the fact.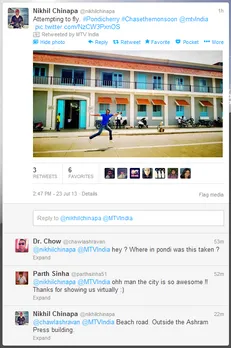 The inclusion of social currency as an integral part of show's design is a very positive move to push participants to seek support from social media fans. By making the accumulation of social currency as a required element to get money for food, fuel, and stay for the next day's journey, MTV has seeded a social element in the show.
Scope for Improvement:
Although the campaign page on Facebook has more than 92,000 fans, and the show has just started, the engagement level is relatively low for a brand like MTV. There is a hope that it will improve in the time to come, but to get desired result, the television channel needs to make its posts more interesting. Instead of just posting an album, as they did for Day 1, they should add some texts to give people a context and guide their thought process. Text is conspicuously missing from the update (see the image below). And it would not have hurt to use a little bit of Photoshop to make pictures look more interesting. After all, style is MTV's mantra. Using twitter more in the future is also an advice I'd like to extend, though I am not sure if having a separate twitter account for the show is a good move. But if MTV thinks they will continue with the show in following years than having a separate account for twitter is not a bad idea.
There is some irregularity in the use of hashtags, for example hashtags #ChaseBlizzards (the official team hashtag of Blizzards) and #Blizzards have been used interchangeably, but then it is users who are in control on social media and they get to use what they wish to.
Conclusion:
The campaign had the potential to be much more engaging, but the channel has missed the opportunity. Engagement is not very high. But I will not completely write off the campaign and out of 10 I will offer 6 marks to MTV for the efforts it put in. It should have done more with social media than merely posting the updates. At least, this (style) is what MTV fans expect from it.