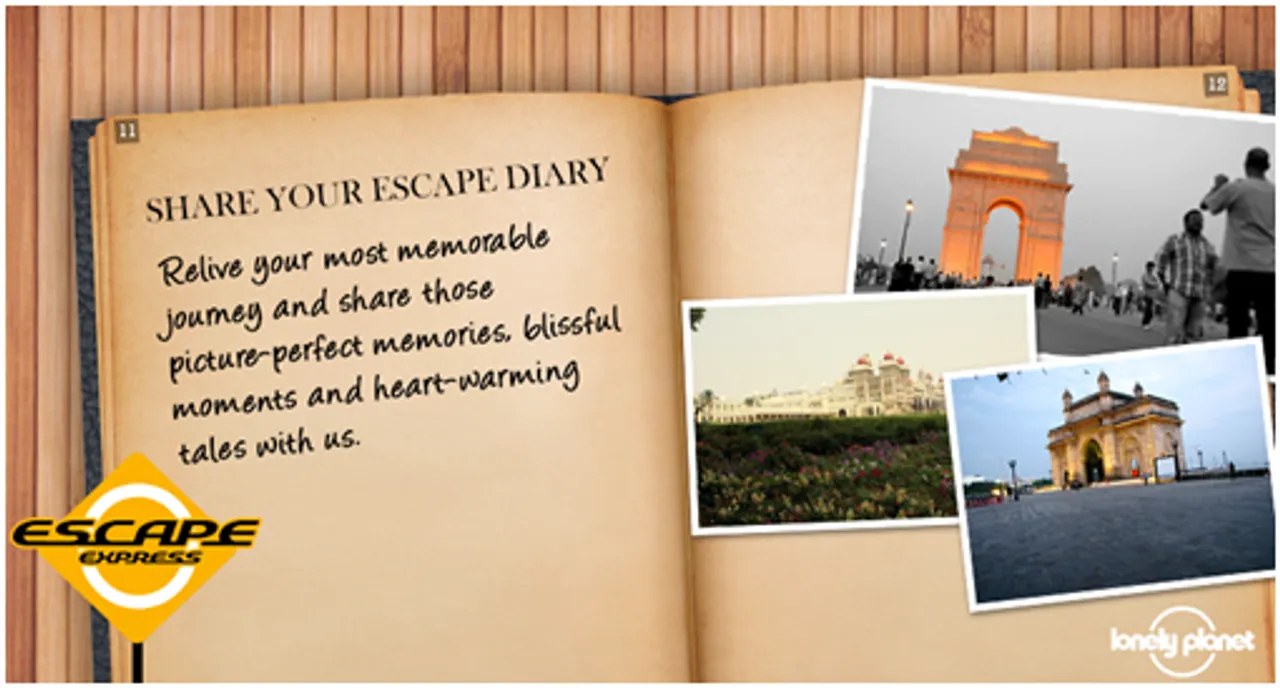 Lonely Planet India recently launched the 'Escape Express', which is a social media campaign that allows you to take a virtual train journey from Delhi to Mumbai and Bengaluru. The icing on the cake is that while you take Lonely Planet's Escape Express, you also get a peek into getaways from each of these cities.
Objectives
'Escape Express' throws up a number of questions on the way, triggering a search for answers in the Lonely Planet Short Escapes series, a travel guide for those looking for a quick escape. The endeavour sets out to be an interactive one, and they hope to achieve this by getting participants to share their travel stories and featuring them on the travel guide's website.
It also seeks to establish Lonely Planet India as 'the' portal for travel information in India. Prizes like gift vouchers, iPads, Nikon cameras, iPad Mini, gift vouchers, sling bags by Lonely Planet and the Short Escapes travel guides make participation attractive and rewarding, to say the very least.
Execution
'Escape Express" is a month-long campaign spread out over two phases. A dedicated website tracks your progress after you register with your name, email and contact number. Phase 1 comprises of questions related to each of the Escapes from Delhi, Mumbai and Bengaluru. Correct answers earn you kilometers, which in turn allow you to enter the next phase. Phase 1 also has surprise questions thrown in, where cool goodies can be won for right answers.
In Phase 2, you are required to share your memorable travel experiences which are displayed in the form of 'Escape Diaries.' You can send in your experiences in the form of stories, pictures or videos and your family and friends are allowed to vote for your submission. The Escape Express now stands at Phase 2 voting with exciting travel stories making everyone sit up and take notice.
To hop on to the Escape Express log on to the neatly designed website, providing a Facebook Connect at the time of registration. Once logged in, you can view tasks and the miles you have made. Click on either of the two to get started. You can invite your friends from Facebook as well as Gmail.
The tasks assigned are in the form of multiple-choice questions about the different escapes in each city. Even if you get the answer wrong, you can still cross that level by answering a simple question. These answers can be shared on Twitter and Facebook while you continue with the contest. However, it takes a Great Escape series to cross all the legs smoothly to enter Phase 2.
Positives
The biggest plus is the concept and implementation of the campaign. If you want to promote a travel guide, what better way but to position a campaign that is woven around information that only you can provide?
Prizes on offer are cool and something that people would set out to win! The campaign has generated a lot of buzz on social media platforms even before it was launched, and they have managed to retain this buzz throughout the duration of the campaign. Lonely Planet India's Facebook page had begun gearing up before the launch of the Escape Express with visual teaser updates, where you could board the virtual train with pictures of the prizes and view a visual countdown towards the arrival, even before the contest was launched.
Escape Express buzz on social
The campaign has made good use of social media platforms to create the required buzz, even prior to the contest. The Facebook page of Lonely Planet India had started gearing up fans a few days before the arrival of Escape Express with a bunch of visual teaser updates. Fans were lured into boarding the virtual train with pictures of the prizes and a visual countdown towards the arrival, before eventually announcing the contest.
Their Facebook page has laboriously traced the progress of the virtual journey of Escape Express as it moved through Delhi, Mumbai and Bengaluru. To keep fans engaged, they were asked to board the train with mini contests like Surprise question and the most creative tweet. You also get a glimpse into the getaways, that are featured in the Short Escapes travel guides.
Getting your friends and family to vote for a submission makes the contest more "social".
Scope for Improvement
I think, the campaign is unique in concept, design and implementation. There's nothing I find lacking here.
Conclusion
A cool travel based campaign by Lonely Planet India, the Escape Express campaign has all the ingredients for a truly "social" campaign. It blends teasers, fun, colour, images, interaction and great prizes to score a perfect 10 in my book.