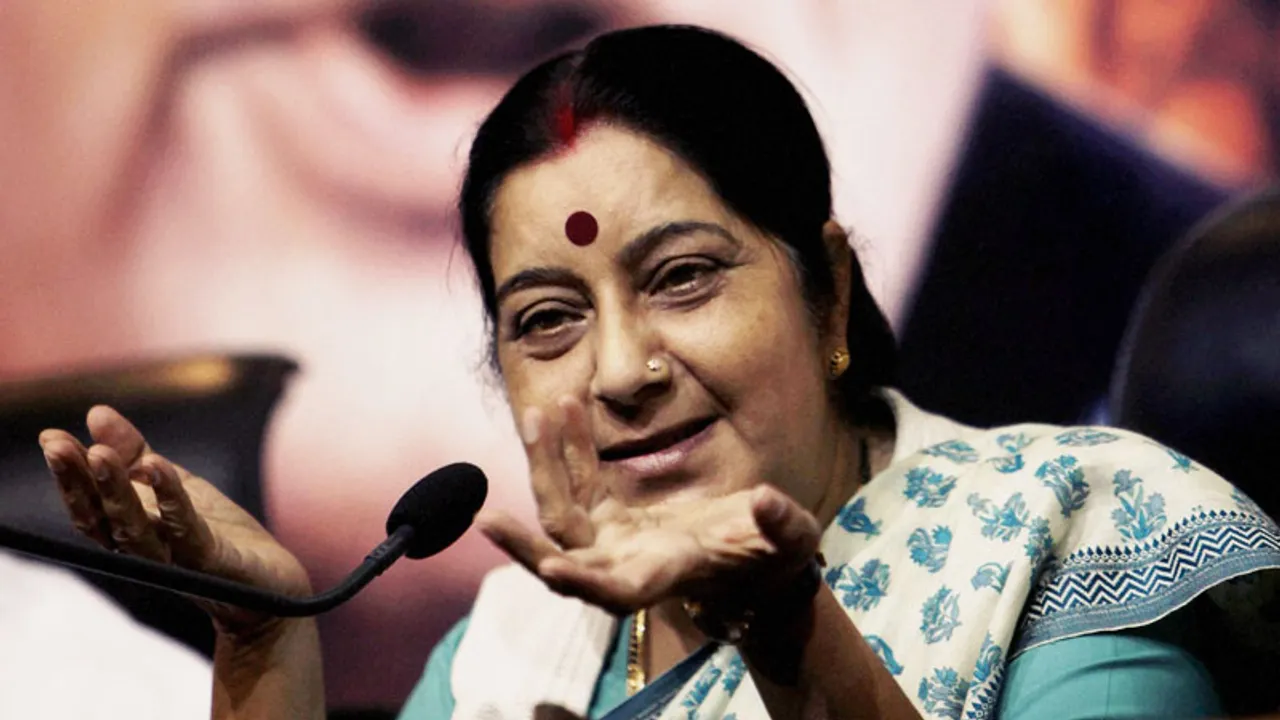 The article explores how External Affairs Minister of India explores the power of Twitter for helping and rescuing stranded Indians across the world.
The External Affairs Minister of India with her utmost Twitter sass and sagacity has not only earned the title of being the most followed female leader on the micro-blogging site but also is reigning the portal for genuinely widening the scope of her reach. Sushma Swaraj, the throne bearer possesses currently 6.28M followers and overtime has earned gratitude multiple times by Twitteratis for being one tweet away, literally.
Indian citizen lost her passport
Agratha Dinakaran upon losing her passport sent out a tweet when she was stuck in Berlin, Swaraj yet again came to the rescue immediately.
In Berlin. Lost my passport. Lost my money. Indian embassy only open from 9 30 to 12 30.
Does anyone have any contacts?

— Agratha Dinakaran (@Agratha) May 4, 2015
@Agratha Thanks. Our embassy in Berlin will contact you on this number.

— Sushma Swaraj (@SushmaSwaraj) May 4, 2015

Indians trapped in Iraq
Back in February last year, Swaraj managed to rescue 168 Indians trapped in Iraq by taking action on a video shared with her via Twitter.
I am happy all 168 Indians in https://t.co/3ghWPSMCu2 rescued. 141 came on 19th - remaining coming today pic.twitter.com/KM551QK6lX

— Sushma Swaraj (@SushmaSwaraj) February 22, 2015

Pranshu Singhal's brother stuck in Doha airport
In March Pranshu Singhal tweeted out his concern about his brother stuck in Doha Airport for two days, thankful to our considerate Minister who heard the plea and acted upon it to bring him back home.
@TajinderBagga ji Need urgent help. Brother stuck for 2 days at Doha Airport. No contact. MEA not responding. Please help me reach them

— Pranshu Singhal (@catchpranshu) March 3, 2016
Welcome home Ankit. @MEAIndia @IndEmbDoha https://t.co/5wfof8W81y

— Sushma Swaraj (@SushmaSwaraj) March 6, 2016

Tweet for safe evacuation
Sabah Shawesh a Yemeni woman married to an Indian posted a photo of her 8 month old baby asking for safe evacuation and her request did not go unheard.
No need for thanks @SabahShawesh. It is our duty towards our country and countrymen. God bless your child - our young citizen.

— Sushma Swaraj (@SushmaSwaraj) April 6, 2015

Suzanne Lugano's sister missing in Rishikesh
Swaraj yet again won Twitter when she helped Suzanne Lugano who is originally from Dutch by safely finding her missing sister in Rishikesh.
My officers have located the missing Dutch girl Sabine Harmes. pic.twitter.com/cnh43a26Xg /2

— Sushma Swaraj (@SushmaSwaraj) February 29, 2016
@SushmaSwaraj Hello I'm the sister of Sabine. We're having difficulties with retrieving Sabine. Could you help us get an VISA? +31 612954664

— Suzanne Harmes (@suuskeh) February 29, 2016
She is presently in Swatantra Ashram, Rishikesh. Our Regional Passport Dahradun has met her. She appears to be mentally disturbed. /3

— Sushma Swaraj (@SushmaSwaraj) February 29, 2016
She received treatment at the Nirmal and Jolly Grant hospitals for injuries on her legs. We are informing her family/Embassy about this.

— Sushma Swaraj (@SushmaSwaraj) February 29, 2016
Meanwhile Sabine is being brought to Delhi. @suuskeh

— Sushma Swaraj (@SushmaSwaraj) February 29, 2016

Twitterati's sister rescued from in UAE
Dev Tamboli expressed his apprehension about his sister all the way in UAE and to his relief, his sister was rescued and taken to a shelter home.
I have asked our Ambassador in UAE to help. He will speak to you and do the needful. @Devtamboli

— Sushma Swaraj (@SushmaSwaraj) August 22, 2015
We have rescued your sister with help of local Police. She is being moved to a shelter home run by Indian Embassy in Dubai. @Devtamboli

— Sushma Swaraj (@SushmaSwaraj) August 22, 2015

Indian woman under house arrest in South Africa
Gopal Keshri tweeted out to Swaraj about an Indian woman who was kept under house arrest in South Africa, she looked into the matter and managed to bring the woman back home safely
Rahul - Your sister rescued from Johannesburg is reaching Kochi tomorrow (15th April) by flight EK 532 at 0255 hrs @gopalkeshri

— Sushma Swaraj (@SushmaSwaraj) April 14, 2015

Brother of late Captain Tushar Mahajan could pay last respect to his brother.
It was a heart-wrenching moment when because of Swaraj's rapid response Captain Nikhil Mahajan brother of late Captain Tushar Mahajan could pay last respects to his brother by reaching India from Washington
@jayabharati Our deepest condolences. Please tell us where he is and what needs to be done for his return @Gen_VKSingh @SushmaSwaraj

— MEAQuery (@MEAQuery) February 23, 2016
I have asked our Embassy in Washington to speak to Capt Tushar Mahajan's brother just now and provide him all help.@jayabharati @sans_kruti

— Sushma Swaraj (@SushmaSwaraj) February 23, 2016
@jayabharati @SushmaSwaraj Thank you so much for your help. I just received call form DCM Amb. T Sandhu. Hope will travel to home very soon.

— Nikhil Mahajan (@wanderabyss) February 23, 2016
Thank u @SushmaSwaraj for getting the process done overnight. Capt Tushar's brother hs boarded d flight. https://t.co/HBjGOL4LlC

— Jaya Bharti (@jayabharati) February 24, 2016

Operation Raahat
Twitter couldn't stop celebrating her when she carried out the rescue operations in Raahat in a very short span where 1,947 foreign nationals and 4,741 Indians were safely rescued by air and sea routes through Yemen.
The evacuation operation from Yemen is over. General V.K.Singh is returning tonight. We are closing our Embassy there.

— Sushma Swaraj (@SushmaSwaraj) April 9, 2015

Bali hospital refused to take insurance guarantee from India
Meera Sharma directly inclined towards Twitter to seek help from the Minister for her mother who met with an accident in Bali and as you might remember Swaraj instantly got in touch with the Ambassador and Consul General to look into the matter.
@SushmaSwaraj I'm in Bali on vacation & my mom met with accident. The hospital refuses to take Insurance guarantee from India

— Meera Sharma (@meera_sh) May 28, 2015
I am in touch with our Ambassador and Consul General in Bali reg your mother's treatment. They will provide you all help. @meera_sh

— Sushma Swaraj (@SushmaSwaraj) May 29, 2015

Swaraj came in to save a honeymoon trip
A couple faced a glitch in their honeymoon when Faizan Patel's wife lost her passport just two days before their trip to Italy, she swooped in to save their trip by arranging a duplicate passport.
Seems like I am travelling alone tonight via @TurkishAirlines. My wife has her passport misplaced. Fingers crossed that we find it soon.

— Faizan Patel (@faizanpatel) August 6, 2016
This is how I am travelling with my wife as of now. @SushmaSwaraj @MEAIndia @MEAQuery pic.twitter.com/igeSwcfWkZ

— Faizan Patel (@faizanpatel) August 8, 2016
My office has reached you already. You will get a duplicate Passport tomorrow. @faizanpatel https://t.co/FV6BisvqgP

— Sushma Swaraj (@SushmaSwaraj) August 8, 2016

Evacution of three Pakistanis
She yet again added one more to her list when her ministry aided to evacuate three Pakistani nationals from Hodeida, proving that humanity is above all politics.
Humanitarian gesture - Indian Navy evacuated 3 Pak nationals from Hodeida by INS Sumitra. Pakistan brought 11 Indians from Makala.

— Sushma Swaraj (@SushmaSwaraj) April 5, 2015

Safety of Pakistani girls
Despite the mounting tensions with the neighbors, post the surgical strike in POK, the minister ensured the safe return of Pakistani girls leaving a warm tweet for her gesture. It was indeed an aww moment.
Aliya - I was concerned about your well being kyonki betiyan to sabki sanjhi hoti hain. https://t.co/9QyeMQfRwy

— Sushma Swaraj (@SushmaSwaraj) October 3, 2016
Aap ki beti kehlane ka sharf hasil hai, aur kya chaheyay. The delegation has reached back home safe&immensely happy. Thanks a million times. https://t.co/JHH8VUj91Q

— Aliya Harir (@AliyaHarir) October 4, 2016

Visa for funeral
Very recently Swaraj went ahead and directed the Indian Embassy in Washington to instantly provide a visa to an Indian who had to come home to perform the last rites of his father and despite the embassy being shut on the occasion of Vijaya Dashmi and Moharram she helped the family in their hour of despair.
This dreadful wait must end. Please give my son Indian visa in US so his father may be cremated. Please support. Need empathy.

— Sarita Takru (@saritakru) October 11, 2016

We're all spectators of the External Affairs Minister's Twitter deeds not once but on multiple occasions when she went out of her way to lend a hand to people in despair away from their home country.