How Tata Tea unknowingly stemmed the roots of Cause Marketing in India with Jaago Re!
"Alarm Bajne Se Pehle, Jaago Re," (wake up before the alarm rings) – and that is exactly what Tata Tea did, created a Digital Intellectual Property and leveraged cause marketing, even before it was a thing.
A #JaagoRe Throwback
Back in 2007, when the Tata brand launched Jaago Re, they absolutely had no idea of what they had stumbled upon. Social media was still a 'likes' game and TVCs had just begun to experiment with storytelling – finding the right duration, concept, and characters.
In October that year, Idea Telecom came out with their first TVC featuring Abhishek Bachchan, not as himself or an ambassador, but as a character. They were one of the first brands to have resorted to cause marketing (unknowingly we think, for Shashi Sinha, CMO, Idea Cellular later shared that at that point the brand didn't have any USP features to advertise and hence resorted to narrating a story), latching to a cause much bigger than the brand. The spot placed Idea on the map and how!
Then came December and with it Jaago Re, an attempt by Tata Tea to create a voice for them while competing with brands like HUL's Brooke Bond Red Label and Taj Mahal, with the latter enjoying a strong brand recall with the TVCs featuring famous tabla player, Zakir Hussain.
"Back then, competition was outspending us by huge margins," recollects Sushant Das, Regional President – India, Tata Global Beverages.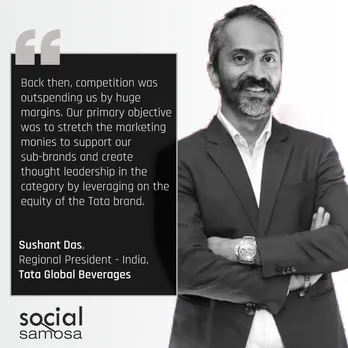 "We had four different brands –Premium, Agni, Gold, and Life - each with its own distinct identity.  Our primary objective was to stretch the marketing monies to support our sub-brands and create thought leadership in the category by leveraging on the equity of the Tata brand," Das shares.
The first ad spot was aimed at awakening audience towards the responsibility of voting. A young lad questioning an election candidate about his qualifications, reminding him that the (the minister) is indeed applying for a job; a job of running the country. The 45 seconds' spot immediately won hearts.
But, what was so different? A lot of advertisements had touched the right chords. Enter – jaagore.com. A website facilitating youth to apply for voter IDs, register as voters, and spot the nearest voting booths. Aimed at registering One Billion votes, the brand partnered with Janaagraha, a non-partisan organisation.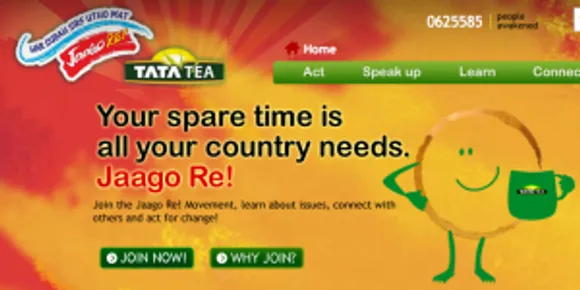 The following year, Jaago Re came up with more compelling advertisements. This one featured the protagonist coaxing movie-goers on the election day by offering them tea to wake them up from their "sleep."
Soon Jaago Re was a hit on television sets, in the digital world, and offline making it very difficult for consumers to just say Jaago Re, without actually humming the entire tune.
The making of a Digital IP
Before deciphering how Jaago Re turned into one of the biggest Digital IP's, it is important to understand what a Digital IP is.
In normal terms, an IP or Intellectual Property is content or any creation of mind – text, audio, video, images, symbols, logos! Consequently, a Digital Intellectual Property refers to assets which integrate brand values and current trends with contextual content. A Digital IP can be crafted for a generic or a specific audience depending upon a brand's objectives.
Jaago Re evolved to become Tata Tea's Digital IP and marked the beginning of trend. With the passing of elections, the website voiced a number of initiatives such as corruption, initiating a positive mindset, and women rights after Nirbhaya rape case.
Choti Shuruaat in 2012 was set into action after the Delhi rape case. The campaign was urged citizens to make small changes in their capabilities while rooting for women's rights. The campaign got Shah Rukh Khan to pledge and we saw King Khan committing on National Television that his female counterpart's name would appear first in the credits of his movie.
Walking the talk further, Jaago Re's YouTube channel featured commoners sharing stories of their Choti Shuruaat, encouraging people to take the first step.
Simultaneously, Jaagore.com was furnished as a mouthpiece for the common. Their blog flourished with articles, opinion pieces, and news of various evils circling the country. Readers could participate in healthy debates on their forums and Push the Pin or sign up for petitions.
On social media, too, Jaago Re's official page became a thriving community of discussions as the brand discussed every topic under the sun! From the union budget to education for underprivileged – the brand did not shy away from sharing opinion on their Facebook page with lengthy comments and healthy debates.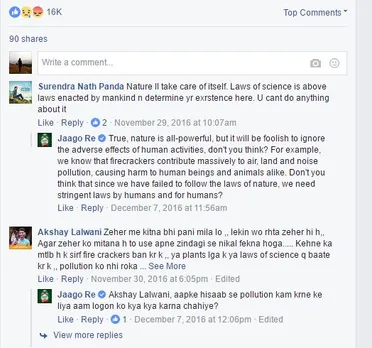 Power of 49, their ongoing campaign, emphasizing on women's power, encouraging them to vote, saw daylight in 2013. It was the last campaign to be launched before its recent return.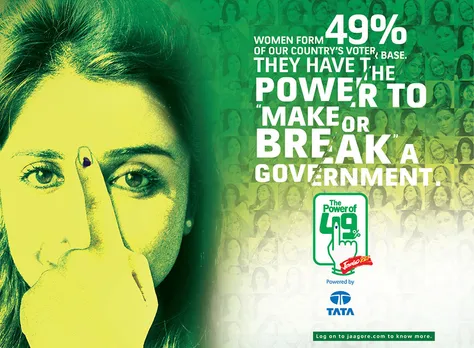 "In our voting campaign, we facilitated voter registration and received over 6 lakh registrations. In PO49, Jaago Re had the largest repository of women issues and we presented a crowd sourced manifesto to the government," says Das, beaming with pride.
In spite of the three-year gap in launching a new campaign or a TVC, jaagore.com and their Facebook page continued to keep up the revolution they ignited in 2007. Their Facebook page had over 3 lakh likes in 2012, while their arch rival Brooke Bond Taj Mahal lagged far behind with over 3k likes.
The beginning of pre-activism
Three years after the launch of Power of 49, Tata Tea made a comeback with Jaago Re Version 2.0. As hair-raising as before, the video brings out a formidable message, rather, reinforces a much-needed attitude shift.
For those living under the rock, the new campaign 'Alarm Bajne se Pehle Jaago Re' is urging people to stop reacting after tragedies hit and instead start 'Pre-acting', and prevent these issues from happening.
The film brings alive the need for 'Preactivism' in a hard-hitting, pertinent manner. The female protagonist drives this conversation with a compelling storyline that showcases the current reactive nature of people - rallying for an issue once it has happened or taking to on-ground and social media after something bad has happened.
Created by Mullen Lintas, the video went live on YouTube on February 13 and already boasts of 297,572 views.
"We wanted to reinforce the brand's positioning of thought-leadership and re-kindle love for our brands," Das tells us explaining the three-year gap.
Reviving a brand of this stature isn't an easy task. The pressure of creating something as good as their previous campaign, while tailoring it to suit the current industry requirements.
"Today, several brands across categories are talking about social causes. In such an environment, consumers tend to look at cause-driven advertising with healthy scepticism. Often, outright disbelief," Das expresses.
To remain relevant and differentiated there was a need to reposition Jaago Re and take it to the next level. The brief given to the agency was to leverage the existing equity while doing something which is path breaking and completely different in terms of the idea as well as story-telling. And as they say, what happened next was history.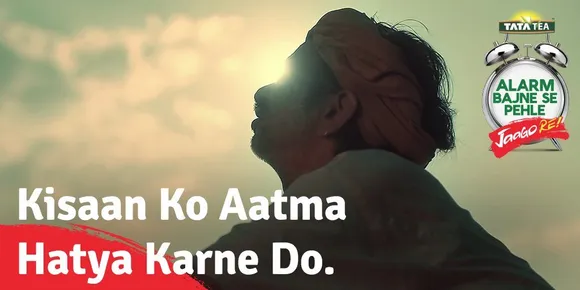 In the next phase, Tata Teal will be focussed on making 'Preactivism' a mainstream conversation and act as a facilitator ensuring youth participation. During the third phase, the brand will 'walk the talk' and act on-ground and bring about meaningful change.
Walking the Talk
 Not the first brand to apply cause marketing, neither the only brand with a digital IP – so, what is it that Tata Tea did differently? No points for guessing of course!
First is the brand connect. Tea or as we lovingly call it chai, is the first thing most Indians reach out for in the morning or when they wish to snap out of the drowsy spell. Jaago Re or Wake Up works seamlessly for a tea brand.
Next, they walked the talk. It wasn't just a brand film or a contest, it was a well-planned initiative, with solutions and subsequent tangible results.
An aeriated drink brand, often causing harms such as obesity and diabetes, propagating pressure faced by students isn't exactly cause marketing. The said term, unfortunately is now herd mentality as brands stand up for causes, remotely related or relevant to them or their strategy.
The revival of Jaago Re, will hopefully spark preactivism in the country sand awareness in the industry! It is time we re-look the definitions of cause marketing.
With inputs from Hitesh Rajwani.