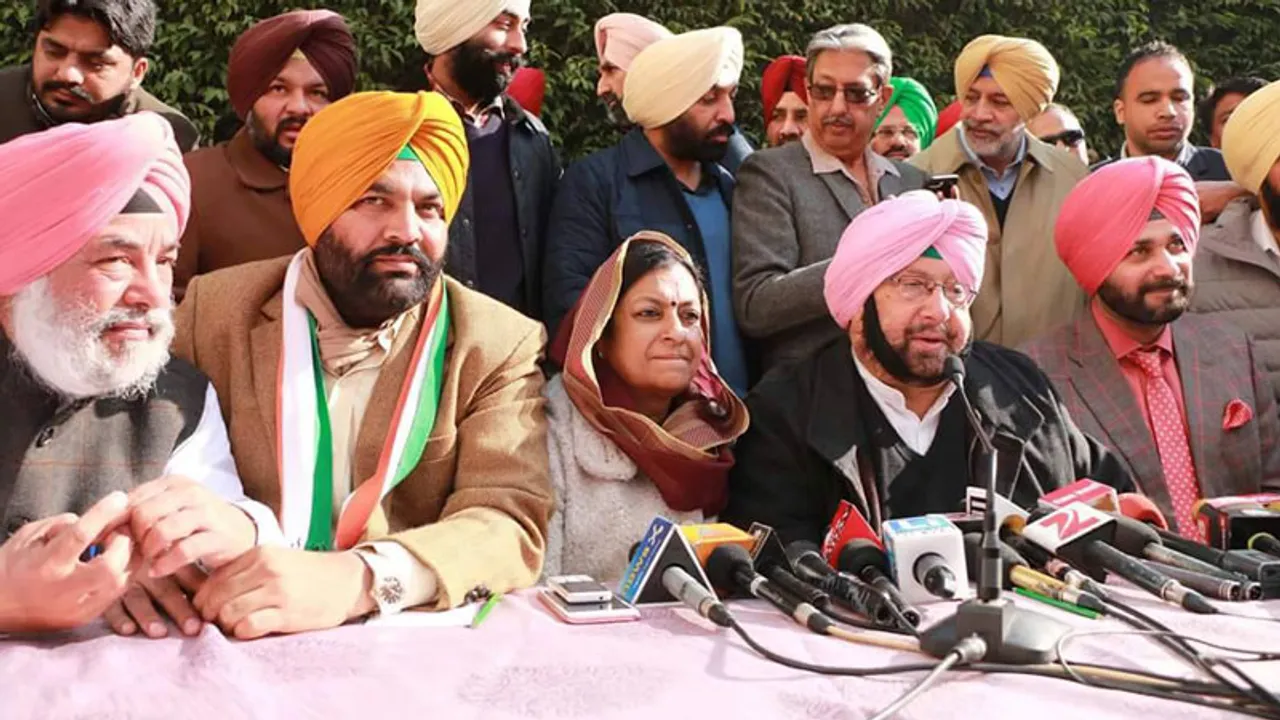 The article is a part of our series that reports political marketing on social media, this one entails the social media strategy Congress deployed in the state of Punjab
The after effects of a complete sweep out in the General Elections and average performances in the state assembly elections so far have haunted Indian National Congress for a while though the party's quest for redemption has grown stronger in the cooperative approach towards elections in Bihar and UP, The Battleground in Punjab has turned out to be a great rebound opportunity for Indian National Congress with the affiliate Punjab Pardeshi Congress Committee led by Captain Amarinder Singh.
The Social Media Strategy Congress employed this time has a stark difference from the approach in the past. Here's a logical breakdown of the activities undertaken by Punjab Congress to drive home their point of bringing about a change in Punjab
Content Strategy 
The Communication strategy for Congress focuses on the shortcomings of the incumbent government and the common issues of agriculture, water, electricity and drug menace in Punjab. The idea is to position Congress as an agent of change with Captain Amarinder Singh spearheading this vibrant political movement hence the position statements like Chahta hai Punjab Congress ki Sarkar and Punjab Da Captain
The communication hooks included
A.The party's agenda and promises from Captain Amarinder Singh and Rahul Gandhi
B. Ambush towards AAP (Arvind Kejriwal, Bhagwant Mann and Gurpreet Ghuggi) SAD (Parkash Singh Badal and Sukhbir Singh Badal) and BJP (Narendra Modi) for misleading the people of Punjab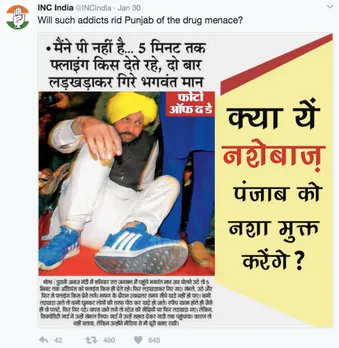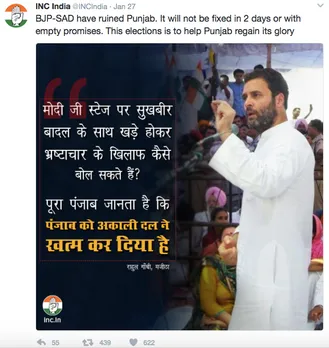 C. Support buckets from Navjot Singh Sidhu, Rabbi Shergill, and the likes.
Save your turbans, it's 'pag di ladai' :#NavjotSinghSidhu @sherryontopp @capt_amarinder @INCIndia @ANI_news @HTPunjab @punjabkesari pic.twitter.com/e5cT6O9mIW

— Punjab Congress (@punjabpcc) January 29, 2017
D. Live Video Content and Visuals from Rallies and Video Messages from Star Campaigners
The campaigns finds support from the individual following of Captain Amarinder Singh, Navjot Singh Sidhu and an eccentric network of properties that are branded with Captain - Punjab Da Captain, Ludhiana Da Captain, Jalandhar Da Captain, Amritsar Da Captain et al
The tone and tenor follows a reporting approach and somehow goes in line with the position statement. They graduated from passive to aggressive with new position statements and hashtags like #आ_गया_Captain and CaptainSweepsLambi
The Social Media Mix
Indian National Congress has learned lessons the hard way from no presence on social media to a pragmatic approach which serves the purposes of mass outreach and engagement with the people of Punjab. The thought of synergising all energies around Captain Amarinder Singh seems to have worked in their favor.
Punjab Congress handle has over 12k followers on Twitter with decent engagement numbers ranging from 50-70 RT's for original tweets, the tweets from INC India handle and that of Captain Amarinder get over 200+ RT's on an average. The spread on Twitter included campaign trails from Captain and Rahul Gandhi, anti-AAP/SAD narratives, video messages from star campaigners and supporting artists
Rahul Gandhi talks about how drugs have destroyed the youth of Punjab pic.twitter.com/PNvMB7CwD4

— INC India (@INCIndia) February 3, 2017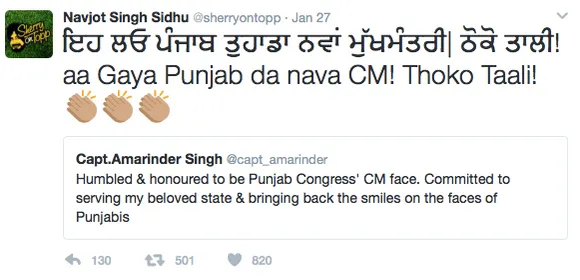 The party has been using hashtags like #BattleForPunjab, #आ_गया_Captain, #CaptainSweepsLambi depending upon the various phases of the campaign.
On Facebook, Punjab Congress has over 3L+ Likes and the average engagement on the page varies from 60k views to 500+ shares at an average. The campaign on Facebook is supported by the official Page of Captain Amarinder Singh which has about 1 Million Likes and a network of communities - Punjab Da Captain (Ludhiana Da Captain, Jalandhar Da Captain, Amritsar Da Captain etal)
The Facebook Page is swamped with vernacular communication covering the party's manifesto and live videos from Captain's Page. The Punjab Da Captain pages also follow a good mix of posts displaying support for Congress and sharing live videos on a timely basis
While Congress steered away from direct confrontations with AAP for most of the duration, the party started retaliating to Arvind Kejriwal's attacks with allegations of false claims, terrorism, and radicalization.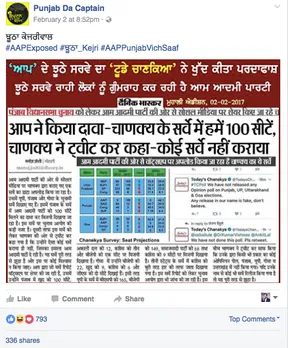 The Voting Day also saw a surge of support videos from folks who voted for Congress, playing on the positive sentiment factor.
Summing Up
Punjab Congress has fought against all the odds from party's lineage and the general perception. The approach to keep Captain Amarinder central to all the communication created an authoritative voice for the party on Social Media. Appearances Navjot Singh Sidhu brought in relatable elements with a tinge of humor and satire. While this is a triangular battle between AAP, Congress and SAD/BJP the real #BattleForPunjab looks like a neck to neck competition between Congress and AAP. Let's wait and watch if Punjab Da Captain leads the team for a fair and square victory or they lose it out to the powerful opposition from AAP.