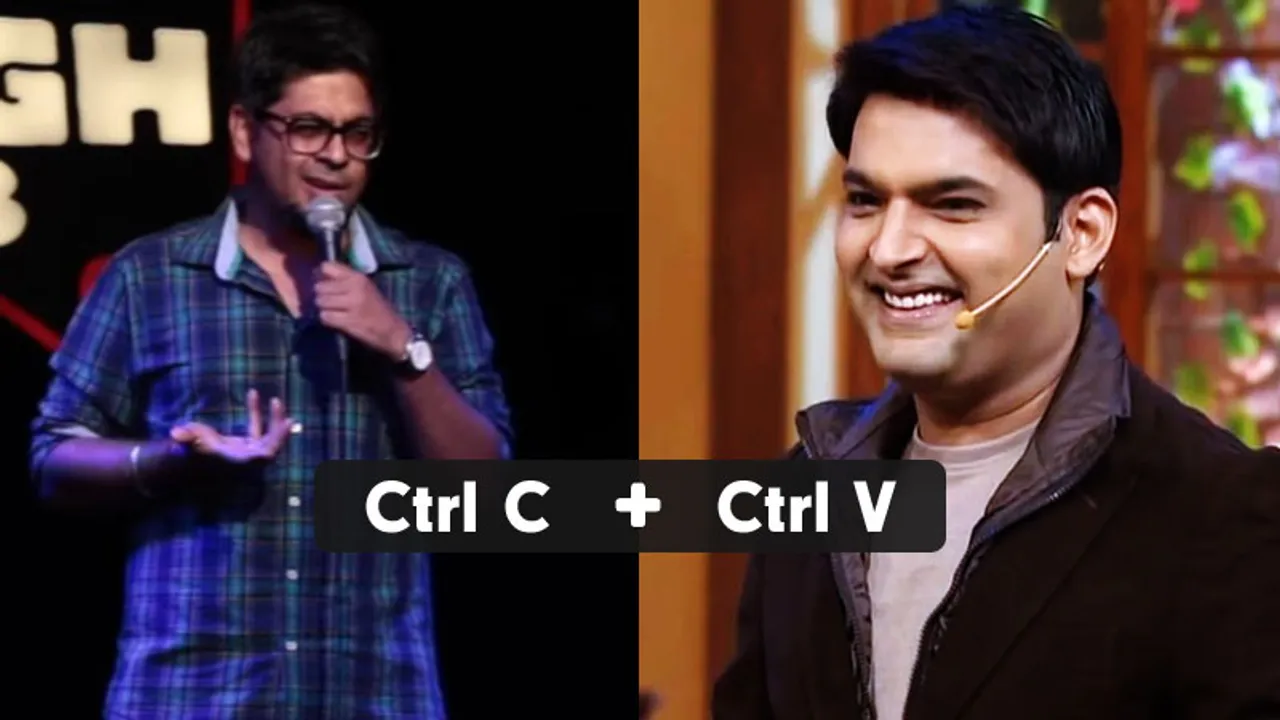 Kapil Sharma, the man who personifies comedy for a large chunk of the population, has been doing the rounds of social media for all the wrong reasons this year and continuing the streak, this time has been accused of content plagiarism by a stand-up comedian, Abijit Ganguly in  his Facebook post.
Comedian Abijit Ganguly took up Facebook today to draw our attention towards an act of plagiarism practiced by the alleged King of Comedy of the Indian Television, Kapil Sharma, when he shared a video of the 100th episode of the show stating an extensive rage on how an exact joke from his sketch was simply picked up and thrown out shamelessly to his audience.
"We comedians make a living from our self-written jokes. It's what I depend on to run my house. When you lift a joke I have written, you steal from me. It is as good as stealing my wallet, my watch, laptop or just a goddam robbery at my home," aptly said Ganguly through his post.
The 100th episode was graced by the Indian women cricket team stars Mithali Raaj, Jhulan Goswami, Harman Kaur, and Veda Krishnamurthy wherein the stand-up comedian accused the show member Kiku Sharda trying to pull off the exact joke from his sketch 'Having an elder brother' supported with #PlagarismbyTheKapilSharmaShow #PlagaristsTKSS.
Though Ganguly acknowledged how content similarities between comedians may overlap but this is far from mere coincidence where the show picked up the exact joke with the same example as the premise.
Social Media justice
We're all aware of how the comedy community is so intact and supportive of each other despite the soaring competition; this camaraderie was witnessed yet again as comedians like Tanmay Bhat, Daniel Fernandez, Sourav Ghosh, Atul Khatri and more shared his post on their timelines.
Social media is that shelter wherein budding artists seek to garner support or speak for a cause and yet again putting the platform to good use, the comedy world has come together against the malpractices of Kapil Sharma.
Prior to this fiasco, Sharma was in news after his sour behavior towards his show member Sunil Grover which even led to a drop in his TRPs and now bootlegging has got him back in the public eye.
Considering how the young population are more inclined towards these rising stand-up comedians who currently have a loud voice on social media with a dense number followers, one could only hope that through the power of social media this issue will be tackled with fairness considering the involvement of one of the country's biggest comedy celebrity today.
For now, Social Samosa will keep an eye on the digital activities of comedians and netizens around this story, getting you the updates of this scenario.  Afterall, plagiarism is no joke.