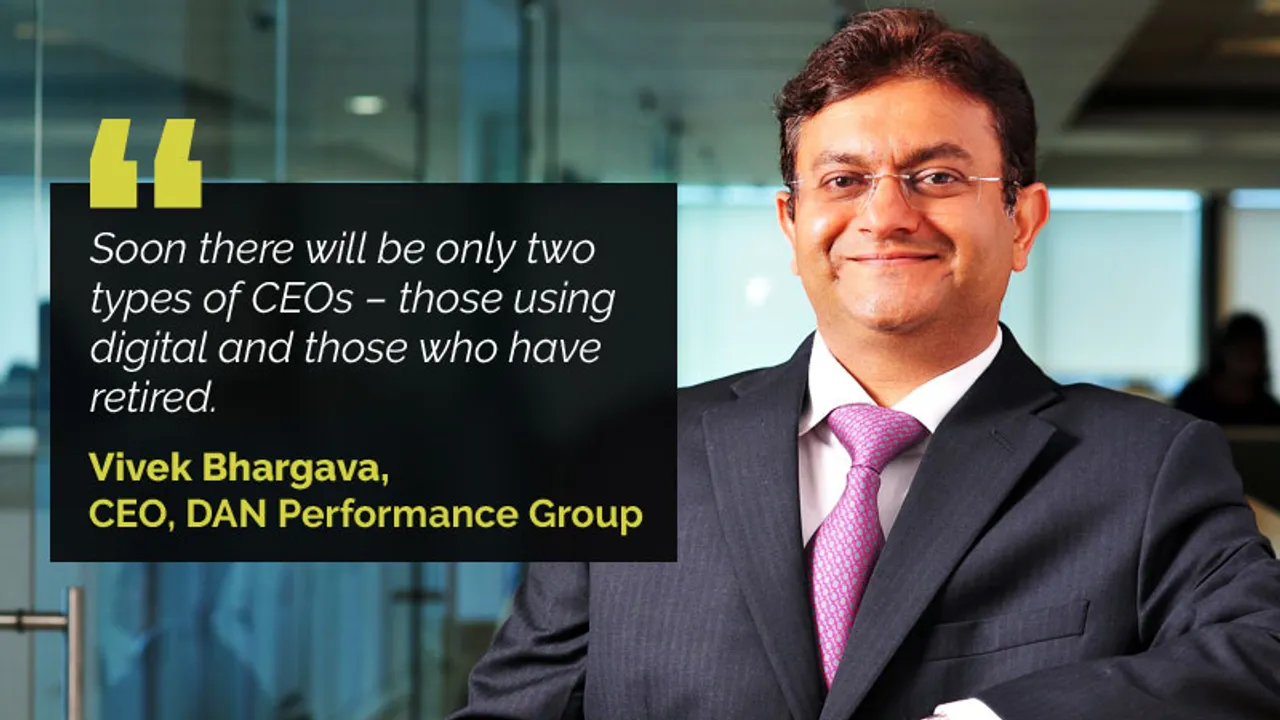 We spotted Vivek Bhargava, CEO, DAN Performance Group in an upbeat spirit, beaming with energy and victories by DAN at Abby's 2017 . Social Samosa took the opportunity to delve into Bhargava's vast experience for some digital gyaan.
As a part of a company that aims to become digital first by 2020, Bhargava explains the changing face of social media marketing in perspective with the phygital ecosystem that's shaping up.
You have seen the digital industry grow closely, how has the face of social media marketing changed over the last few years?
The digital landscape is rapidly evolving – what was typically seen as just another medium of advertising and marketing, has today become the age we live in. Digital is playing the role of a catalyst and multiplier across every facet of an organization. As we move forward, digital combined with innovative technologies is going to be a game changer, a single digital technology like artificial intelligence may disrupt almost every single industry we know of today. The coming years will see 10x growth for the country owing to the digital economy.
When digital marketing emerged, it was plagued with flaws like inability to target in detail, measure correctly, and set the right pricing. This led to solutions like intent based advertising, AdWords and analytic measurement and auction-based pricing respectively.
One the social media front especially, I think data has played a major role in changing the re-defining the space over the years. A brand equipped with smart consumer actionable insights will be able to produce more effective marketing. I helm the Data Science Division at DAN and we are doing some great work on this front.
Which is the biggest blindspot that brands still face while marketing on social media?
Content is the crux of social media marketing. Your content strategy has to be a strong one and resonate on point with the audiences to meet any kind of success with your social media marketing campaign. I think this is an area that needs sharpening. Once brands start getting this right and content compliments the digital strategy, we will see better results.
Where does social media stand in the scheme of things at DAN? How do you plan to further divulge into new media?
Digital is the heart of DAN – the company attempts to become digital first by 2020. We have over 1000 digital specialists in DAN today and this number will only multiply. As far as new media is concerned, we will invest in any business that can offer our clients scale.
Which has been your favourite digital campaign in the entries from Abby's 2017 and why?
I have two personal favorites. One is the The Dyslexic Captcha for Jaslok Hospitals by Dentsu Webchutney because it deals with a sensitive issue in a beautiful way, increasing awareness and acceptance of dyslexic children. The second one is the Odds campaign for Adidas by Taproot Dentsu which is not just an innovative take on products, but also a brilliant concept.
 How can brands leverage performance marketing in the digital space? Could you share a few examples?
In my opinion, digital today is the sole medium ensuring that a brand connects with its target audience and providing any kind of recall value. No other medium offers such customized slice and dice of demographics, psychographics, geographical and location based data along with detailed behavioral analysis of the consumer, enabling the facilitation of the right communication reaching the customer. Performance helps you optimize your campaigns for online sales and lead generations.
Let me explain this with the help of an example. If we consider television as a medium, one has to plan for frequency – the frequency may or may not take place. In digital, however, one can set up a certain frequency wherein the consumer has to watch a particular ad five times. If one skips the ad, even better, the advertiser doesn't have to pay for it. Whereas in television, the advertiser ends up paying for the ad when one switches channels even. Reach of digital is higher than television. A lot of brand marketers are still wary of readily making the shift from television to digital, performance in particular – but once they do, there's no looking back.
How much per cent of spends do marketers reserve for digital these days?
There is a drastic change in the way digital is looked at today by the C-Suite. Around two years ago, a typical meeting with the promoter of a firm to discuss their digital strategy would be directed towards the CEO, who, in turn, went on to pass on the buck to the CMO as he was perhaps too mired in 'mainstream' strategy. Today, I spend hours with promoters who are interested in sitting down one-on-one and understanding the best way forward for their respective companies, a path that could make the most of digital media. Soon there will be only two types of CEOs – those using digital and those who have retired. We have a BFSI client at iProspect India whose marketing spends are maximum (almost 80%) on digital followed by other conventional mediums. In the next few years, we expect a large share of brand spends moving towards digital.
What are the trends that you see in the digital marketing space?
The future belongs to exponential technologies – great digital transformation will take place on this front. Technologies will eventually intertwine to make a single virtual ecosystem. Robots, drones, 3D printing, nano technology, block chain are a few amongst others.
Artificial intelligence software solutions are likely be the top disruptor in technology in the coming decade. Cloud computing and machine-learning algorithms have fueled the jump in artificial-intelligence solutions. It's interesting to note that no two machines make the same mistake. However, machines can only replace the functions human beings do, not human beings themselves.
Virtual reality provides an immersive experience. I am extremely excited about the possibility of virtual reality as an advertising format, since that pretty much increases the screen size to infinity! Imagine falling off a cliff into a large net with the logo of a brand, you will never forget the brand after that experience!
Today, smartphones are accessed on average of 180 times a day. Considering this, merging technology with physical contact can be a great way to captivate the consumer. These 'phygital' (physical + digital) technologies effectively target niche audiences. Infact our own iProspect tool iSync lets you sync online ads, with TVC and radio ads in real time. Further another tool from iProspect, iPump is used to target users based on their proximity to billboards.
In the last 2 years alone, 5 Billion GB of data was generated which accounts for 90% of the world's data created till date. Making sense of this data, creating actionable insights through this data and its applications will prove to be a game changer and enable wealth creation.
What is next on your TDL? What are your plans for the year?
I'm extremely excited about my plans this year. I head the DAN Performance Group in India and my energies are completely focused on growing it. We already have iProspect India, which is the number 1 performance agency in the country as a part of it. We want to completely dominate the performance space in India. In order to do these, we need to acquire agencies with added performance capabilities or build them here from scratch. We will bring some of the global brands to India. You can expect some acquisition announcements on this front in the next few months.
 As a pioneer of the social media space, what is the one thing that you would like to bring about in the industry? 
The digital industry met with its tipping point when the CMO began to understand digital. Post that CEOs took an interest and got involved in digital. I strongly believe that eventually every single company must have at least one digital expert on its board and be digitally aware as a brand. Digital is going to disrupt most industries and be default transform their company, so they must be digital ready.