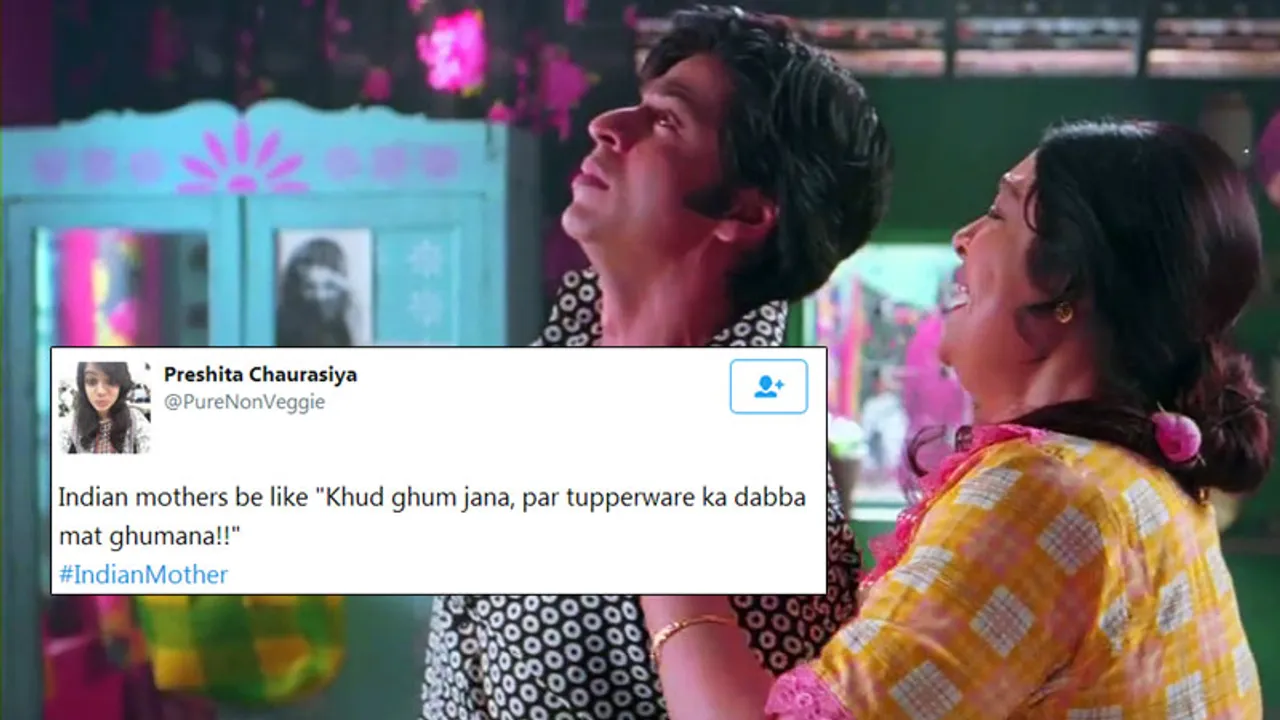 The reason you don't see a lot of mothers using social media regularly is quite simply because there is NO TIME! Between screaming kids and messy homes, learning to tweet with one hand is a trick not many have mastered. Moms on social media have.
From #MotherhoodProblems to #IndianMom things, Moms on Social media share some of their struggles that are so adorably infuriating that it just makes you wonder if we put our mothers through the same?
Well anyway, as Mother's Day approaches, let us read some Motherhood struggles with tweets on moms that will make every mother laugh, and each one of us realize how annoying we used to be as kids. (I know I was).
1. Every kid that has lost a Tupperware knows the pandemonium that follows!
Indian mothers be like "Khud ghum jana, par tupperware ka dabba mat ghumana!!"#IndianMother

— Preshita Chaurasiya (@PureNonVeggie) February 24, 2017
2. The struggle is real.
Need help during your #pregnancy journey? Download @pregbuddy now: https://t.co/jjw42vZsVx pic.twitter.com/gKBfxIhBOl

— PregBuddy (@pregbuddy) April 1, 2017
3. Preach!
What say? Any mommies on vacation right now? ? #motherhoodproblems #mommytruths #firstmomsclub #parenting #mothers pic.twitter.com/CVzP9WoOu8

— First Moms Club (@firstmomsclub) May 22, 2016
4. Mom goals, right?
My moms talking to the fruit vendor to bargain for me !! #indianmother pic.twitter.com/d1xYftJS9I

— A (@AdheerAwasthi) April 14, 2016
5. *flashbacks of tears and pain*
When teaching me how to cook my mother will say, "Get me the spoon, Not that one. The wooden one I smack you with" #IndianMother #MothersDay

— Jasmine Aziz (@JasmineAziz) May 7, 2016
6. YOU SHUT YOUR MOUTH RIGHT NOW!!!!
When someone comes over during my baby's nap #parentproblems #momlife #parentingfail pic.twitter.com/bAuUgjVhw4

— Mommy Curmudgeon (@mommywhiner) May 5, 2017
7. *guilty*
Lol so true #momproblems #momlife #picickytoddler pic.twitter.com/4MabYRLDyr

— Craftymommy85 (@craftymommy85) April 26, 2017
8. Destruction and chaos.
tired of this place looking like a tornado ran thru it. #momproblems

— keii&kai (@keiiandkai) May 8, 2017
9. Always assumes I'm kidnapped or dead.
#Indianmother logic: After 1 missed call: He
is busy. I'll call later. After 2 calls: Why is
he so busy? After 3 calls: Oh no. He's
dead.

— VIdeo City Live (@videocitylive) September 10, 2016
10. This is absolute GOLD.
Daughter: You're invading my personal space

Mom: You came out of my personal space

— Moe (@_Mo_lee_) January 8, 2016
11. Retweet for CAM!
So me right now ? #momproblems pic.twitter.com/c6p9btZJaN

— Mayra (@ZMayra) May 9, 2017
12. I DONT WANNA GO TO SCHOOL!!!!
Birthing her was easier than #waking her up for #school. Sigh! Some coffee. Yay #momlife #motherhood #momblogger #mom #TuesdayThoughts

— Minakshi Bajpai (@mommystimeline) May 9, 2017
It is the week of #SocialSuperMoms, read more articles for some instant inspiration this Mother's Day.