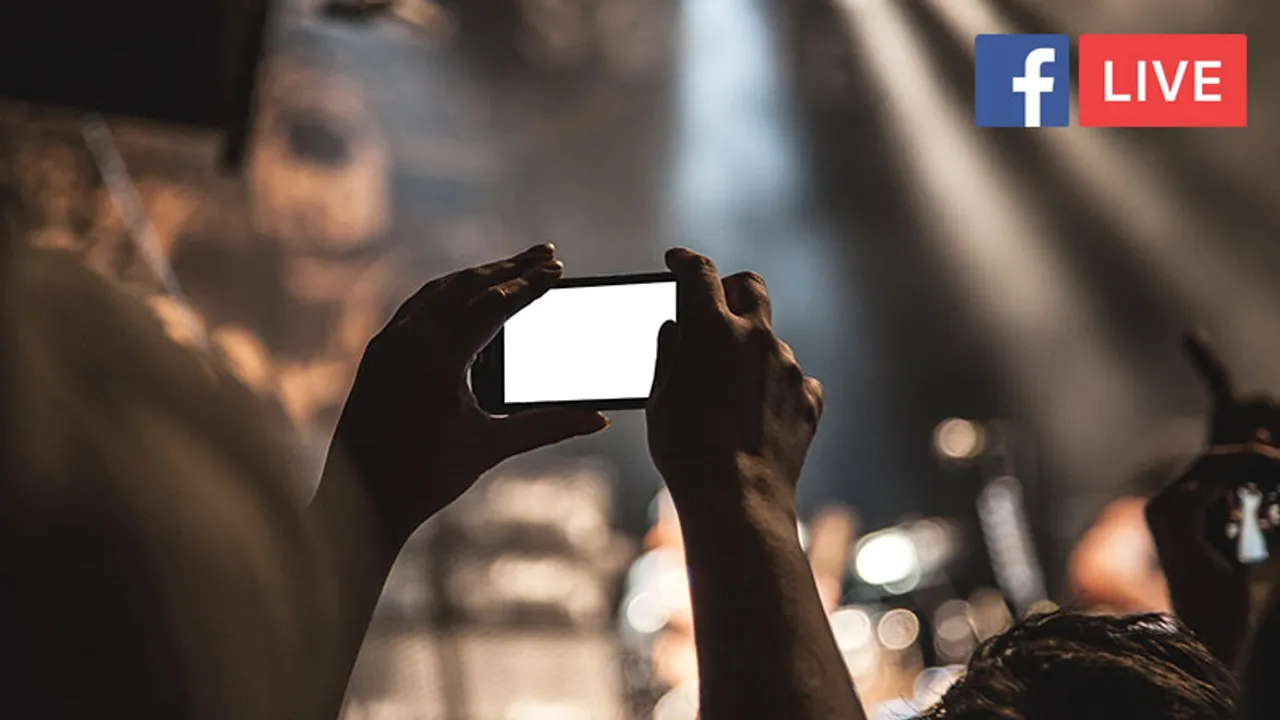 Facebook Live - you know you want to leverage it. But do you need to? If yes, why and how? Here are the 3 fundamental rules of Facebook Live that will help you understand the whole concept better.
Mark Zuckerberg lifted the curtains off Facebook Live on April 6, 2016, when he announced its launch for all users, proclaiming it to be 'like a TV Camera in our pockets' calling it 'a big shift in how we communicate, and it's going to create new opportunities for people to come together.' A big shift indeed, Facebook Live is now so popular, it makes up for one of every five video shared on Facebook.
It gave some very exceptional uses of Facebook Live by brands and publications, banking on the real time possibilities it brought to the table. Facebook even went on to script a historic partnership with the International Olympics Committee giving more than a billion users worldwide, the inside track to behind the scenes footage.
According to data from a survey conducted by Livestream, behind-the-scenes access is a huge draw for 87% of audiences, who would prefer to watch online vs. on traditional television if it meant more behind-the-scenes content and over 78% of online audiences are already watching Facebool Live videos.
One of the apt examples of putting Facebook Live to good use, FC Barcelona went Live after the conclusion of the El Clasico, Spanish Football's biggest encounter.
Brands such as Dunkin Donuts, BuzzFeed, Airbnb and Tastemade leveraged Facebook Live with an evident perfection, yet there are some nitty gritties that prevent many businesses from successfully incorporating Facebook Live in their social media strategy.
If you have the tools, Facebook has pioneered the industry by introducing Live 360, even unveiling a list of compatible 360 Cameras that support going Live on Facebook.
Facebook also offers the ability to plug in closed captioning, a milestone in serving Live content to multilingual and hearing impaired users all over the world.
Here are a few easy tips that will help you get started with Facebook Live.
Let your audience know!
Live Broadcasts could be spontaneous or planned, and there is nothing that can be done if they are spontaneous, but for a planned Live broadcast, it would be a good idea for you to share the information with your followers so that they know when to tune in.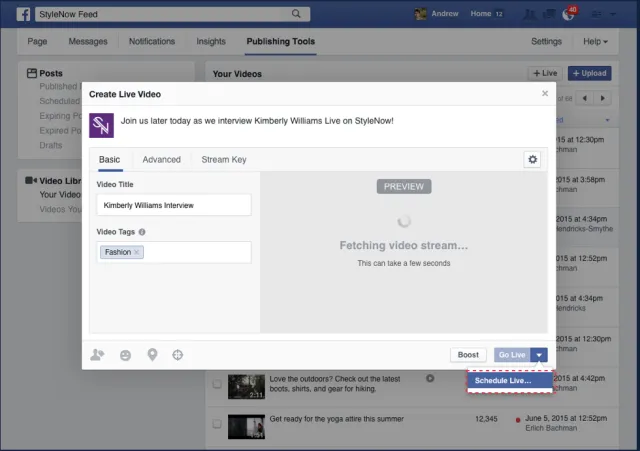 You can schedule a Facebook Live broadcast with a Preview.
Share information about the nature of the broadcast, if there are any guests that will be joining you and where will you be broadcasting from.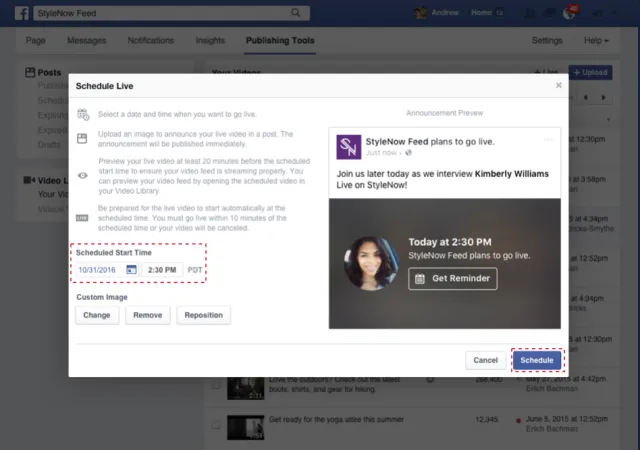 It helps build intrigue and your audience knows when to tune in if they are interested.
Ask yourself why?
Its good that you wish to keep up with the times and trends, yet it all falls apart if you don't have a strategy as to how you plan to leverage and incorporate Facebook Live in your marketing itinerary.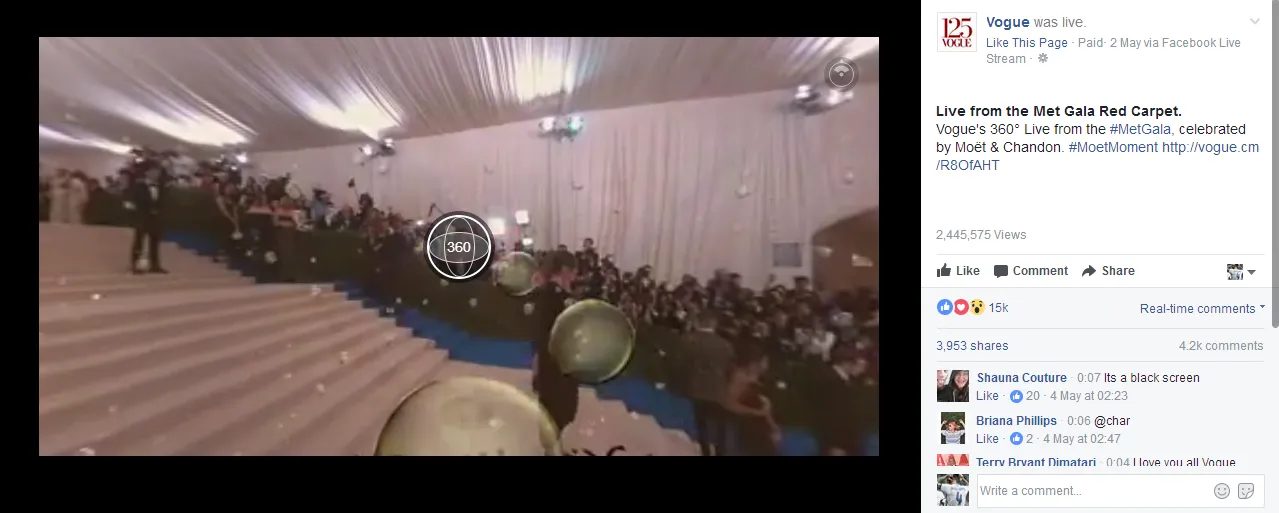 You can check out the 360 Degree Live Broadcast from Vogue here.
Lets assume your business is hosting a ceremony to reward their employees for their excellent contribution and you have a number of industry honchos dropping by. A Live coverage of the red carpet would help your brand immensely.
Also, in the long run, lets say your brand conducts an interview with a well known public icon every week, or month. This is the perfect opportunity for your business to leverage Facebook Live for your business.
Do not overdo it
Sprinkle, do not splash.
Live video has the aura of exclusivity and viewers always expect it to be something extraordinary, at least slightly.
Now if you end up Live broadcasting just about anything and everything under the sun, your audience will begin to grow tired of it.
Do your homework
Facebook Live has a number of features and capabilities that you need to be well versed with to make your Live broadcast truly stand out. You can read up on information about Live and also find answers to any FAQs you may have.
Major Facebook Live features are the ability to pin a comment at the bottom of the live broadcast, broadcast from a mobile device, and also from a Desktop, a new functionalityy, and also designate contributors who can post Live videos on your company page from their accounts.
For more information, go here.
Do your homework also applies to actually being up to date about anything you are going to talk about.
If you are going Live, know what you are talking about, and be prepared for any trolls or irate viewers. Do not just appear civil, be it. Remember the first thing, you are Live. Do not panic and always react kindly, and with a smile. There is no editing when it comes to Facebook Live broadcasts.
Have a conversation with your viewers
The Broadcaster and viewers can very well have a conversation with each other since Facebook Live allows the viewer to post comments. Answer their questions, respond to comments and build a strong communication.
If you are a celebrity, holding a Live Q&A or interaction with your followers will work wonders if you talk to them, read their comments out loud, address them by names, answer their questions, react to their compliments, and this increases the likelihood of them tuning in to watch your next broadcast.
This is how your audience will see your announcement post.
If you are looking for more information on How to Schedule a Facebook Live Broadcast, you can visit the Facebook blog here.
Live is the new big thing on the market and it truly has the possibility to maximize your brand's reach on the world's biggest social media platform so do not wait, Go Live today.